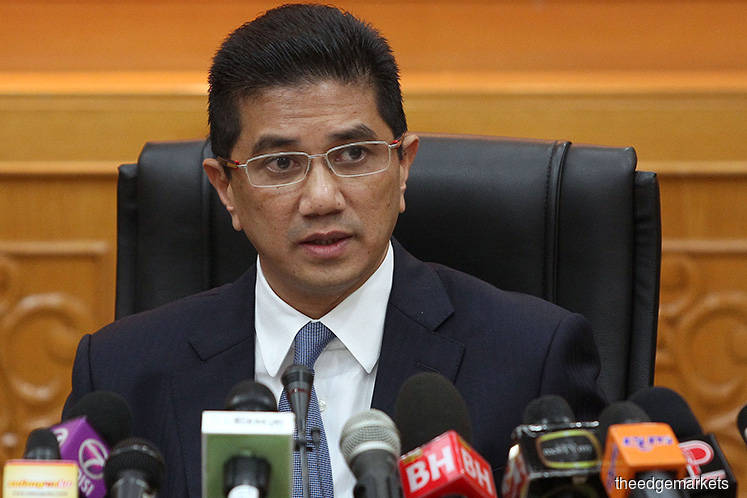 KUALA LUMPUR (April 10): The forensic audit has found conflicting interests and governance failure behind questionable Federal Land Development Authority (Felda) deals, according to Economic Affairs Minister Datuk Seri Mohamed Azmin Ali.
In his speech during the tabling of the Felda White paper today, Mohamed Azmin said a conflict of interest in management was discovered, via a forensic audit, during the tenure of Felda's former chairman Tan Sri Mohd Isa Abdul Samad.
Mohd Isa, who also wore the hat of chairman for both Felda Investment Corp Sdn Bhd (FIC) and FGV Holdings Bhd at that time, also held the position of chairman for 39 subsidiaries under Felda and FGV.
"Conflicts of interest were worse when Mohd Isa also held executive power as chairman of Felda.
"For example, purchase of Park City Grand Plaza Kensington in London that is made by Mohd Isa without the approval of Felda's board of directors at a price exceeding the market rate and failure to follow specified investment policy," said Mohamed Azmin.
Mohd Isa had purchased this asset at a price of RM331 million, while the market price was only RM128 million, he added.
He noted that Felda's management has lodged a police report against those involved in misconduct based on the forensic audit findings.
In its effort to determine the real position of Felda, the government is very concerned with including settlers' debts to Felda.
According to Felda's record, the balance of settlers' debt has reached RM7.7 billion in 2018 which includes, among others, living cost allowance and advance for replanting, he noted.
Additionally, Mohamed Azmin noted that the forensic audit findings have indicated loss or damage impairment of RM2.2 billion for the eight transactions being investigated, in other words 50% of the original investment value.
"The forensic audit has also revealed that there is governance flaws and internal control failure," he added.
More notably were news reports on the dispute between Indonesia-based Rajawali Group and Felda on the "put option" giving the Malaysian statutory body the right to claim back more than US$500 million which it had invested in Eagle High Plantations Tbk.
RM1.4b of RM10.5b from FGV's listing spent on 'shady transactions', says Azmin Ali
Felda's 2019 debt repayment seen at RM2.5b if loans failed to be restructured
Felda introduces new model for managing settlers' land
Felda to introduce cash payment scheme to settlers
Azmin Ali: More police reports to be lodged on Felda
How Felda will use the RM6.23b govt aid
Felda liabilities surges 11 times in 2017
Govt to allocate financial assistance to address Felda's cash flow issues
Felda-FGV land lease agreement generates 50% less income than expected
Eagle High put option's 6% return lower than Felda investment policy allows
There has been 'massive fraud' at Felda, says Jomo