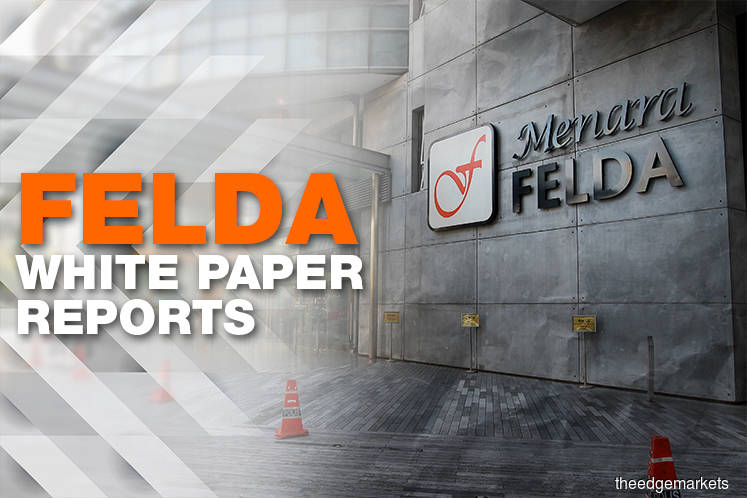 KUALA LUMPUR (April 10): Some RM1.4 billion of the RM10.5 billion generated from the listing of FGV Holdings Bhd was spent on 'shady transactions', said Economic Affairs Minister Datuk Seri Mohamed Azmin Ali.
Mohamed Azmin added Federal Land Development Authority (Felda) will restructure payment of principal and delay of loan payback amounting to RM1.98 billion in 2019, and balance of payment worth RM9.3 billion scheduled for payment between 2020 and 2028.
"The government has agreed to provide government guarantee to allow Felda to restructure its loans with financial institution," said Mohamed Azmin when he tabled the White Paper.
He said Felda's cash balance fell to RM35 million as at May 9, 2018 from RM400 million at end-2017.
Mohamed Azmin said its cash averaged RM2.5 billion between 2007 and 2011, when it was still profitable.
According to the White Paper, Felda made a net profit of between RM200 million and RM1.1 billion annually between 2007 and 2011. This is opposed to a net loss of RM4.9 billion recorded by the firm in 2017.
To address Felda's cashflow issue, the government will also provide instant cash assistance to ensure operational sustainability and development of settler lands.
Felda is slated to complete the development of 3,296 housing units, which is 70% complete. The original cost to complete the remaining 30% is estimated at slightly over RM196 million.
Under the Land Lease Agreement (LLA) between Felda and FGV, Felda should receive a payment of RM248 million per year and profit share of 15% for Felda's lease of its commercial land for a course of 99 years.
"However, Felda only received an average of RM400 million a year from FGV, as opposed to RM800 million required per year in the minimum to manage the plantation and to ensure the livelihood of the settlers," said Mohamed Azmin.
Mohamed Azmin said its investment into 37% stake in Eagle High Plantations which cost RM2.3 billion was only valued at RM500 million as at March 2019.
Audit forensic report underlined impairment of asset amounting to RM2.2 billion across eight transactions, representing 50% of the original cost of investments.
The report also noted the purchase of Kensington Plaza in London, initiated by ex-chairman Tan Sri Isa Samad without Felda board approval, at RM331 million whereas market price was only RM128 million at the time.
Related:
Felda's 2019 debt repayment seen at RM2.5b if loans failed to be restructured
Felda introduces new model for managing settlers' land
Forensic audit highlights questionable Felda deals, says Azmin Ali
Felda to introduce cash payment scheme to settlers
Azmin Ali: More police reports to be lodged on Felda
How Felda will use the RM6.23b govt aid
Azmin Ali claims almost RM3b used to buy support in GE14
Felda liabilities surges 11 times in 2017
Govt to allocate financial assistance to address Felda's cash flow issues
Felda-FGV land lease agreement generates 50% less income than expected
Eagle High put option's 6% return lower than Felda investment policy allows
There has been 'massive fraud' at Felda, says Jomo