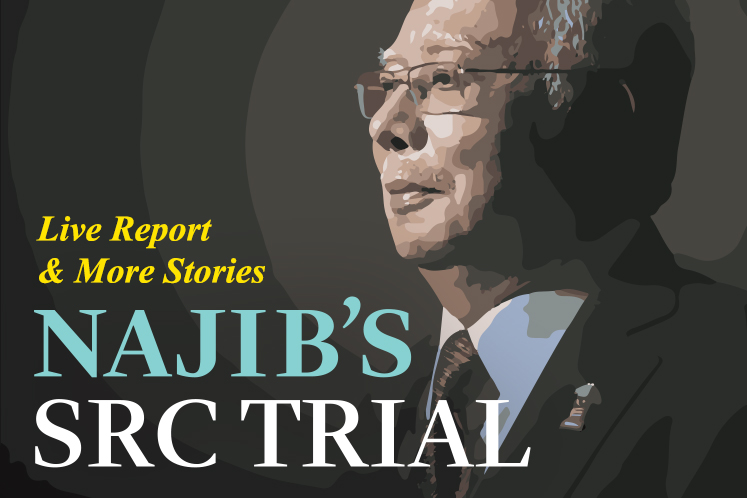 KUALA LUMPUR (April 3): Exactly 10 years ago today, Datuk Seri Najib Razak took his oath as the prime minister, and this afternoon he will again be the focal point, this time in the accused dock of the High Court here, for the start of the first of his trials in relation to 1Malaysia Development Bhd (1MDB).
The prosecution led by Attorney General Tommy Thomas, along with senior lawyers Datuk Sulaiman Abdullah and Datuk V Sithambaram, who are appointed prosecutors, would lead the high profile prosecution team that also includes the head of the prosecution Manoj Kurup, to begin the much focused trial in regard to 1MDB's former subsidiary SRC International Sdn Bhd.
Najib is charged with seven counts of criminal breach of trust, abuse of power and money laundering in relation to RM42 million of SRC funds.
The proceeding is likely to begin with Najib's lead counsel Tan Sri Muhammad Shafee Abdullah pointing at the review of the stay application that they filed on Monday (April 1) over the seven-member Federal Court bench's decision last week to lift the stay order of the proceedings.
Justice Mohd Nazlan Mohd Ghazali may then have to decide whether to proceed with the hearing of the case or wait for the apex court sitting tomorrow.
If the hearing proceeds, Thomas is expected to read the opening statement of the trial and then call the first witness.
It is understood that two busloads of Najib's supporters are parked at the Wilayah mosque, opposite the massive court complex, to support the Pekan MP.
The Edge is bringing the proceedings live.
Users of The Edge Markets app may tap here to follow our live reports.
Related:
SRC trial kicks off despite Najib's last-minute delay tactic .
AG's opening statement at Najib's SRC trial             
Prosecution's opening statement in Najib trial 'more of a political speech', says Shafee.
Former Solicitor General II roped in as part of Najib's defence team.
'Ex-PM got RM42m by giving government guarantee for RM4b loan to former 1MDB unit'.
Najib's SRC case: Defence files motion notice to revoke charges .
Najib's SRC case: Apex Court tosses Najib's 3 appeals in SRC case .