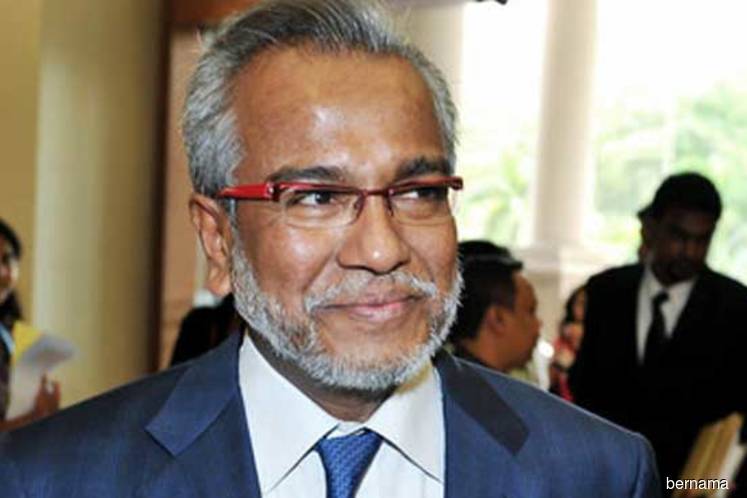 KUALA LUMPUR (April 3): The lead defence lawyer of former Prime Minister Datuk Seri Najib Razak has slammed the opening statement in the criminal trial involving funds from 1MDB's subsidiary SRC International Sdn Bhd as "more of a political speech".
Speaking to reporters at the Kuala Lumpur Court Complex after the first-day hearing was adjourned, Tan Sri Muhammad Shafee Abdullah raised eyebrows when he said the opening statement was "not enlightening" for those following the proceedings.
"We complained that the opening speech was in fact not enlightening to the court nor to us, to follow the proceedings.
"In fact it does not follow procedures under Section 179 of the CPC (Criminal Procedure Code) which says that you have to state what is the case of the prosecution. And you have to state the manner in which you will prove that case," Shafee said.
"The second part is zero. It is more of a political speech," he added.
Related:
Najib's SRC trial LIVE reporting (April 3)
Read SRC trial kicks off despite Najib's last-minute delay tactic .
Read Najib not above the law — AG.
Read AG's opening statement at Najib's SRC trial here.             
Read Former Solicitor General II roped in as part of Najib's defence team.
Read 'Ex-PM got RM42m by giving government guarantee for RM4b loan to former 1MDB unit'.
Read Najib's SRC case: Defence files motion notice to revoke charges .
Asked about the mention of Najib's use of funds that he allegedly misappropriated via his credit card and a total of 15 cheques, Shafee merely responded by describing the statement as "rumours".
Najib faces seven charges over alleged misappropriation of RM42 million from SRC when he was holding the positions of Prime Minister and Finance Minister, as well as an advisor to the board of directors of SRC International.
Earlier, High Court judge Mohd Nazlan Mohd Ghazali ruled that the trial should start despite a notice of motion filed by the defence earlier today seeking more clarity on the charges filed against Najib.
Commenting on this, Shafee said the trial is being bulldozed, and that it is "hardly a trial".
"As you can appreciate, the prosecution simply wanted to go on record that they have started the trial, when the trial, in fact, has hardly begun."
While acknowledging that the first witness, Companies Commission Malaysia (SSM) assistant registrar Mohamad Akmaludin Abdullah, as relevant to the case, Shafee said: "Today is hardly a trial. They merely called an officer from SSM who just [said] things about production of documents [on SRC and its subsidiaries].
"He [Akmaludin] is a witness that just produces documents. We were quite surprised that when we questioned him pertaining to certain procedures, he did not seem to know," he added.
Shafee then reiterated that the defence had no intention of delaying the trial with the notice of motion filed at the eleventh hour today, requesting for more clarity on the charges.
"What we did today is what [anyone] has to do if charged [in court] with charges that are defective.
"The whole team is quite surprised that the prosecution did not understand the importance of what we have requested today, to their prejudice. We have put it on record," he said.
"Why we raised it is to avoid the prejudice, and you will find this [as] very apparent at the end of the prosecution [phase] in our submission," he added.
"As you know, the notice of motion that we filed this morning will have to be heard and the judge did say he will fix the date for it to be heard during the trial.
"So what is the difference of hearing me today and they answer on the next day, [versus] you hear me on the third day of the trial? There is no question of delay," asked Shafee.