This article first appeared in The Edge Financial Daily, on April 4, 2019.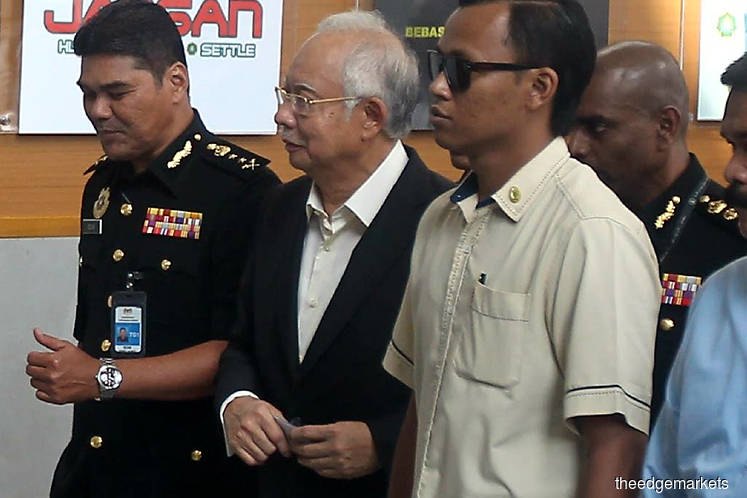 KUALA LUMPUR: In holding the office of the prime minister, the nation's highest elected public officer and head of government, Datuk Seri Najib Razak obtained RM42 million gratification by giving the government guarantee for RM4 billion loan granted to SRC International Sdn Bhd, a former subsidiary of 1Malaysia Development Bhd (1MDB).
The RM4 billion loan was granted by Kumpulan Wang Persaraan (Diperbadankan) (KWAP), according to Attorney-General Tommy Thomas' opening statement at the Najib's SRC trial yesterday, which the prosecutor described as the first of many kleptocracy-1MDB-linked prosecutions.
The RM42 million proceeds were used to pay various Barisal National (BN) component political parties, purchase of luxury fashion products and renovation to Najib's homes.
Thomas told the High Court here that the prosecution would produce evidence to establish that Najib's credit card was charged US$130,625.00 for expenses made at Chanel, an exclusive fashion store in Honolulu.
He said evidence will establish that the personal cheques were issued for, among others, payment for renovation work carried out at Najib's two residences located at Jalan Langgak Duta, Kuala Lumpur and Pekan, Pahang.
Cheques were also issued to various BN component political parties, he added.
For this SRC trial, Najib is facing seven charges namely one count of abuse of position under Section 23 of the Malaysian Anti-Corruption Commission (MACC) Act 2009, three counts of criminal breach of trust (CBT) under Section 409 of the Penal Code, and three charges of money laundering under Section 4(1)(b) of the Anti-Money Laundering, Anti-Terrorism Financing and Proceeds of Unlawful Activities Act 2001.
1MDB established SRC International to pursue investments in conventional and renewable resources in January 2011. SRC then partnered with Aabar Investments PJS to set up Aabar-SRC Strategic Resources Ltd for investment in Mongolia's coal industry without a feasibility study.
Ministry of Finance Inc took over SRC International from 1MDB via interim dividend-in-specie in February 2012.
Related:
Najib's SRC trial LIVE reporting (April 3)
Read SRC trial kicks off despite Najib's last-minute delay tactic .
Read Najib not above the law — AG.
Read AG's opening statement at Najib's SRC trial here.             
Read Prosecution's opening statement in Najib trial 'more of a political speech', says Shafee.
Read Former Solicitor General II roped in as part of Najib's defence team.
Read Najib's SRC case: Defence files motion notice to revoke charges .