Click / Tap image to enlarge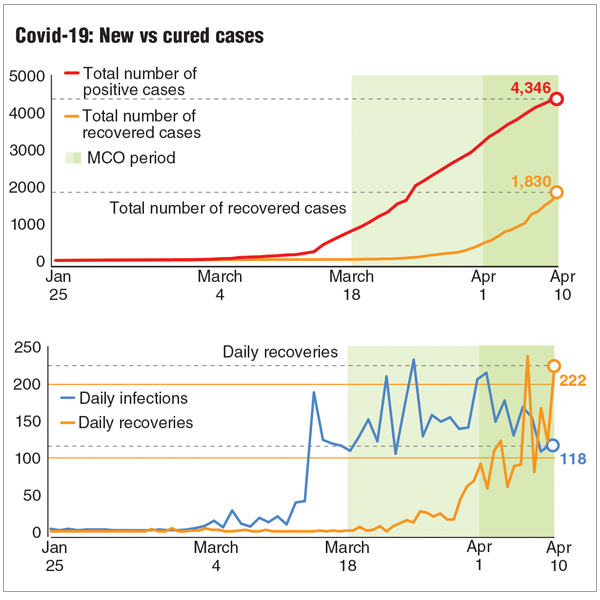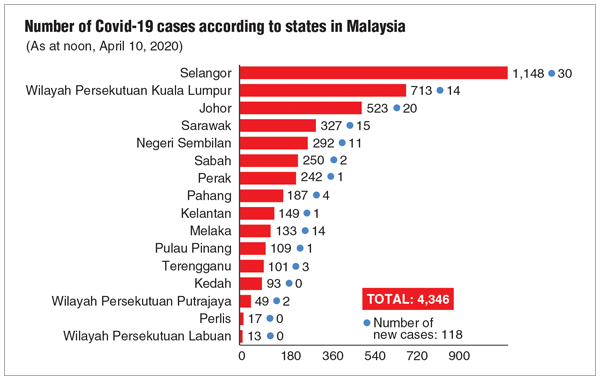 Click / Tap image to enlarge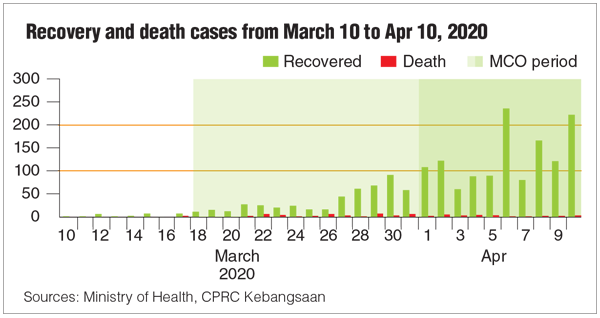 Click / Tap image to enlarge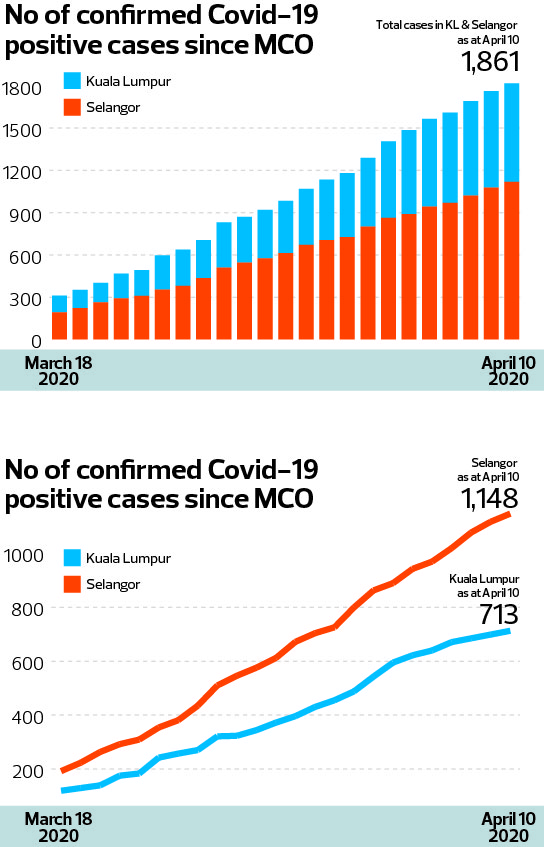 This report has been updated.
KUALA LUMPUR (April 10): Malaysia's daily recoveries topped 200 for the second time this week. The Ministry of Health (MoH) announced that 222 patients have recovered and they have been discharged from hospitals as of noon today, bringing the total number of cured cases to 1,830.
The daily recoveries figure exceeds the new cases for the fourth time this month. There are 118 new confirmed cases, an increase from 106 yesterday.
Malaysia's total number of confirmed positive cases climbed to 4,343. It has the highest number of infections in the ASEAN region.
Still, its recovery rate continues to head higher. Based on the latest figures, there are 1,830 cured cases versus 4,346 infections, which implies a recovery rate of 42.11%.
Health director-general Datuk Dr Noor Hisham Abdullah said the latest number of patients in intensive care units (ICU) has reduced to 69, with 40 of them requiring respiratory assistance.
The country's death toll due to the coronavirus outbreak is 70 in Malaysia, indicating a fatality rate of 1.61%, with three new additions to the tally.
The first death involved a 62-year-old man, with a history of diabetes. He had a close contact history with a COVID-19 positive case from the Seri Petaling cluster (case 159). He was treated at Queen Elizabeth Hospital in Sabah on March 17 and passed away today at 8.21am.
The second death involved a 77-year-old man who also had a history of diabetes. He was treated at Hospital Kuala Lumpur on March 27 and passed away today at 4am.
The third death involved an 88-year-old woman, who had a history of high blood pressure, heart disease and dementia. She had been in close contact with case 1,684. She was treated at the University Malaya Medical Centre on March 20 before passing away earlier today at 2.38am.
Selangor remains State with highest confirmed cases
Selangor continues to have the highest number of confirmed COVID-19 with 1,148 cases or 27% of the total number of confirmed cases. It reported 30 new cases as of noon today.
This is followed by Kuala Lumpur with a total of 713 cases, after adding 14 new cases. Johor has the third highest number of cases with 523, after 20 more were added.
New cases were also reported in Sarawak (15), Melaka (14), Negeri Sembilan (11), Pahang (4), Terengganu (3), Sabah (2), Putrajaya (2) Penang (1), Perak (1) and Kelantan (1). Only Perlis, Kedah and Labuan reported no new cases today.
On the Prime Minister's announcement to extend the current Movement Control Order (MCO) by a further two weeks, Dr Noor Hisham said this will give space for the Government to fight the spread of the disease, before it can re-evaluate the current level of effectiveness and current situation.
"Based on the latest situation of COVID-19 in Malaysia, it is found that the implementation of the MCO has helped the Ministry of Health (MOH) in controlling the spread of the disease. This can be seen from the case trend of COVID-19 and the trajectories projected through previous studies run by MOH.
"However, the situation still requires constant precaution and control. These measures need to be extended further in order to break the chain of infection which will be done through enhancement of existing activities as well some new and specific approaches to target groups specific," he said.
Read also: 
Putrajaya agrees to allow selected economic sectors to resume operations in stages
Red zones in Klang Valley widen, Hulu Selangor is one now
Should Malaysia extend MCO?
Covid-19: Daily new cases lowest in 16 days, recoveries topped new infections for third time
Photo Gallery: ALL LOCKED UP
Stay home. Get the news from theedgemarkets.com.