This article first appeared in The Edge Financial Daily, on April 10, 2020.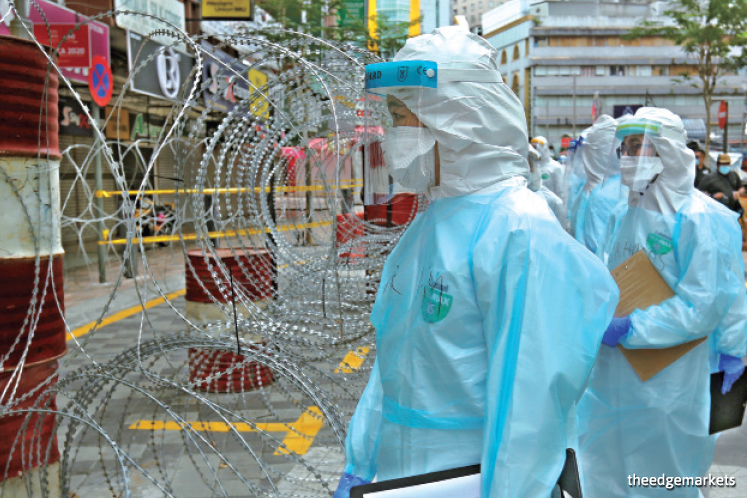 Selangor Mansion was locked down on Wednesday. Noor Hisham says the number of patients in ICU has been reduced to 72, of whom 43 require respiratory assistance. (Photo by Suhaimi Yusuf)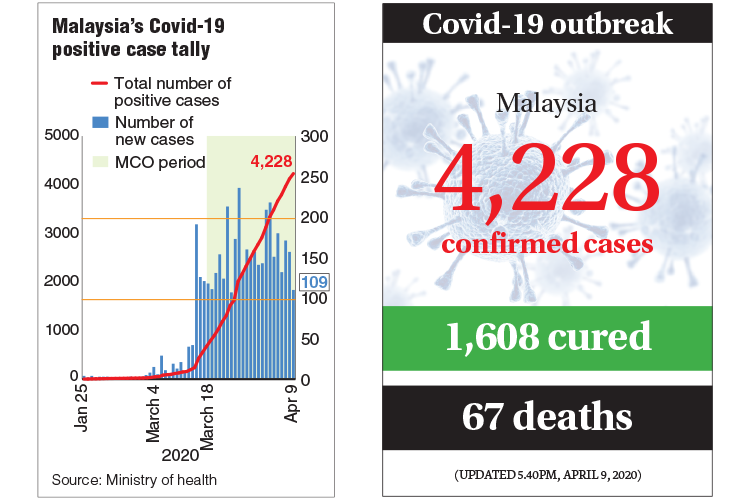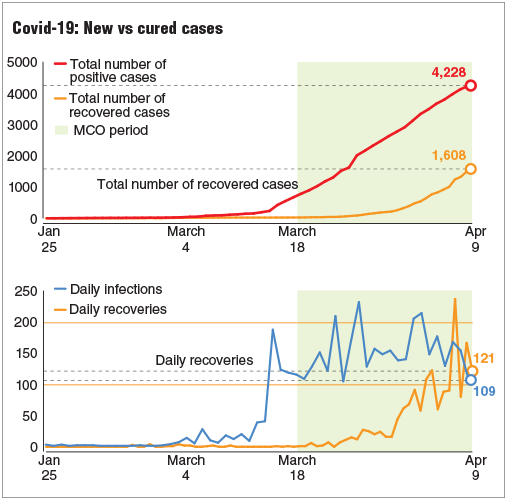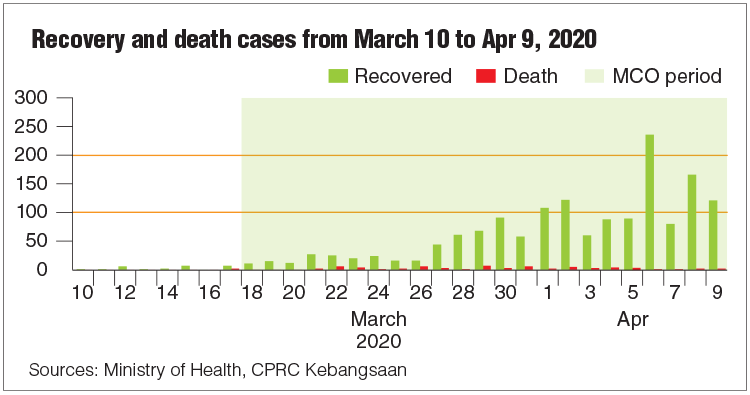 KUALA LUMPUR: For the third time, the number of daily Covid-19 recoveries in Malaysia outpaced the number of new positive cases, with 121 patients slated to be discharged yesterday, versus 109 new confirmed cases. The daily number of new cases is the lowest in 16 days since March 24.
According to the ministry of health (MoH), this brings the total recoveries for Covid-19 to 1,608 cases or 38% of the total number of positive cases in Malaysia, which stands at 4,228 cases.
Health director-general Datuk Dr Noor Hisham Abdullah also said the number of patients in intensive care unit (ICU) has been reduced to 72, of whom 43 require respiratory assistance.
23-year-old girl became youngest casualty in Malaysia
Two new deaths were reported yesterday, raising the death toll due to the virus outbreak to 67 in Malaysia, translating into a fatality rate of 1.58%.
The first was a 59-year-old male with a history of autoimmune disease and other chronic illnesses. He was one of the attendees of the tabligh assembly at the Seri Petaling mosque. The man was treated at Melaka Hospital from March 31 until he passed away at 5am yesterday.
The other fatality was a 23-year-old female with a history of thyroid disease, making her the youngest person to die of Covid-19 in Malaysia.
She had come into close contact with two Covid-19 positive persons (case Nos 2,469 and 2,470) and became part of the fifth generation of infections originating from the church event in Kuching, Sarawak. She did not attend the event. Treated at the Sarawak General Hospital since March 30, she passed away at 9.42am.
At the state level, Selangor continues to be the state with the highest number of cases, at 1,118, with 40 new infections. This was followed by Kuala Lumpur, which now has 699 cases after adding 14 more. As such, the Klang Valley — comprising Selangor, Kuala Lumpur and Putrajaya — now has 1,864 confirmed Covid-19 infections.
Johor remains the state with the third-highest number of cases, at 503, after seven new cases were added yesterday.
This is followed by Sarawak (312 total cases), Negeri Sembilan (281), Sabah (248) and Perak (241).