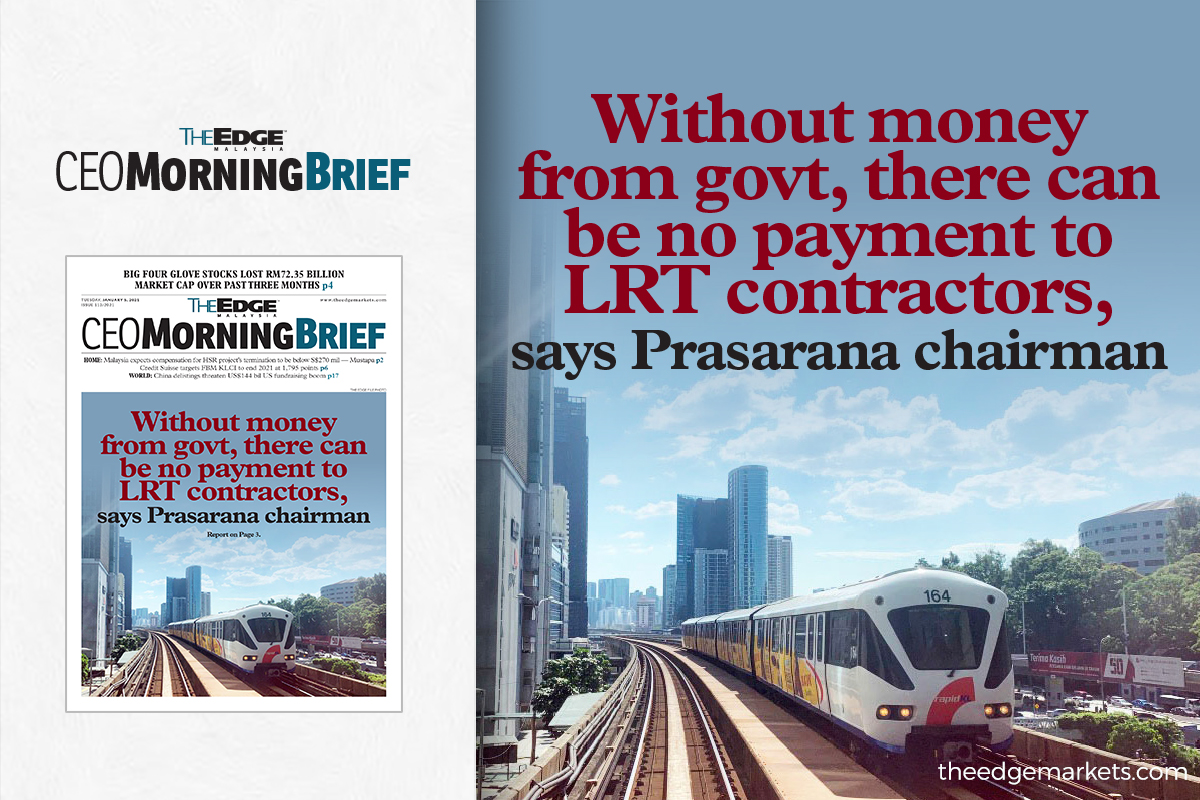 KUALA LUMPUR (Jan 4): The cash pile at Prasarana Malaysia Bhd, which recently stepped into the limelight on news that it withheld over RM700 million payment due to 17 contractors, is depleting fast and the agency needs capital injection from its shareholder, namely the federal government, according to its non-executive chairman Datuk Seri Tajuddin Abdul Rahman. 
If Prasarana were to pay the RM700 million owed, Tajuddin said the agency would be left with little liquidity and therefore it would be challenging "to run the show".
"We are hoping for an injection from our shareholder. Parliament has approved a RM1.5 billion sukuk to be raised. We hope to get the approval this month but the money will only come in months later," said Tajuddin at a press conference today.
"If we can get the sukuk money, we will pay," Tajuddin added.
Tajuddin revealed to the media that Prasarana needs to manage its cash flow carefully, especially in the current economic environment amid the pandemic. 
He pointed out that the agency is left with RM2 billion currently. The Pasir Salak Member of Parliament (MP) noted that Prasarana has other financial commitments, including to service its sukuk which is about RM600 million and capital expenditure of RM350 million, leaving RM844 million.
To recap, on Dec 31 last year, 17 contractors and consulting firms for the Light Rail Transit 3 (LRT3) project, which include MRCB-George Kent Sdn Bhd, WCT Bhd, Sunway Construction Sdn Bhd, Mudajaya Corp Bhd and Emrail Sdn Bhd, jointly signed a letter to Prime Minister Tan Sri Muhyiddin Yassin, Ministry of Finance and Ministry of Transport, saying that Prasarana had not paid them since July.
The delay in payments has put these contractors under financial stress. 
The contractors said they were owed RM700 million, and after taking into account work done in December, this amount would exceed RM1 billion.
The letter stated that the 17 contractors are currently under pressure from subcontractors, suppliers and other relevant stakeholders to make the relevant payments in the respective stipulated time frames. 
The LRT3 project measures 37km in length and spans 20 stations between Johan Setia, Klang and Bandar Utama.
Read also: 
Latitud8 project was awarded via open tender, no conflict of interest, says Prasarana chairman Tajuddin 
MACC paid a visit, it was not a raid, says Prasarana officer 
Prasarana has paid RM3.5b to MRCB-George Kent up to October; didn't withhold payments to the JV, claims chairman 
MACC raids Prasarana's premises earlier today 
LRT3 contractors under financial stress as Prasarana has not paid for work done since July