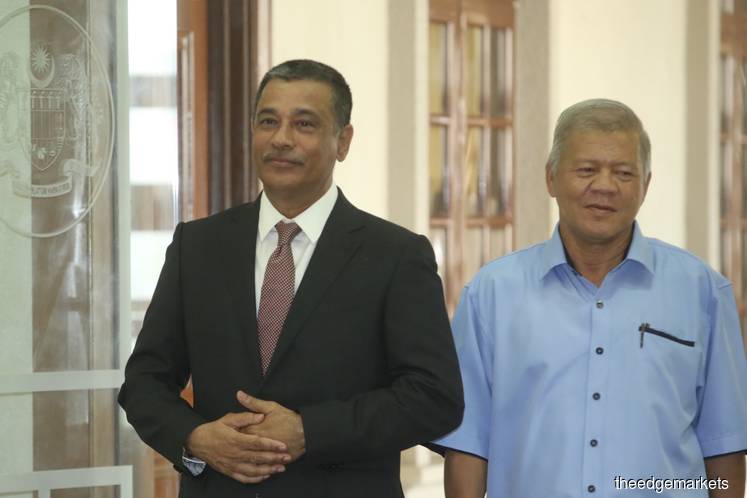 Witness no. 23, Habibul Rahman Kadir Shah Kadir. Photo by Sam Fong/The Edge
KUALA LUMPUR (April 30): Habibul Rahman Kadir Shah Kadir, a close political aide to former prime minister Datuk Seri Najib Razak, said "nobody gives information for free" when testifying at the High Court here about his receipt of a RM2.5 million cheque from the ex-premier.
Habibul, a trained accountant who said he advises Najib and has been described by some quarters as a political analyst, said political intelligence operations were needed to give politicians foresight.
"Nobody gives information for free," he added.
Earlier, he explained his background, saying he is involved in corporate strategy, and is a qualified accountant and has worked with Nestle and other companies.
"I must develop sufficient capability to evaluate situations," the witness said.
He also testified that he did not question the origins of the RM2.5 million he received as he believed the funds were sourced from political donations.
Habibul, 62, was called in as the 23rd witness in Najib's SRC International Sdn Bhd trial today.
The witness has been a member of Umno since 1984.
"All past presidents have their political funds, and many people want to provide political donation to establish goodwill with the prime minister," he said during his cross-examination by lead defence counsel Tan Sri Muhammad Shafee Abdullah.
Habibul said Najib had given him the funds to undertake "political operations" to obtain intelligence information, instead of a defence related contract as related by his solicitor and the prosecution's witness Ashraf Abdul Razak in his testimony given earlier.
The RM2.5 million cheque was issued to law firm Zulqarnain & Co, where Ashraf, 48, was a partner.
Earlier, Ashraf, a lawyer who worked for Habibul, told the High Court that the RM2.5 million cheque dated Feb 2, 2015 was meant for an unspecified defence contract.
However, during the cross-examination session by Shafee today, Habibul said he does not have any interests in a defence contract and believes Ashraf was mistaken in his testimony.
"The money is used for BN intelligence purposes. I received the cheque personally from Najib at his residence in Putrajaya," he said, emphasising the amount was for political operations which he declined to elaborate upon.
Habibul said he cannot remember if the cheque was written in front of him.
He added that he gave the cheque to Ashraf and asked him to prepare a few cheques for his wife and children, while setting aside the rest of the funds for operations.
Declining to describe his political projects, he said: "It is special operations and there is nothing illegal. The idea is to diffuse politic threat." He did not explain the threats.
Habibul also said he would spend his own money on these projects and be reimbursed later.
Related:
A-G's Chambers seeks to defer 1MDB trial until SRC case completes
Najib-SRC trial: 'Strong believer' in 1Malaysia personally received RM1m cheque from Najib for event goodies
Najib-SRC trial: SRC's ex-CEO could not take funds without Najib's consent