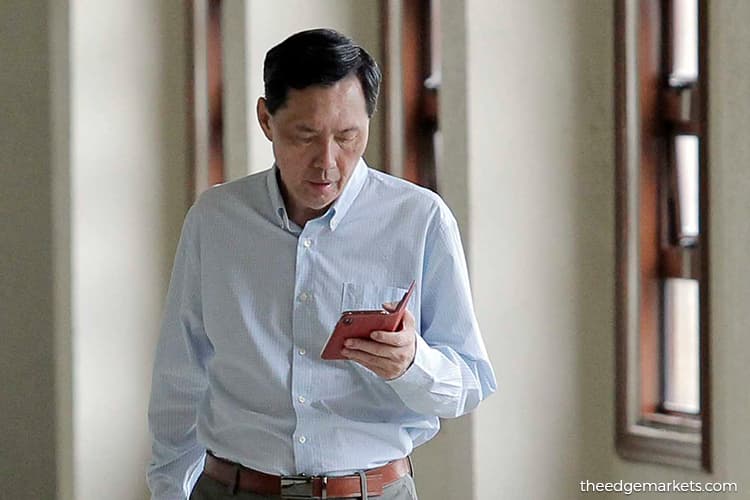 Datuk Lew Choon Lai, one of the witnesses in Najib's SRC trial. Photo by Kenny Yap
KUALA LUMPUR (April 30): A property developer-cum-event organiser who said he was a "strong believer" in former premier Datuk Seri Najib Razak's 1Malaysia racial unity programme said he received a cheque from the latter to pay for goodies distributed at one ground event to promote the programme.
Datuk Lew Choon Lai, the owner for Solar Shine Sdn Bhd, told the High Court he is a "small-time property developer", and Solar Shine is an event organising firm that distributes food and other items to the Indian community, and holds dinners and Chinese events at rural areas.
The witness says Solar Shine would coordinate with BN to organise dinners and lucky draws.
He volunteered to hold these events as he wanted to promote the 1Malaysia policy, which was Najib's pet project to promote national unity among the races.
"I am a strong believer of 1Malaysia," he said.
Lew, 60, says he met Najib in 2015 when he volunteered to undertake ground campaigns among the Indians and senior Chinese citizens all over the country.
"I initially met Najib through Tan Sri William Cheng (of Lion Group). I met Najib on the fifth floor of PMO [Prime Minister's Office] to discuss Chinese-related problems," he said.
He admitted to receiving the RM1 million cheque personally from the ex-premier to pay for items distributed during an event.
Lew said he met Najib for a short while several months later in 2015 to relate the feeling on the ground.
"The ground campaign was stopped after the 14th General Election, we were devastated (about the fall of Najib as prime minister)," he said.
Related:
A-G's Chambers seeks to defer 1MDB trial until SRC case completes
Najib-SRC trial: 'Nobody gives information for free,' says witness who received RM2.5m cheque from ex-PM
Najib-SRC trial: SRC's ex-CEO could not take funds without Najib's consent