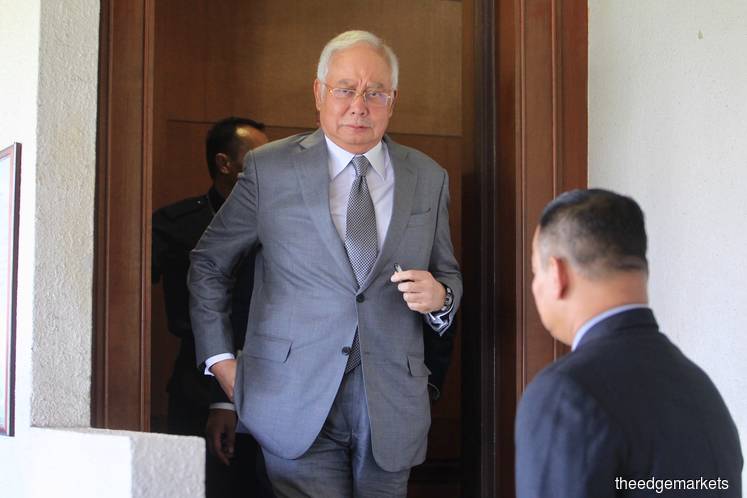 KUALA LUMPUR (Jan 8): Datuk Seri Najib Razak said he was surprised by the Malaysian Anti-Corruption Commission (MACC)'s revelation of telephone call recordings between several individuals including the former premier, relating to investigations of 1Malaysia Development Bhd (1MDB) in 2016.
Speaking to the press during the afternoon break of the SRC International Sdn Bhd trial, he said he has referred the matter to his lawyer and that he is still in the midst of studying the content of the leaked recordings.
"This (MACC's revelation) has never been done before in the history of our country and the timing seems to coincide with the Kimanis by-election. I will discuss this with my lawyer for now," said Najib.
Asked if this can be seen as a political attack, he responded by pointing out the timing of the revelation and the upcoming by-election.
Meanwhile, the former premier said he will have to see what actions he can take, given that the recordings could have been obtained by tapping his phone while he was still Prime Minister of the country.
Asked if the conversation did take place, Najib only said he would need to look into the matter first.
At a press conference today, MACC chief commissioner Latheefa Koya played nine clips of phone conversations between Jan 5, 2016, and July 29, 2016, totalling nearly 45 minutes.
The clips are in three parts. The first part involves conversations with someone who appears to be former MACC chief Tan Sri Dzulkifli Ahmad — then a deputy public prosecutor in the Attorney-General's Chambers.
Dzulkifli was heard briefing Najib on an investigation paper in January 2016, which Latheefa said should be the one on former 1MDB unit SRC International Sdn Bhd.
Dzulkifli was also heard speaking to another person, which MACC identified as Najib's former private secretary Tan Sri Shukry Mohammad Salleh.
Meanwhile, a separate recording captured conversations between Najib and parties from the United Arab Emirates, including UAE Crown Prince Mohammed bin Zayed Al Nahyan, and Mubadala Development Co managing director Khaldoon Al Mubarak.
The calls were made following a US Department of Justice announcement in July 2016, of the billion-dollar scandal involving 1MDB.
Najib was also heard proposing a deal — involving a forged loan agreement — with the crown prince to clear the name of his stepson Riza Aziz, due to the 1MDB money trail into his Hollywood film production house Red Granite Pictures.
"I don't want him to be a victim. He genuinely believed it was from Aabar [Investments PJS], from Sheikh Mansour (UAE deputy prime minister Sheikh Mansour bin Zayed Al Nahyan).
"I need that agreement to be sorted out quickly," said Najib to the crown prince. "He said all he wanted was to make movies, and there was an offer of loan from Sheikh Mansour."
There were also conversations between Najib and his former special officer Datuk Amhari Efendi Nazaruddin, following a failed arrangement to meet Khaldoon in Jakarta, Indonesia, to resolve the tussle between 1MDB and IPIC, which later escalated into an international arbitration.
The last call recording was between Najib and a person MACC identified as his wife Datin Seri Rosmah Mansor, where Rosmah was heard shouting at Najib to 'advise' him on the matter. She was heard saying: "Darling, you are the PM you have to take control. You have goons around to advise you."
See also:
Rosmah: My lawyers are looking into recordings
Recordings released by MACC mention 19 names, including Najib and Rosmah
Phone recordings show abuse of power, fabrication of false evidence — Latheefa