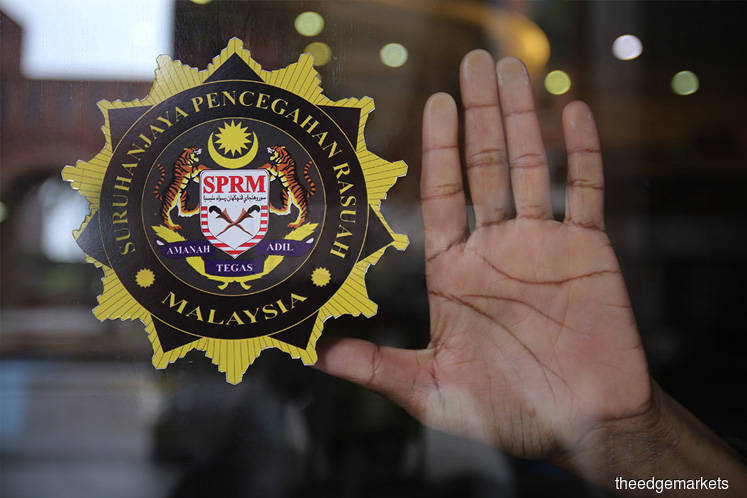 KUALA LUMPUR (Jan 8): Apart from former Prime Minister Datuk Seri Najib Razak and his wife Datin Seri Rosmah Mansor, the recordings released by the Malaysian Anti-Corruption Commission (MACC) today also mentioned 17 other names.
They are:
1. Former MACC chief Tan Sri Dzulkifli Ahmad
2. Former MACC chief Tan Sri Abu Kassim
3. Former Attorney General (AG) Tan Sri Gani Patail
4. Former AG Tan Sri Apandi Ali
5. Former Lembaga Tabung Haji chairman Datuk Seri Abdul Azeez Abdul Rahim
6. Ihsan Perdana Sdn Bhd managing director Datuk Dr Shamsul Anwar Sulaiman
7. Former SRC International director Datuk Suboh Md Yassin
8. Former SRC International CEO Nik Faisal Ariff Kamil
9. Ihsan Perdana finance director Datuk Abdul Aziz Ismail
10. Former private secretary to Najib Tan Sri Shukry Mohd Salleh
11. UAE Crown Prince Sheikh Mohammed bin Zayed Al Nahyan
12. UAE deputy prime minister Sheikh Mansour bin Zayed Al Nahyan
13. Mubadala Development Co managing director Khaldoon Al Mubarak.
14. UAE President Khalifa bin Zayed bin Sultan Al Nahyan
15. Najib's stepson Riza Shahriz Abdul Aziz
16. Former special officer to Najib Datuk Amhari Efendi Nazaruddin
17. Then Umno Youth vice president Khairul Azwan Harun
Earlier today, MACC chief commissioner Latheefa Koya played nine clips of phone conversations between Jan 5, 2016 and July 29, 2016 across a combined 45 minutes.
These phone recordings revolved around former prime minister Datuk Seri Najib Razak when he was sorting out the issues surrounding the investigation into 1Malaysia Development Bhd (1MDB) in 2016.
Latheefa said the MACC is "quite satisfied" that the recordings are authentic, and does not see how releasing the clips is subjudicial to the ongoing court cases involving 1MDB and Najib, as the release was done in the public interest.
After the recordings were played, Latheefa said: "Based on our understanding there are signs of abuse of power, obstruction of justice, and fabrication of false evidence based on the recording."
See also:
Rosmah: My lawyers are looking into recordings
Najib shocked by MACC's revelation being so close to Kimanis by-election
Phone recordings show abuse of power, fabrication of evidence — Latheefa