Click / Tap image to enlarge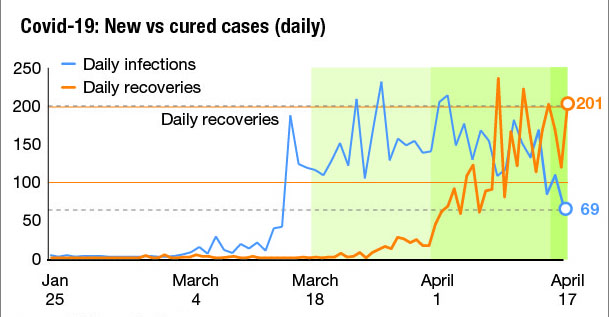 Click / Tap image to enlarge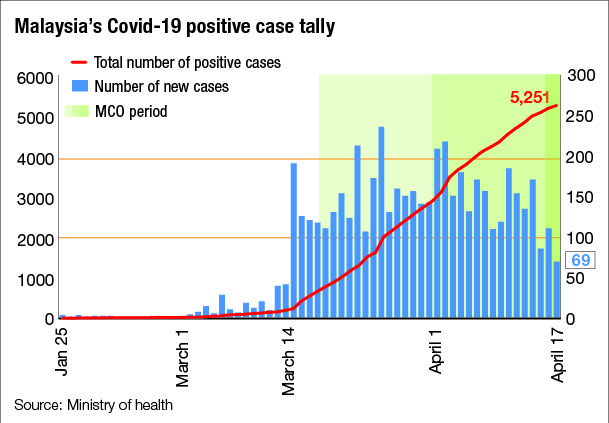 KUALA LUMPUR (April 17): The Ministry of Health (MoH) reported 69 new Covid-19 daily infections today, the lowest daily figure after 30 days of the Movement Control Order (MCO).
The second lowest number of daily infections was 85 cases on Wednesday (April 15).
The number of daily infections dropped by 41 cases from 110 daily infections yesterday. Total cases nationwide hit 5,251 cases, said health director-general Datuk Dr Noor Hisham Abdullah in a statement.
The number of daily recoveries exceeded the number of daily infections for the ninth time, with 201 cured cases. This brings the total recoveries in Malaysia to 2,967 or 56.5% of the country's total.
Currently, the country has 2,198 active cases, with all patients undergoing treatment. Fifty-one patients are being treated in intensive care, with 26 of them needing respiratory assistance.
The death toll edged up by two fatalities, bringing the total to 86 cases or 1.64% of overall cases.
The deceased were both Malaysian men, aged 85 and 86 respectively.
The 85-year-old had close contact with a Covid-19 patient that is linked to a person under investigation (PUI) from the Bali cluster, while the other man had high blood pressure and was a stroke victim.
Selangor continues to lead with the highest number of confirmed infections with 1,338 cases, followed by Kuala Lumpur (971), Johor (623) and Negeri Sembilan (402).
Dr Noor Hisham said so far, the ministry has conducted 9,717 tests today, running on 84%-85% of capacity.
According to a circular by the Kampung Baru Malay Agricultural Settlement administrative body, all residents must undergo Covid-19 tests at the Titiwangsa health district office due to the high number of positive cases recorded in Kampung Baru and their proximity to the Selangor Mansion and Malayan Mansion flats.
The authorities have begun screening residents of the PKNS Kampung Baru flats after one person died of Covid-19.
As of yesterday, Kota Kinabalu became a red zone after it recorded two new cases, pushing total infections to 42. There are now 28 red zones across the country.
Meanwhile, Lembah Pantai in Kuala Lumpur remained as the top Covid-19 hotspot with 592 cases.
Some areas under Lembah Pantai including Selangor Mansion, Malayan Mansion and Menara City One were placed under the Enhanced Movement Control Order (EMCO) after several Covid-19 cases were detected in the buildings.
The EMCO has been enforced in Selangor Mansion and Malaysian Mansion along Jalan Masjid India on April 7 after 15 positive Covid-19 cases were recorded at the two buildings.
Menara City One on Jalan Munshi Abdullah was put under lockdown on March 31 after 17 people contracted the disease.
See also:
Photo Gallery: ALL LOCKED UP
For Menara One City residents, the wait continues
Under tight security, PKNS Kampung Baru folk undergo active screening for Covid-19
#dudukrumahdiamdiam and get the news at theedgemarkets.com.