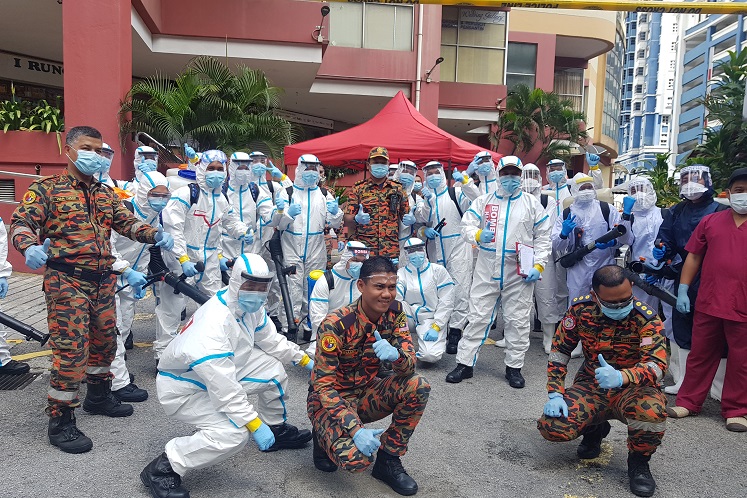 KUALA LUMPUR (April 30): Twenty-one personnel from the Fire and Rescue Department of Malaysia (Bomba) and 11 more from the Ministry of Health (MoH) conducted a disinfection exercise at Menara City One here this morning.
According to health director-general Datuk Dr Noor Hisham Abdullah, 55 cases of Covid-19 were found at the condo and its surrounding areas – which include all of Jalan Munshi Abdullah where the building is located – as at yesterday.
The condo was put under an enhanced movement control order (EMCO) on March 31 after 17 cases of Covid-19 were detected in the building.
The 30-storey tower houses about 3,200 people within its 502 condominium units.
Under the terms of the EMCO, residents are not allowed to leave, while visitors are forbidden from entering.
The barricades, barbed wire, drones and presence of police and soldiers ensured that.
The Welfare Department has delivered basic food supplies to residents, who are unable to leave to replenish their stock.
Residents are allowed to order food to be delivered to the building, but deliveries must be made at a designated point.
The EMCO has also been expanded to the whole of Jalan Munshi Abdullah, with screenings being carried out by healthcare workers at the Maytower hotel and serviced residences next door.
Here are some of the surreal sights around the building, captured by photographers Suhaimi Mohd Yusuf and Shahrin Yahya.