Click / Tap image to enlarge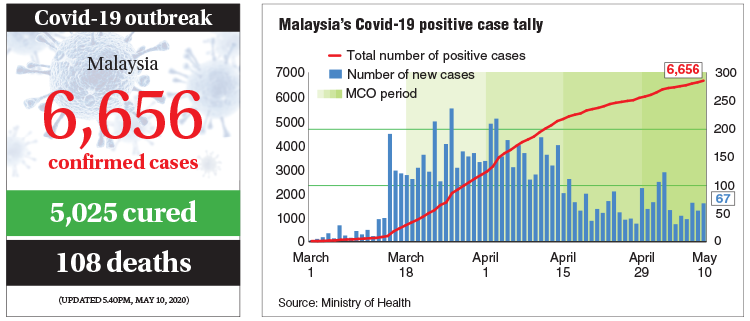 Click / Tap image to enlarge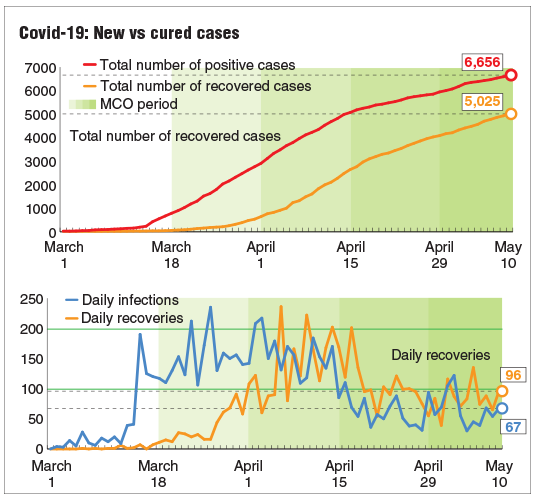 Click / Tap image to enlarge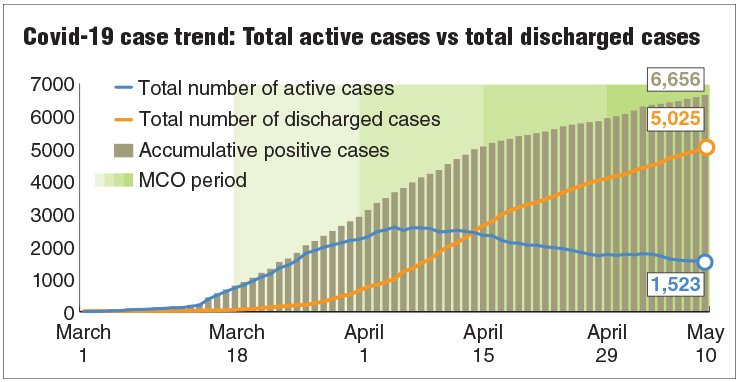 Click / Tap image to enlarge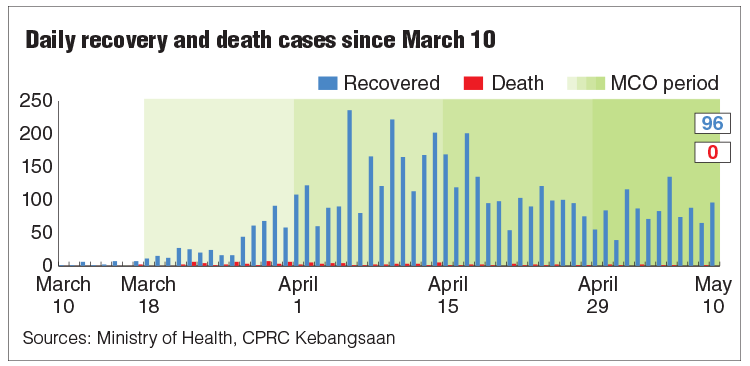 Click / Tap image to enlarge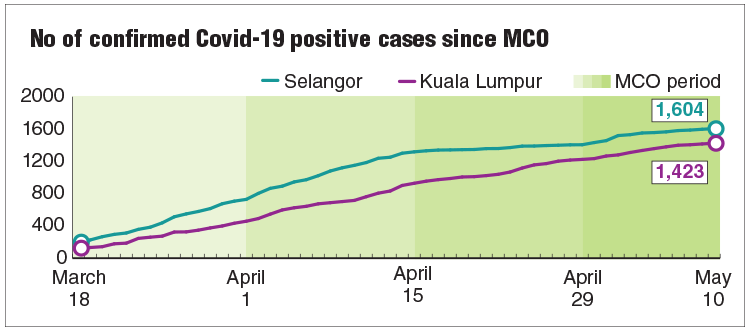 KUALA LUMPUR (May 10): Malaysia recorded 67 new Covid-19 infections today, with the majority of them — 49 or 73% of the new cases — found among foreign nationals, according to the Ministry of Health (MoH).
Just yesterday, it said 45 or 83% of the 54 new cases discovered were among foreign nationals.
The latest daily number raised the country's Covid-19 tally to 6,656 cases, MoH director-general Datuk Dr Noor Hisham Abdullah said in a statement today.
Recoveries, however, continued to outpace the number of new infections discovered, at 96, bringing total recoveries to 5,025 or 75.5% of total infections.
This further lowered the country's number of active cases to 1,523 from 1,552 yesterday; 18 of the cases were now in intensive care, while six required respiratory aid.
The death toll remained at 108, representing 1.62% of total infections, as no new fatality was reported.
Noor Hisham also welcomed the government's announcement earlier today that the conditional movement control order (CMCO) period will be extended until June 9.
"This will continue to give space to the government in battling the spread of Covid-19 to a level that is more controllable, while it balances the careful opening up of various sectors of the economy. The effectiveness of this measure will be assessed from time to time," he said.
He also updated that the enhanced movement control order or EMCO placed on the PJ Old Town area along Jalan Othman and its surroundings in Petaling Jaya, Selangor was issued following the detection of 27 infections there. Two of them were detected outside the area.
"The EMCO involves three zones and will be in effect from May 10 (today) until May 23," he added.
Meanwhile, he said the MoH will continue with its active case detection efforts and targeted approach to screen high-risk groups, which had shown positive results in the detection of new infections.
The target groups identified were:
participants of an assembly in Seri Petaling and their close contacts;
Students and staff of madrasah and tahfiz schools linked to the assembly in Seri Petaling;
Malaysians returning from abroad and placed in quarantine centres;
MoH healthcare staff;
Residents within areas placed under the EMCO;
The Kuala Lumpur wholesale market (Pasar Borong Kuala Lumpur) and other wet markets linked to this wholesale market;
Foreign workers on construction sites within red zones;
Nursing homes for the elderly. 
"The public do not need to worry about the increase in new cases, following the government's more aggressive and proactive implementation of its targeted approach, because it shows the effectiveness of this activity. The cases detected are isolated and treated in hospitals to ensure that the Covid-19 virus does not continue to spread in our community," he added. 
See also:
Government extends conditional MCO until June 9
MoH aims to lower daily new Covid-19 infections to single-digit in two weeks
Out of 24,125 foreigners screened so far, 4.7% found positive — MoH
PJ Old Town and surrounding areas placed under EMCO, some 2,900 residents affected
Stay at home. We will deliver the news to you at theedgemarkets.com.