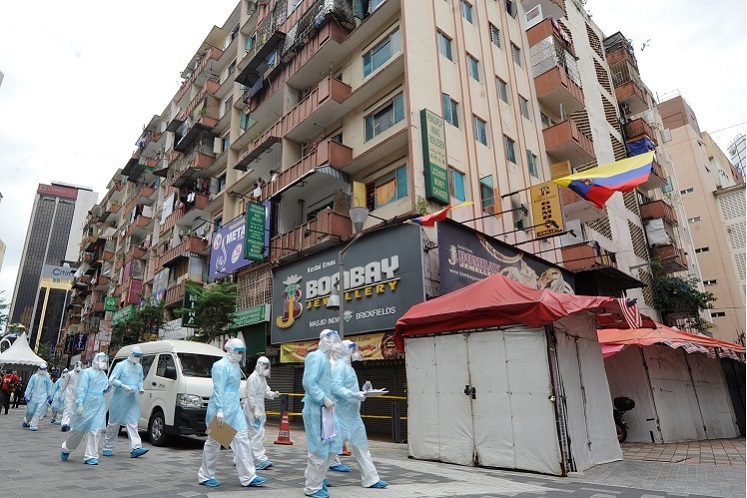 KUALA LUMPUR (May 10): The Ministry of Health (MoH) said it had so far screened 24,125 foreign nationals, including migrant workers, for Covid-19 and that 1,132 of them or 4.7% had been found positive.
In comparison to the data it released on Wednesday, there had been an increase of 1,786 individuals tested within the span of four days, with an increase of 146 positive cases from 986 previously.
These 1,132 cases now accounted for about 17%, compared with 15% previously, of the 6,656 total Covid-19 confirmed cases in the country as of today.
MoH director-general Datuk Dr Noor Hisham Abdullah said 487 or 43% of the 1,132 cases were still undergoing treatment, three of whom had been placed under intensive care; 641 others had recovered and been discharged from hospitals.
"The screenings [of foreign workers] are still ongoing and we hope to continue to conduct the testing, especially for the ones [in areas] under an enhanced movement control order (EMCO)," he said during his daily Covid-19 press briefing today.
On Tuesday, Noor Hisham said foreign workers in the red zones had been categorised as one of the high-risk groups on which Covid-19 screenings will be focused as part of the ministry's targeted approach.
Besides foreign workers, other target groups the ministry had identified were: participants of the tabligh assembly in Seri Petaling and their close contacts; students and staff of tahfiz schools related to the tabligh assembly in Seri Petaling; Malaysian returning from overseas, MoH healthcare workers, residents in EMCO areas, the Kuala Lumpur wholesale market and markets linked to it, as well as old folks' homes.
"The public do not need to worry about the increase in new cases [from these groups] following the government's aggressive and proactive targeted focus as this demonstrates the effectiveness of this approach. The confirmed cases have been isolated and hospitalised to ensure that the Covid-19 virus does not continue to spread in the community," Noor Hisham said today.
Yesterday, he said the ministry had detected a new cluster of Covid-19 infections among foreign workers on a construction site in Setia Alam, Selangor. No new case was reported for this cluster today, which had a total of 12 cases, all Bangladeshi nationals.
Meanwhile, the number of Covid-19 positive cases in the Pedas cluster rose to 131 today after reporting 43 new cases as at noon. Of the 131 cases, 122 were found among foreigners. Only one patient from this cluster had recovered so far.
The ministry announced the identification of the Pedas cluster on May 2, which had been traced to a factory worker in Pedas, Negeri Sembilan. The index case, who started feeling unwell on April 5, with fever, cough and flu-like symptoms as well as breathing difficulty, was diagnosed Covid-19 positive a week later.
See also:
Malaysia reports 67 new Covid-19 infections today, again mostly among foreigners
Government extends conditional MCO until June 9
MoH aims to lower daily new Covid-19 infections to single-digit in two weeks
PJ Old Town and surrounding areas placed under EMCO, some 2,900 residents affected
Stay at home. We will deliver the news to you at theedgemarkets.com.