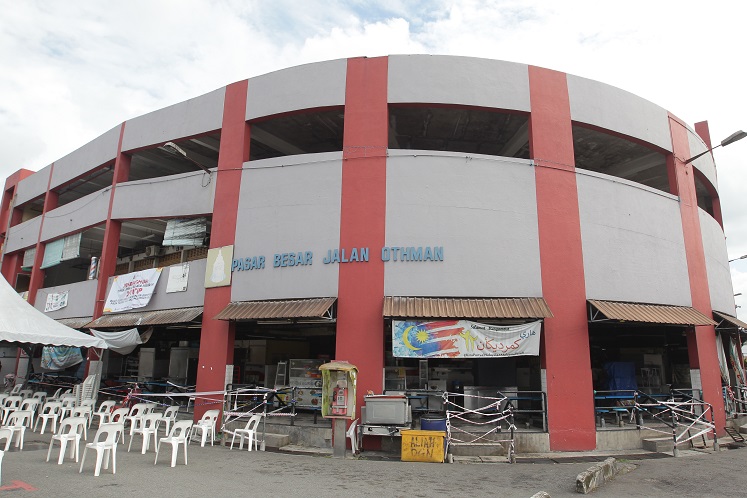 KUALA LUMPUR (May 10): The PJ Old Town market along Jalan Othman and the surrounding areas in Petaling Jaya, Selangor have been placed under an enhanced movement control order (EMCO), whereby residents are now prohibited from leaving the area while non-residents and visitors are not allowed to enter. 
Senior Minister (Security Cluster) Datuk Seri Ismail Sabri Yaakob said in a statement today that the EMCO was enforced after the Ministry of Health (MoH) found 26 Covid-19 positive cases in the area.
"The EMCO affects about 2,900 residents of houses and business premises in the area. The order is effective from May 10 (today) until May 23, 2020," he said.
This EMCO is the eighth enforced by the government so far, according to the minister, and it involves three zones, Zones A, B and C.
Zone A includes Jalan Penchala, Jalan 4/33, Jalan 4/37, Jalan 4/39, Jalan 4/41, Jalan 4/44, Jalan Terus 4/42, Jalan 4/43, Jalan 4/46 and Jalan Othman 4/4D.
Zone B​ covers Jalan 2/29, ​ Jalan 2/29A, Jalan 2/27, Jalan 2/32,​ Jalan 2/25, Jalan 2/26, Jalan 2/34, Jalan 2/34A, Jalan 2/23, Jalan Dispensary 2/38 and​​ Jalan Pasar 1/21. 
Zone C​ involves Jalan Selangor, Lorong 3/57D,​ Lorong 3/57C, Jalan RIDA 3/56 and Jalan Sentosa 3/57. 
During the EMCO, all business activities have to be stopped, while a medical base will be set up on-site.  
"The EMCO is imposed to prevent the spread of Covid-19 infection out of this area. This step will enable house-to-house case detection to be conducted throughout the enforcement period," said Ismail Sabri.
He also urged residents in the area to remain calm, and to fully cooperate with MoH staff and comply with instructions from the authorities.
Those who need assistance or have any questions can call the Petaling Jaya CPP Room at 016-980 9389, or the Petaling Jaya District Police Headquarters at 03-7966 2222, the statement added.
See also:
Malaysia reports 67 new Covid-19 infections today, again mostly among foreigners
Government extends conditional MCO until June 9
MoH aims to lower daily new Covid-19 infections to single-digit in two weeks
Out of 24,125 foreigners screened so far, 4.7% found positive — MoH
Stay at home. We will deliver the news to you at theedgemarkets.com.