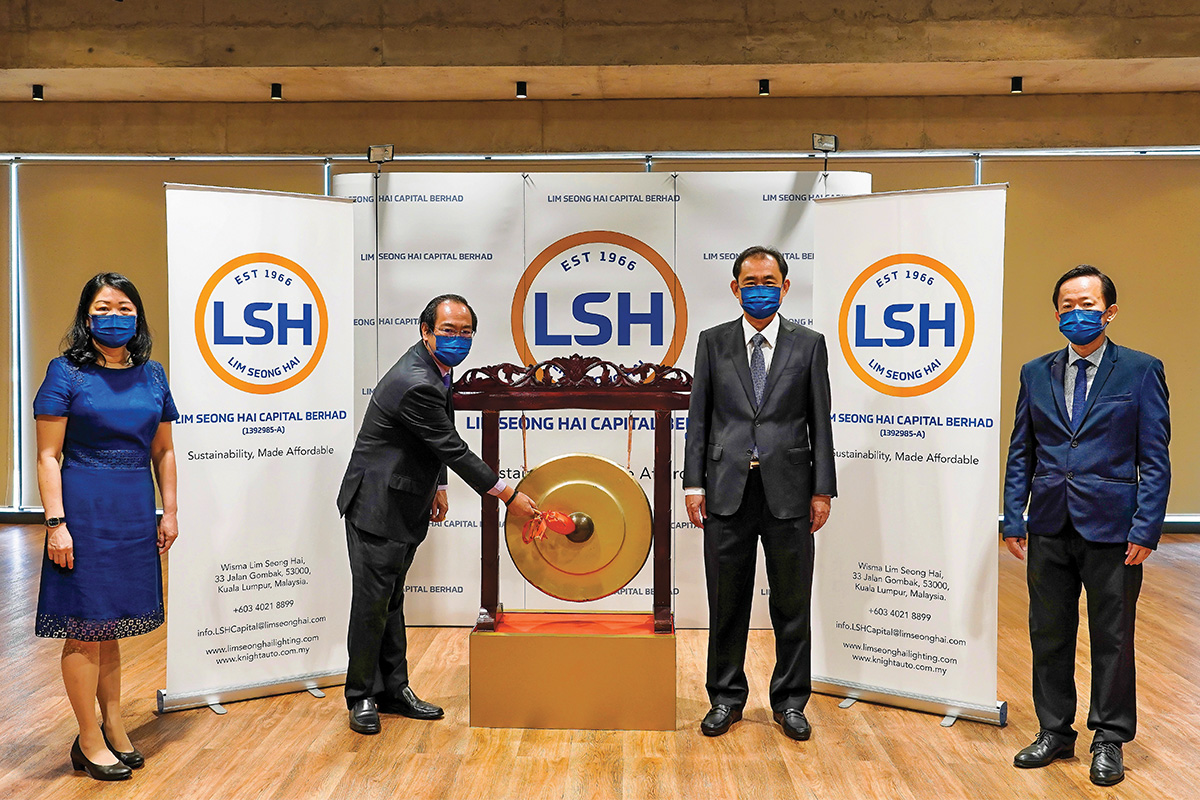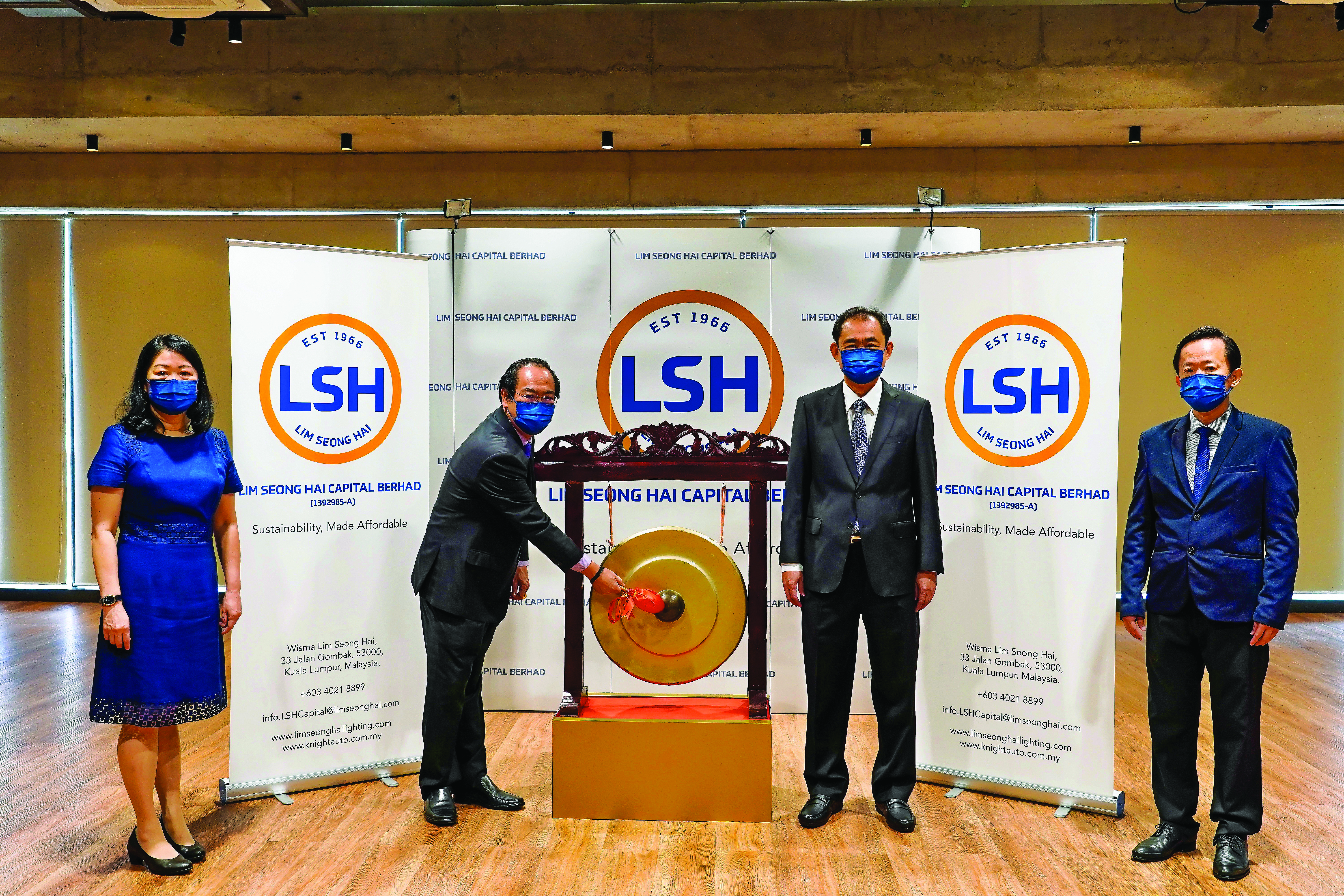 Lim Seong Hai Capital's listing on the LEAP Market is a stepping stone to achieve its ambitions and prepare the group for the eventual transfer of listing to the other markets of Bursa Malaysia
Construction-related products and service provider Lim Seong Hai Capital Bhd, which debuted on Bursa Malaysia's LEAP Market on July 30, envisages becoming a billion ringgit company in the next 10 years.
Speaking at a virtual interview, non-executive chairman Tan Sri Lim Keng Cheng says the RM1 billion market value target will be achieved through a future injection of some of its other businesses under Lim Seong Hai Holdings Sdn Bhd.
According to him, Lim Seong Hai Holdings, the holding company of Lim Seong Hai Capital, is a large entity with various businesses, including money lending, property development and construction. There are plans to merge some of these businesses into the listed Lim Seong Hai Capital in the future.
For now, the listing on the LEAP Market is a stepping stone to achieve its ambitions and prepare the group for the eventual transfer of listing to the other markets of Bursa Malaysia. Lim says the important thing now is for the company to stay focused on growing its businesses. With that in mind, he is eyeing a profit after tax (PAT) of RM10 million per annum going forward.
Lim Seong Hai Capital is an investment holding company that owns Lim Seong Hai Lighting Sdn Bhd and Knight Auto Sdn Bhd, which are principally involved in the provision of construction-related products and services such as building materials, lighting products, mechanical and electrical (M&E) products and services, hardware and tools and rental of machinery, including cranes, hydraulic excavators and skylifts.
Lim is confident of growing the businesses, partly banking on the growth of the construction product industry, which will be driven by factors such as the long-term growth in construction activities, increasing demand from consumers for home improvement and do-it-yourself projects, as well as various government initiatives.
For the six months ended March 31 (6MFY2021), Lim Seong Hai Capital registered a PAT of RM5.56 million on revenue of RM41.61 million. For FY2020 ended Sept 30, the company saw a 37.43% drop in PAT to RM4.14 million from RM6.61 million in FY2019. Revenue shrank 18.85% to RM48.12 million from RM59.30 million a year earlier.
The bulk of its revenue in FY2020 (73% or RM35.16 million) was derived from the distribution and retail of building materials, lighting products and related M&E products and services, while the remainder (26.94% or RM12.96 million) was from the wholesale and retail of hardware and tools as well as rental of machinery.
The company expects its earnings for FY2021 ending Sept 30 to outdo FY2020, boosted by its strong order book. It has an unbilled order book of RM63.2 million and this is expected to contribute to its revenue and profit for the period up to 2024.
A substantial portion of the orders are from property development LSH 33, for the provision of lighting products, related M&E products and services as well as building materials and rental of machinery. Situated in Sentul, Kuala Lumpur, the project will also house Lim Seong Hai Capital's new retail shops for Lim Seong Hai Lighting and Knight Auto. There will also be a decorative-lighting-themed commercial space, the décor for which will be supplied by the company.
Including the new retail outlets at LSH 33, the company plans to open a total of five new stores over the next three years. Via its listing exercise, Lim Seong Hai Capital raised gross proceeds of RM4.66 million and has set aside the bulk of it (RM3.66 million) to partially fund the new stores.
Lim Seong Hai Lighting currently has five stores selling lighting products, while Knight Auto has three stores dealing in hardware and tools. It also operates a warehouse that carries agricultural tools and equipment, garage tools and equipment, concrete mixers, generator sets and air compressors, among others.
In response to the Covid-19 situation, the company intends to further digitise the retail of its lighting products, hardware and tools after witnessing its online store sales register a 216% year-on-year growth to RM2.8 million, due to the fact that online shopping has become a new norm, with more people turning to online shopping in the wake of the pandemic.
To ramp up its digital presence, it will increase the number of its online channels to enhance product visibility. It will also implement a real-time inventory system to monitor stocks and display the available number of stock on various online channels, to be updated in real time. Additionally, it will intensify its investments in digital advertising on social media platforms and online video-sharing platforms, with an estimated cost of RM100,000 for marketing activities over a span of one year, which will be funded by internally generated funds.
Currently, the company retails its products through its online stores as well as established third-party e-commerce platforms such as Lazada and Shopee. As a result, its sales are not limited by the location of its physical stores and it can reach out to a wider network of customers in local and international markets.
Lim believes the experience and expertise of the four directors on the board of Lim Seong Hai Capital will help sustain the company's growth and its overall financial performance by securing more contracts and projects. "Lim Seong Hai Capital's LEAP Market listing will provide us with another platform to introduce our BEST formula to a wider pool of potential clients as well as recognise our directors' 135 cumulative years of effort in managing the company's 26-year track record," he says.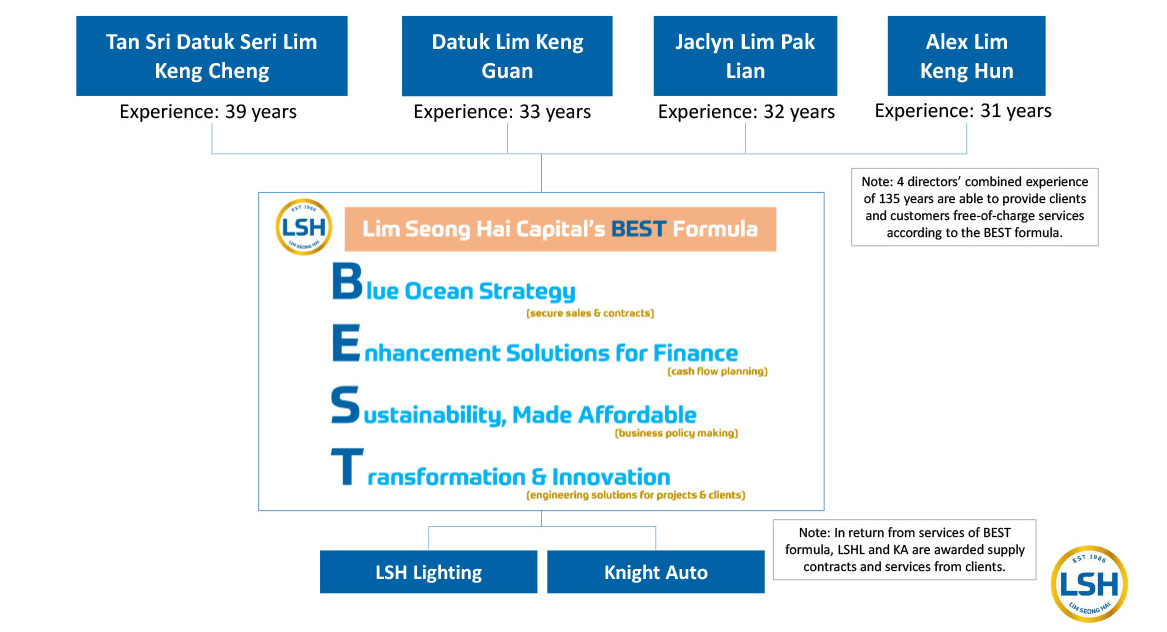 According to Lim, the BEST formula practised by the company has been in the free service provided to clients since 1995 in exchange for supply contracts to Lim Seong Hai Lighting and Knight Auto. "[Through our BEST formula] we are actually selling them our advice and input into what products they should use in their development and construction," he explains.
"In return, they reward us by buying our products. This model creates mutual gain — we help them save money and give them a better and the most cost-effective product to use and in exchange, they buy products from us. That builds up our order book and enhances our profitability."
BEST stands for Blue ocean strategy, Enhancement solutions for finance, Sustainability made affordable, and Transformation and innovation.
Lim Seong Hai Capital is the eighth company to list on the LEAP Market this year. The exercise involved the listing of 35.86 million shares at a listing price of 13 sen. At that price, its market capitalisation stood at RM46.16 million.
The promoters of Lim Seong Hai Capital were Lim and his siblings Datuk Lim Keng Guan, Lim Pak Lian and Lim Keng Hun. Upon listing, the promoters would collectively own 62.34% of the company through Lim Seong Hai Resources Sdn Bhd.
Lim Seong Hai Resources is wholly-owned by Lim Seong Hai Holdings, in which the four promoters hold 25% equity interest each. They would also hold a 6.89% stake each in the newly listed entity, which means the Lim family would control 89.9% of the company.
Lim, 59, explains that the company is named after his father, Lim Seong Hai, in gratitude for his origins and his father's teaching. "This is an important day for the Lim family as we finally realised our dream to list the business that was founded by our late father in 1966. We always remember his teachings — which is to always have gratitude for our origins and to walk step by step towards success. We assure our investors that this is only the beginning of many good things to come," he says.
Read also:
LSH Capital to abide by new minimum wage
LSH Capital enters into multiple deals as part of expansion into property, construction biz
LSH Holdings unveils two projects in the Klang Valley