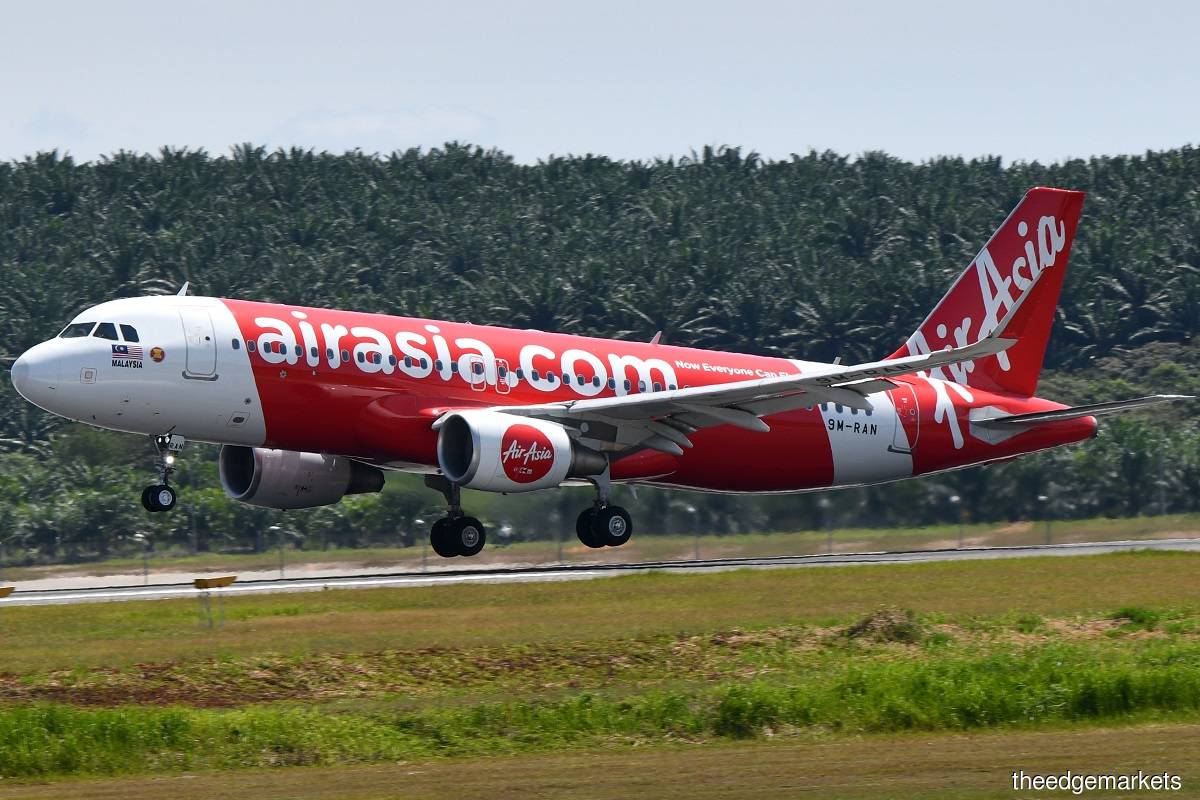 KUALA LUMPUR (Sept 9): Following AirAsia Group Bhd's larger-than-expected half-year loss reported yesterday, market analysts are now mixed on whether the low-cost carrier will see better days or continue to face bumpy quarters ahead. 
In a note today, Hong Leong Investment Bank Research (HLIB Research) aviation analyst Daniel Wong noted that the governments of Asean countries — the region in which AirAsia predominantly operates — have decided to relax their Covid-19 restrictions, considering the ongoing vaccination programme and the prolonged impact on the economy under current strict movement control measures. 
For instance, he pointed to the planned recommencement of domestic tourism in Malaysia, starting with Langkawi, under the National Recovery Plan (NRP), and the sandbox tourism initiative by the Thai government, which will be implemented in various tourist destinations after finding success in Phuket. 
"However, these pockets of relaxation for domestic travel still seem to be at a nascent stage, while international travel will only be gradually allowed towards the second half of 2022," he said. 
HLIB Research has upgraded its call on AirAsia from "sell" to "hold", with a higher target price (TP) of 95 sen per share from the previous 56 sen. 
"While the worst seems to be over, we remain concerned about the pace of recovery, negative equity position and dilutive rights issue exercise," he added. 
Meanwhile, CGS-CIMB Research analyst Raymond Yap considered AirAsia's digital businesses to still be in the early stages of development and may consume significant amounts of cash resources due to the presence of established and well-funded competitors.
As such, he did not include the valuation of the digital businesses in the research house's valuation or its TP. 
Yap expects that the carrier's losses could remain significant in FY22, albeit narrower than in FY21.
Furthermore, he pointed out that one risk to look out for is the potential for AirAsia to be classified as a Practice Note 17 (PN17) company by Bursa Malaysia, which may result in institutional funds selling down the stock.
CGS-CIMB Research is maintaining its "reduce" call on AirAsia, with a lower TP of 23 sen. 
Meanwhile, after factoring in the larger-than-expected loss recorded for 1HFY21, MIDF Research has revised its FY21 loss estimate for AirAsia to RM2.06 billion. 
Despite the larger loss estimate for FY21, the research firm reckoned that the carrier should see better days ahead with its domestic airline operations expected to gradually improve from the fourth quarter ending Dec 31, 2021 (4QFY21) onwards following phased upliftment of travel restrictions for fully vaccinated individuals.
"While we are sanguine about general prospects for the economy in view of progress made in the struggles against the Covid-19 pandemic, the progress in achieving the much-anticipated pent-up demand for air travel by end-FY21 may be slowed down following the resurgence of new strains of virus in the region, which has resulted in a delay in reopening the borders," it said in a note today. 
MIDF Research reiterated its "sell" recommendation on AirAsia as it views that the current valuation is beyond what it deems to be fair given the circumstances. However, it revised up its TP for AirAsia from 44 sen to 77 sen per share. 
For Kenanga Research, it views that AirAsia's long-term fortune rests on how successfully it can turn around and transform itself into a digital travel and lifestyle company.
Faced with a negative operating cash flow and negative equity, Kenanga Research pointed out that the carrier is urgently resolving its liquidity and capital adequacy issues via cash calls, which the research firm expects more will be coming. 
Until then, it is maintaining an "underperform" call on AirAsia, with an unchanged TP of 70 sen per share. 
Yesterday, AirAsia announced that it recorded a net loss of RM1.35 billion for 1HFY21, compared to a net loss of RM1.8 billion a year ago. Revenue fell 72.4% to RM686.82 million from RM2.49 billion in the same period.
The carrier said it continued with its cost containment measures, including the rightsizing of manpower and salary cuts for management, staff and directors, while actively managing its capacity to be in line with demand. 
Read also:
AirAsia 2Q net loss narrows to RM580m as revenue jumps 161%