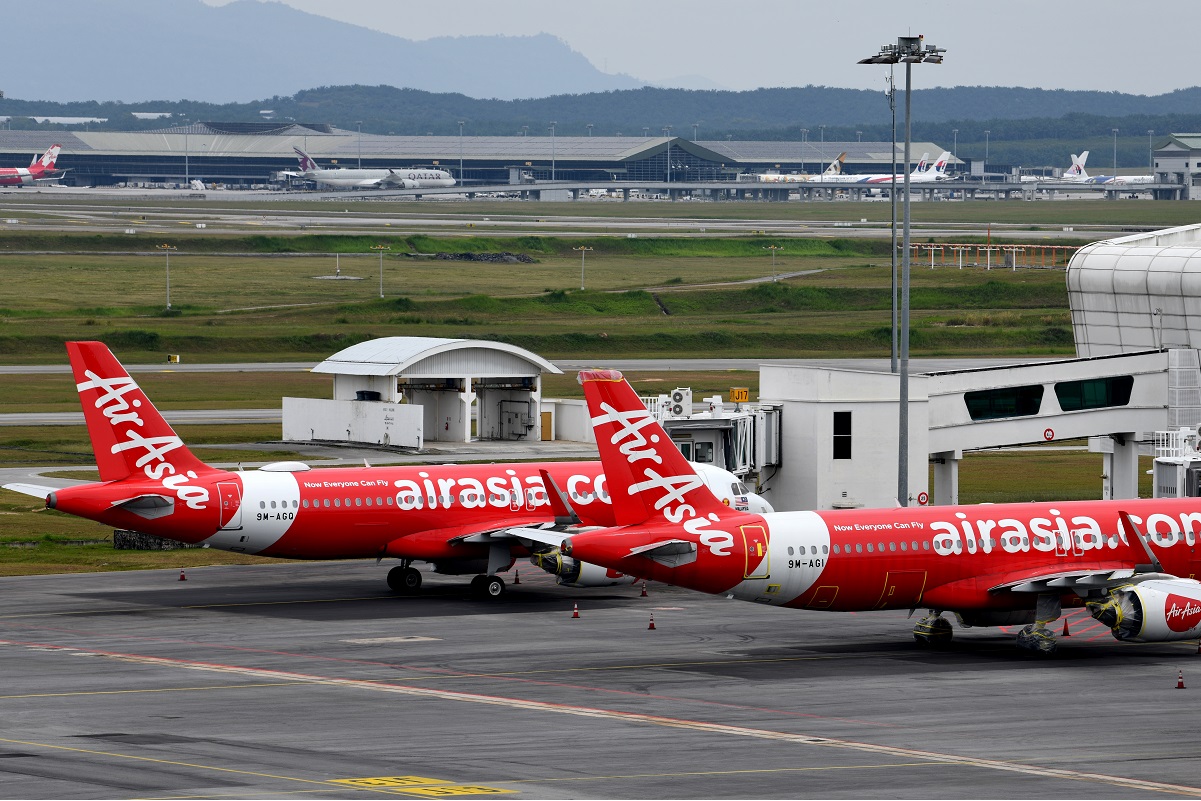 KUALA LUMPUR (Sept 8): AirAsia Group Bhd's net loss narrowed to RM580.06 million in the second quarter ended June 30, 2021 (2QFY21) from RM992.89 million a year earlier. Losses per share eased to 15.2 sen from 29.7 sen.
In a filing to Bursa Malaysia today, AirAsia said the group continued with its cost containment measures, including the right-sizing of manpower and salary cuts for management, staff and directors while actively managing its capacity to be in line with demand. 
"The impact of the Covid-19 pandemic continues to affect the group's operations adversely. While international borders remained closed, the group focused on providing limited domestic operations in the countries where we operate. 
"Enhanced lockdowns announced in Malaysia in May 2021 further dampened the sales in this quarter. Philippines and Indonesia saw a good pick-up of sales only to be subsequently dampened in the third quarter of the year by respective countries' restriction of travel as well. However, there were more chartered cargo operations, thus cargo revenue increased by 67% quarter-on-quarter," it said.
Revenue for the quarter jumped 160.82% year-on-year (y-o-y) to RM370.61 million from RM142.09 million, driven by better cargo revenue.
"Revenue also doubled due to the low base y-o-y as the group took active decision to hibernate the fleet as the Covid-19 pandemic began in late 1Q20. However, revenue is 72% lower in year-to-date (YTD) 2021 than last year as YTD 2020 reported high revenues especially in January 2020 in conjunction with the Chinese New Year travelling prior to the outbreak of Covid-19 pandemic," the low-cost carrier said.
For the half-year period, AirAsia recorded a net loss of RM1.35 billion compared with a net loss of RM1.8 billion in the previous January-June period.
Six-month revenue fell 72.4% to RM686.82 million from RM2.49 billion.
To preserve cash, AirAsia said the group is in negotiations with lessors to restructure lease terms and has, to date, successfully secured some restructured leases in 3QFY21.   
On prospects, AirAsia said the group has used the crisis as an opportunity to accelerate its digital transformation into a travel and lifestyle digital company which is well-positioned to compete in the post-covid world.
As the right foundations were put into place over the last year, the aviation group has emerged as a leaner and more optimised airline operation, of which the fruits of labour continue to be seen in the first half of the with fixed costs down 44% y-o-y, it added.
"With travel restrictions still in place in most of our operating entities, the group continues to actively manage capacity and will continue to ensure cash burn remains low and cost optimisation measures continue to be implemented. We remain focused and committed to further strengthen our domestic position at this juncture as we await developments to international air travel," it said.
Going forward, AirAsia expects to see improved stability in its operations as vaccinations continue to be rolled out in phases across all key markets coupled with better education and testing, alongside strong support for leisure travel bubbles among low risk countries and territories, and the push for global digital health passports.
The group said its digital businesses — Airasia superapp, BigPay and Teleport — have transformed remarkably in comparison to where they were a year ago, and added that it is encouraged by the early signs from its digital transformation to become Asean's super app of choice and expect its digital revenues to contribute around 50% to the group in five years.
"On top of the private placement that had raised RM336 million in the first quarter of the year, BigPay also recently secured investment up to US$100 million from a large conglomerate in South Korea, SK Group. The company has also announced the proposed redeemable convertible unsecured Islamic debt securities (RCUIDS) which is expected to be completed by the end of the year.
"We are also currently in various stages of raising alternative funding. We have also completed two batches of renegotiation of lease terms with our lessors which will see a lower lease rental per aircraft in the future and we expect to complete the renegotiations with all lessors by end of the year.
"Through these various fundraising exercises and cost containment measures that the group is working on, the board foresees it will have sufficient liquidity to sustain the business operations," AirAsia said.
AirAsia's shares settled for the day 0.53% or half a sen higher at 94 sen, valuing the low-cost carrier at RM3.68 billion.