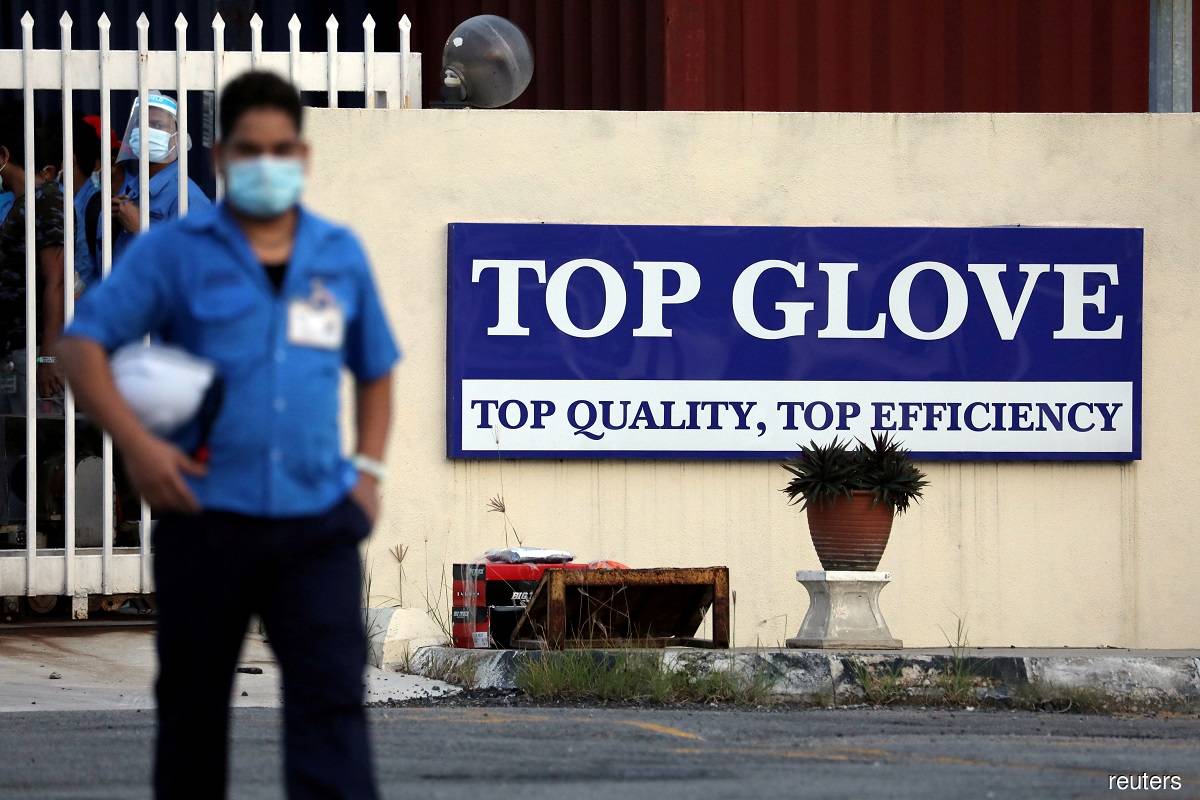 KUALA LUMPUR (March 9): Top Glove Corp Bhd has said an independent consultant found no systemic forced labour within the group as of January.
The glove maker appointed the consultant to verify the corrective action plans it had implemented to eliminate the presence of forced labour indicators from its practices, said Top Glove executive director Lim Cheong Guan.
Top Glove has submitted the corrective action plans for the US Customs and Border Protection's (CBP) review and approval, Lim said at a virtual media briefing today.
He added that the group is following up closely with the CBP and working towards an expeditious resolution and revocation of the Withhold Release Order imposed by the US agency in July last year on Top Glove's subsidiaries Top Glove Sdn Bhd and TG Medical Sdn Bhd following allegations of forced labour.
Meanwhile, Lim said Top Glove had also complied with the Workers Minimum Standards of Housing and Amenities Act (Act 446) as of February.
The amendment to the Act came into force in September last year after the government extended the enforcement to all employment sectors. Prior to that, Act 446 was limited to the plantation and mining sectors.
Lim said Top Glove has submitted its application for the Certificate for Accommodation for the buildings used as accommodation for its workers following the relocation of its workers to alternative workers' accommodation.
Top Glove was accused of breaching Act 446 in December last year by the Human Resources Ministry.
The main offence the group was alleged to have committed was its failure to apply for an accommodation certificate from the Peninsular Malaysia Labour Department (JTKSM) under Section 24D of the Act, which led to the discovery of other offences, including dense, uncomfortable accommodation and lack of proper ventilation.
Top Glove sees better performance in 2HFY21
Meanwhile, Top Glove expects a better financial performance in the second half of financial year 2021 (2HFY21) ending Aug 31, 2021, backed by additional new capacity with higher utilisation against the backdrop of stronger glove demand.
Group executive chairman Tan Sri Dr Lim Wee Chai expects the sales volume to increase 10%-15% quarter-on-quarter in the third quarter of FY21 (3QFY21) ending May 31, 2021 given its factories are running at full capacity.
The optimism is also fuelled by lower raw material costs. Nitrile gloves, which account for 44% of the group's sales volume, have seen their input costs come down 5% since January.
Top Glove expects to have an annual output capacity of 111 billion gloves by end-December 2021 as the group boosts the year's capacity by 18 billion pieces.
Earlier today, Top Glove announced that its net profit for the 2QFY21 ended Feb 28, 2021 rose 20.76% to RM2.87 billion, from RM2.38 billion in the preceding quarter. Revenue grew 12.74% to a record RM5.37 billion from RM4.76 billion in the 1QFY21.
Cumulative six-month net profit surged by 22 times to RM5.23 billion, from RM227.11 million a year ago, while cumulative revenue jumped by three times to RM10.12 billion from RM2.44 billion.
Read also:
Top Glove 2Q net profit surges 21% q-o-q to another record high of RM2.87b
Top Glove targets May or June for primary dual-listing in HK
Top Glove's net profit to remain strong in 2QFY21, say analysts