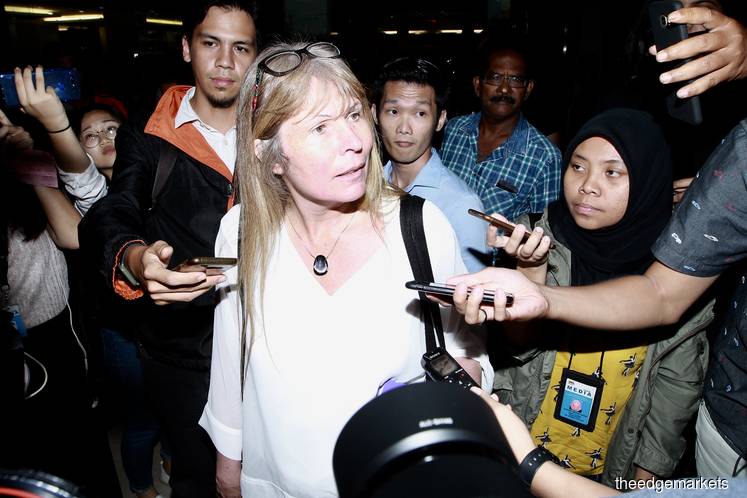 KUALA LUMPUR (Jan 20): Sarawak Report editor Claire Rewcastle-Brown (pictured) has filed an appeal against the High Court decision last month to allow an application by Terengganu's Sultanah Nur Zahirah not to testify in her defamation suit against Rewcastle-Brown and the publisher on her book about 1Malaysia Development Bhd (1MDB).
As a result, High Court judge Datuk Ahmad Zaidi Ibrahim has deferred trial dates to Dec 7-10.
Justice Ahmad Zaidi also fixed March 2 for case management for parties to inform him of the outcome of the application at the Court of Appeal.
This was related to reporters by the Sultanah's counsel A Vishnu Kumar following case management today.
Senior lawyer Americk Sidhu appeared for Brown, Gerakbudaya Enterprise Sdn Bhd publisher Chong Ton Sin and printer Vinlin Press Sdn Bhd.
Sultanah Nur Zahirah named them as defendants in the suit over a passage in the book titled The Sarawak Report: The Inside Story of the 1MDB Exposé.
In her defamation suit, she alleged that a passage had linked her to the 1MDB scandal and fugitive businessman Low Taek Jho, who is better known as Jho Low.
She claimed the statements in the book implied that she was involved in corrupt acts and had interfered in the Terengganu administration.
Hence, Sultanah Nur Zahirah is seeking RM100 million in damages and wants Chong to withdraw the books containing the defamatory words and stop the printer from publishing more copies.
Last month, it was reported that Justice Ahmad Zaidi ruled that Sultanah Nur Zahirah has proven a defamation case against the Briton under Order 14A of Rules of Court 2012, and ordered the London-based editor to be present in court for the trial while the Sultanah need not be present.
See also:
Terengganu Sultanah need not testify in defamation suit against Sarawak Report
'Sultanah's evidence in court crucial'
Terengganu Sultanah files application in defamation suit against Sarawak Report editor