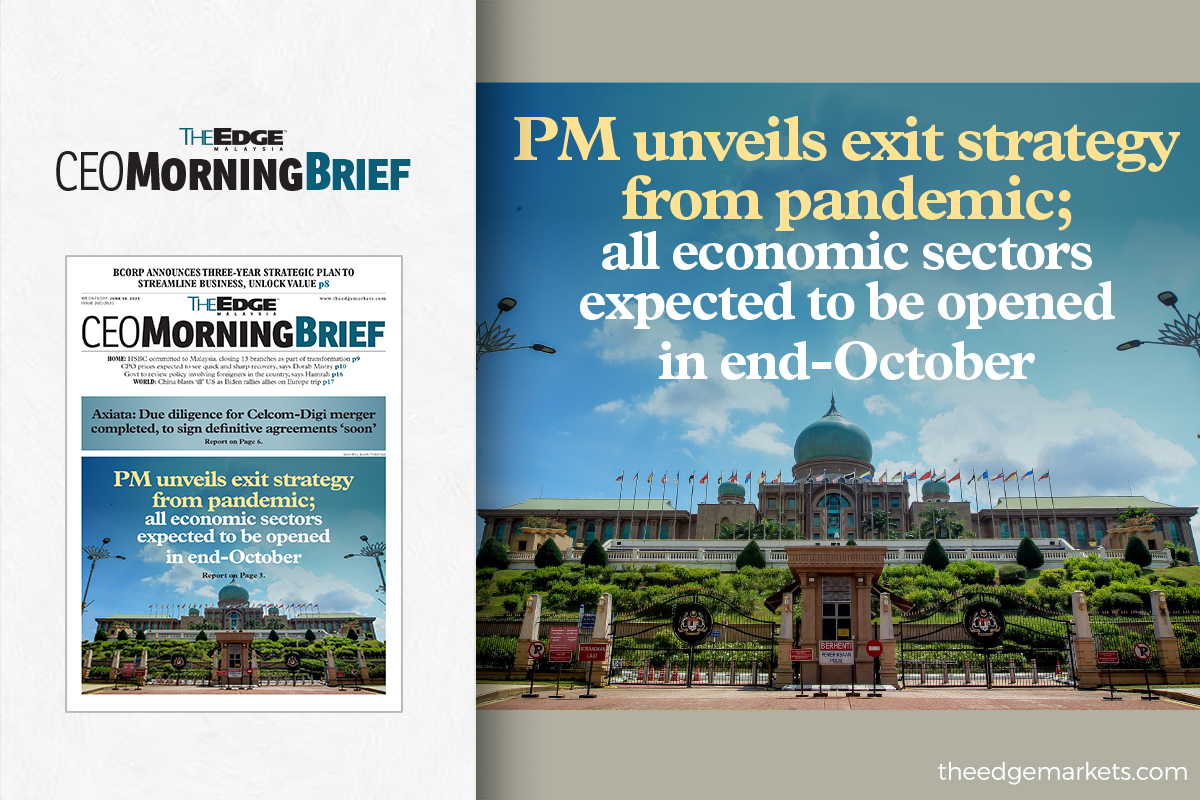 KUALA LUMPUR (June 15): Prime Minister Tan Sri Muhyiddin Yassin today unveiled the National Recovery Plan comprising four phases of exit strategy to help Malaysia bounce back from the Covid-19 pandemic.
Each phase of the recovery plan will be based on three main threshold indicators for the country to move from one phase to the next.
The indicators are: 
Covid-19 infection rate in the community based on the number of daily cases of infection
the capacity of the public health system based on bed utilization rates in the ICU wards
the level of protected population based on the percentage of people that has completed two doses of vaccine injection.
"This plan is a carefully designed guide based on data and science to enable us all to return to normal daily life or back to normalcy," Muhyiddin said in a nationally televised address. 
"Indeed, the positive development of the daily vaccination rate has given the government the confidence that we can together make the National Recovery Plan a success. 
"This is because the more people who are protected by vaccination, the looser the movement control we will impose, the more economic and social sectors we can open up, and we can begin to phase out carefully and safely back to pre-pandemic living norms, God willing," he added. 
Muhyiddin explained that the current full movement control order, which is scheduled to end on June 28, is under Phase 1. He said the government will consider moving to Phase 2 when: 
the average daily cases of Covid-19 drop to below 4,000
the public health system is no longer at a critical stage with the rate of utilisation of ICUs recovering to moderate levels, and
10% of the population has received two doses of the vaccine. 
In Phase 2, Muhyiddin said economic activities will be opened up in stages by allowing up to 80% employee capacity on the premises. For this, the positive list approach will continue, whereby only listed sectors are allowed to operate while unlisted ones are still closed. 
Social activities and inter-state travel will still be prohibited under Phase 2, he added. 
Next, Phase 3 involves the transition from the positive list approach to a negative list approach, whereby all economic activities will be allowed to operate except activities that are at high risk for Covid-19 infections. 
The thresholds to move to Phase 3 are as follows: 
The average daily cases of Covid-19 drop to below 2,000
The public health system is at a comfortable level with the decline in utilisation of the ICUs to adequate levels, and
40% of the population receive two doses of vaccines. 
"This threshold is expected to be reached by the end of August 2021 at the earliest," Muhyiddin said. 
Under Phase 3, all manufacturing activities will be allowed to operate subject to strict SOPs and capacity limits. However, certain high-risk activities will still be prohibited such as organising conventions, and wherever social distancing measures are difficult to practise such as pubs, spas and beauty salons. 
"Relaxation to capacity limits will be considered to allow the company to operate fully once its employees have been vaccinated," Muhyiddin said. 
Finally, the government will move to Phase 4 once it achieves the following thresholds: 
The average daily cases of Covid-19 drop to below 500
The public health system is at a safe level with significant decline in utilisation of the ICUs to adequate levels, and
60% of the population receive two doses of vaccines.
Phase 4 is the final stage of the National Recovery Plan, where all economic sectors will be opened, with more social activities allowed including inter-state travel and domestic tourism. 
"Based on the projected implementation of the National Covid-19 Immunization Programme, this transition is expected to be implemented as early as the end of October 2021," Muhyiddin said. 
"It is my sincere hope that this National Recovery Plan will guide us cautiously, but progressively towards reclaiming our much treasured freedoms while doing all we can to protect the lives and livelihoods of Malaysians. 
"I am cautiously optimistic that with proper planning, execution and support from all Malaysians, we can emerge victorious and stronger from this crisis," he added. 
Read also:
Highlights of the National Recovery Plan
Muhyiddin: Malaysia suffers RM1 billion losses throughout MCO 3.0
Govt confident daily vaccine jabs to pass 300,000 in coming months, says Muhyiddin 
To receive CEO Morning Brief please click here.