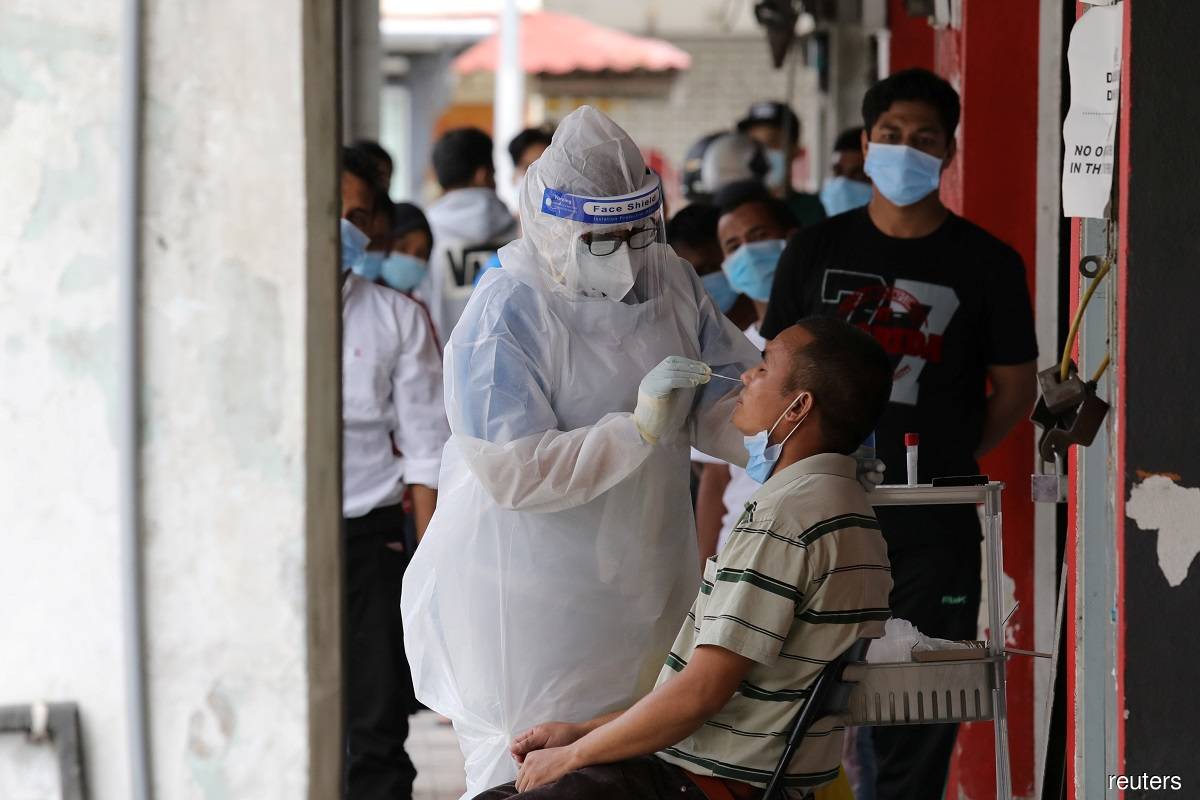 KUALA LUMPUR (Oct 27): New Covid-19 cases in Malaysia dropped to 835 — from a record high of 1,240 yesterday — with 410 cases in Sabah and 138 in the Klang Valley. 
While the number of Covid-19 cases in Sabah dropped today — from 927 cases reported yesterday, the state still leads the daily case count, according to the Ministry of Health's (MoH) director-general Tan Sri Dr Noor Hisham Abdullah.
In Sabah, some 132 infections were confirmed through Covid-19 screenings, 218 cases were discovered through the screening of close contacts of Covid-19 positive patients and 60 cases were related to the existing Covid-19 clusters.
"Although there has been a decline in the number of cases [in Sabah] today, the MoH is actively conducting screening and Active Case Detection in the entire state. This is because there are 44 active clusters in Sabah, while the surge in daily local infections [in the state] can still happen," said Noor Hisham at his daily media briefing today.
Meanwhile, in the Klang Valley, of the 138 new cases reported, 126 were in Selangor, 11 in Kuala Lumpur and one in Putrajaya.
"From these 138 cases, 65 cases (47.1%) came from the existing and new [Covid-19] clusters. These states as well as Sabah have been placed under the Conditional Movement Control Order (CMCO)," said Noor Hisham in the daily media briefing.
In comparison, Sabah topped the list with 13,155 total infections — the highest among all states and federal territories in one month. It is followed by Selangor, which has 4,271 total cases, and Kuala Lumpur (2,977 cases).
The number of active cases — which carry high transmissions risks — climbed to a fresh record high of 9,903, from the 9,744 reported yesterday as the number of new infections remains higher than the recoveries over the past one month. 
There were 674 recoveries, bringing the total number of patients who recovered from Covid-19 to 18,499. Meanwhile, 89 patients are still being treated in intensive care units.
Noor Hisham also announced that two new deaths were reported to the MoH's Crisis Preparedness and Response Centre (CPRC), bringing the Covid-19 death toll to 238.
The two deaths were reported in Sabah, a man and woman aged 53 and 82 — one of whom had chronic obstructive pulmonary disease (COPD), chronic kidney disease and cardiac arrhythmia.
Following these two additional deaths in the worst-hit state, the Covid-19 fatalities in Sabah alone has reached 107, or 45% of the total national death toll.
Noor Hisham said there was a huge drop recorded among cases related to the prison clusters, to 23 cases from 508 cases recorded previously. This saw a huge drop of 485 cases, representing 95.5%.
"Of these, 15 cases were from the Tembok cluster, seven cases from the Kepayan Prison cluster, and one case from the Remand Prison cluster," he said.
Of the 835 new cases, all except five involved local transmissions.
The five imported cases, which involved four foreigners and one Malaysian, had returned from India (two cases), Indonesia (one), Thailand (one), and Bulgaria (one).
The national Covid-19 tally now stands at 28,640, more than double the 11,224 cases recorded on Sept 30.
Read also:
30% of Malaysia's Covid-19 clusters linked to the workplace