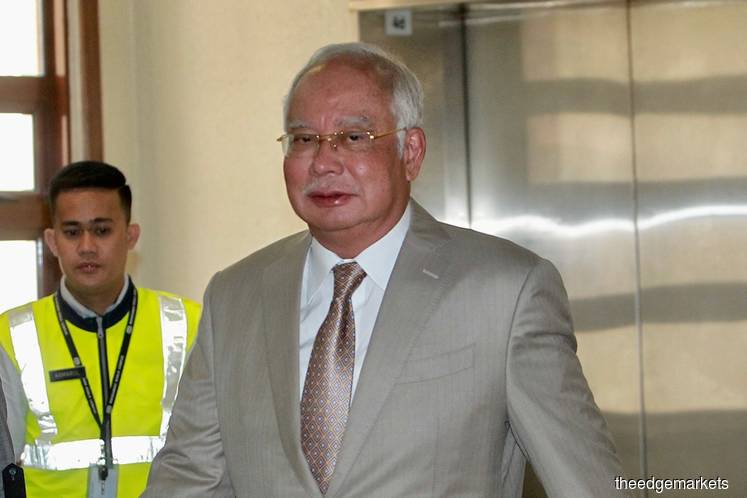 KUALA LUMPUR (July 12): Datuk Seri Najib Razak will be withdrawing his appeal against the High Court's decision to reject his application to strike out seven charges he is facing over RM42 million of SRC International Sdn Bhd's funds.
The prosecution in SRC's trial told theedgemarkets.com that Najib's senior lawyer Tan Sri Muhammad Shafee Abdullah has informed Court of Appeal registrar Datuk Norsharidah Awang of the withdrawal of the appeal.
The application will be heard at the Court of Appeal on July 23.
On April 26, the defence in Najib's SRC trial sought a stay or to strike out seven charges of criminal breach of trust (CBT), money laundering and abuse of power, unless they are amended, on the grounds that they are defective and constitute an abuse of the court process.
The former premier's counsel Datuk Yusof Zainal Abiden said it was vital for the prosecution to properly frame the charges on Najib so as to meet the conditions and law of framing the charges as stipulated under Sections 152, 153, 154 and 155 of the Criminal Procedure Code.
The High Court on April 29 had dismissed Najib's application to strike out the seven charges after High Court judge Mohd Nazlan Mohd Ghazali ruled that the claim that the charges were flawed was without basis and not supported by evidence.
The judge said there was no ambiguity in the charges against Najib and that the prosecution was entitled to frame the charges as they were.
Related stories:
Here's why High Court dismissed Najib's bid to strike out SRC charges
Defence in Najib's SRC case want his charges dropped unless they are amended