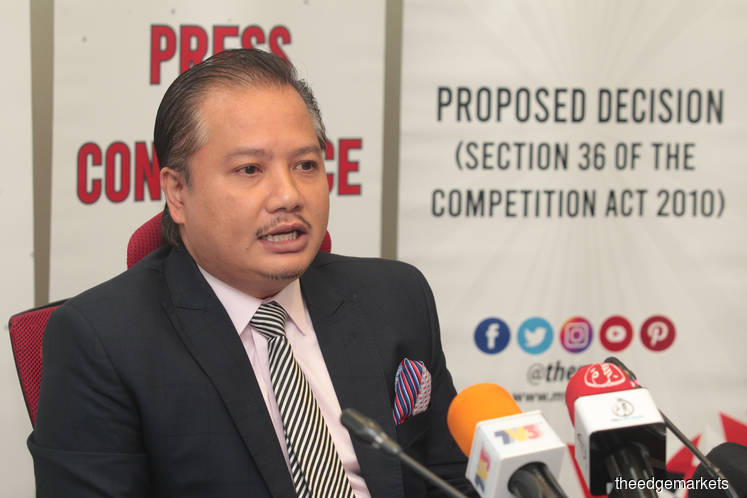 Iskandar: It is the opinion of MyCC that Grab's conduct not only affects e-hailing drivers and competitors but also the consumers in the long run. (Photo by: Mohd Suhaimi Mohamed Yusuf/The Edge)
KUALA LUMPUR (Oct 3): The Malaysia Competition Commission (MyCC) has today proposed to impose an RM86.77 million fine against Grab Holdings Inc after investigations provisionally found that the electronic-based ride-hailing (e-hailing) company had abused its dominant position by imposing restrictive clauses on its drivers, relating to the transit media advertising market.
MyCC's decision includes a penalty of RM15,000 per day on Grab starting today. It is understood that this is the largest fine issued by MyCC to date.
At a press conference here today to announce MyCC's proposed decision on Grab, MyCC chief executive officer Iskandar Ismail alleged that Grab imposed clauses preventing its drivers from using their vehicles to promote and advertise other e-hailing platforms.
"The drivers are not their employees, they merely use the Grab app [to find passengers]. The drivers own their own cars, so they should be able to do whatever they want with their own car.
"This restriction from promoting others will distort the market, as it creates barriers to entry and expansion for Grab's existing and future competitors," Iskandar said.
Iskandar emphasised that this is a proposed decision and that Grab will have 30 working days to present its defence against the allegations.
He claimed that Grab's restrictive clauses only became an issue after the merger between Grab and rival Uber Technologies Inc's Southeast Asian operations in March 2018. He said today the merger transformed Grab into the dominant player in the e-hailing market in Malaysia.
Since then, MyCC had received numerous complaints against Grab, which prompted the investigation into the e-hailing company, according to Iskandar.
"It is important that barriers to entry for new players remain low and for existing players to have the ability to grow and compete on merits to ensure that competition can remain healthy in the e-hailing market and other related markets.
"It is the opinion of MyCC that Grab's conduct not only affects e-hailing drivers and competitors but also the consumers in the long run," said Iskandar.
At the time of writing, Grab had not issued a statement in response to MyCC's proposed fine.
theedgemarkets.com, quoting a Grab spokesperson as saying in a statement on Sept 26 this year, reported that the e-hailing company had in March 2018 acquired Uber's Southeast Asian operations in good faith, believing the purchase will create more efficiencies and benefits for the public in the e-hailing sector.
It was reported that the Grab spokesperson said the company had fully cooperated with MyCC in the regulator's request for information. The e-hailing company was quoted as saying it was not aware of any breach of Malaysian competition laws since the acquisition in March 2018.
See also: Grab surprised by MyCC's RM87m fine, says it complies with rules