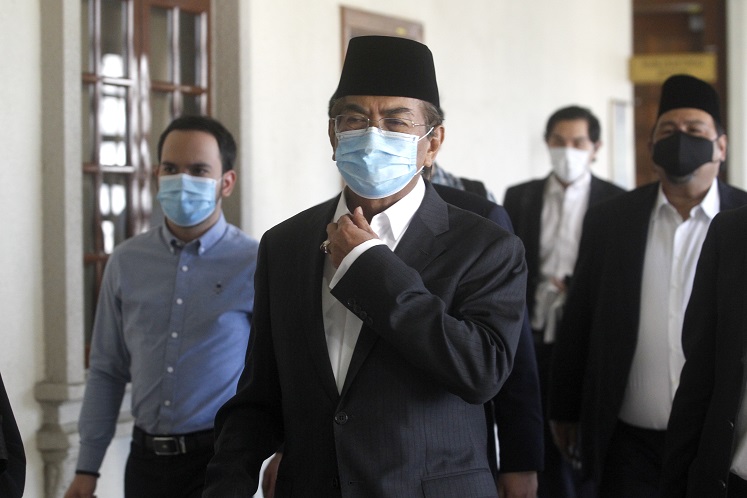 KUALA LUMPUR (June 9): Former Sabah chief minister Tan Sri Musa Aman thanked the members of the prosecution and Malaysia's judiciary for acting objectively, professionally and without prejudice in going through the facts of the 46 corruption and money laundering charges made against him.
In a statement, Musa said the application to strike out the charges, which was filed earlier this year, was done meticulously, supported by clear and undisputed statements and evidence. 
"What has happened to me and my family, although it was due to political differences, I take as a test from God," he said. 
He also thanked his family and friends who had helped him through the journey, as well as members of the media who he said gave him the benefit of the doubt throughout the coverage of this case. 
Earlier today, the prosecution told the court that it is withdrawing all of the 46 money laundering and corruption charges — linked to timber concessions — against Musa, under the instruction of the Attorney-General's Chambers. 
Musa previously faced 30 charges of corruption, which alleged that he, in his capacity as Sabah chief minister and chairman of the Board of Trustees of the Sabah Foundation, had received US$50.1 million from eight logging concessionaires as an inducement to approve logging concessions for 16 companies.
Under the 16 money laundering charges, Musa allegedly instructed Richard Christopher Barnes, 67, to open an account at UBS AG Bank in the latter's name, with the intention of receiving proceeds of illegal activities through the account.
The former chief minister allegedly received US$37.85 million and another sum of S$2.5 million in proceeds from illegal activities from several individuals through the account under Barnes' name.
Read also: 
Prosecution drops all charges against Musa Aman; judge grants acquittals 
We want detailed explanation on dropping of charges against Musa Aman, lawyer Haniff Khatri tells AG