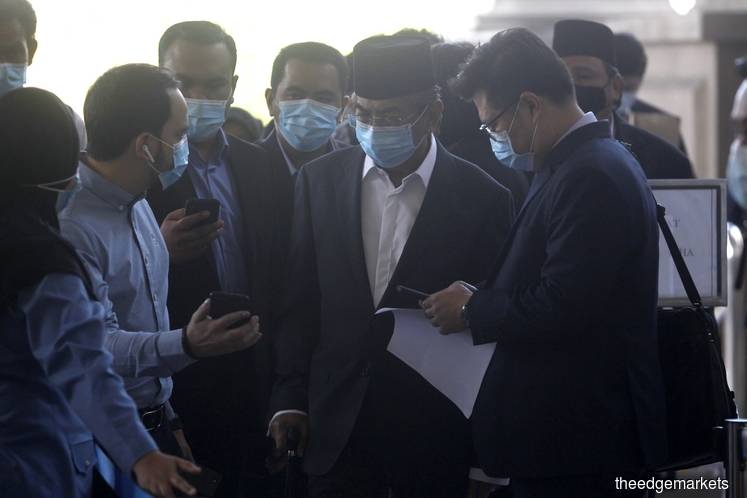 KUALA LUMPUR (June 9): Tun Dr Mahathir Mohamad's lawyer Mohd Haniff Khatri Abdulla said the attorney general must thoroughly explain the decision to withdraw all 46 corruption and money laundering charges against Tan Sri Musa Aman, to address potential negative perception or doubt among Malaysians.
In a statement, the lawyer said Attorney-General Tan Sri Idrus Harun needs to explain whether the charges made against the former Sabah chief minister on Nov 5, 2018, were baseless by law, or whether the discharge amounting to acquittal order made earlier today contradicts the previous findings of the Malaysian Anti-Corruption Commission (MACC).
He questioned why the prosecution had decided to withdraw all 46 charges today, when the MACC itself had on Nov 9, 2018 stated there were "new developments relating to the case" which led the anti-graft agency to charge Musa.
He said this is in contradiction with the statement issued by Musa's lawyers today, which stated the Attorney-General's Chambers had, in July 2012, found that the allegations were baseless.
"I really hope that a public statement is released by Tan Sri Idrus Harun to strengthen the rakyat's confidence in the principle of law," Haniff said.
Earlier today, the prosecution told High Court judge Datuk Muhammad Jamil Hussin that it is withdrawing the 46 corruption and money laundering charges levelled against the former chief minister, following instructions from the Attorney-General's Chambers.
The judge then ordered for the accused to be discharged and acquitted of all 46 charges.
Musa faced 30 charges of corruption and 16 charges of money laundering.
Under the corruption charges, Musa was accused, in his capacity as Sabah chief minister and chairman of the Board of Trustees of the Sabah Foundation, of receiving US$50.1 million from eight logging concessionaires as an inducement to approve logging concessions for 16 companies.
He was alleged to have committed the offences at eight banks and financial institutions in Hong Kong, China and Singapore between Dec 20, 2004 and Nov 6, 2008.
Under the money laundering charges, Musa was accused of instructing Richard Christopher Barnes, 67, to open an account at UBS AG Bank in the latter's name, with the intention of receiving proceeds of illegal activities through the account.
The former chief minister allegedly received US$37.84 million and another sum of S$2.5 million in proceeds from illegal activities from several individuals through the account under Barnes' name.
Musa was also alleged to have concealed the proceeds of illegal activities.
Read also: 
Prosecution drops all charges against Musa Aman; judge grants acquittals
Musa Aman thanks prosecution for being objective, professional after 46 charges of corruption, money laundering dropped