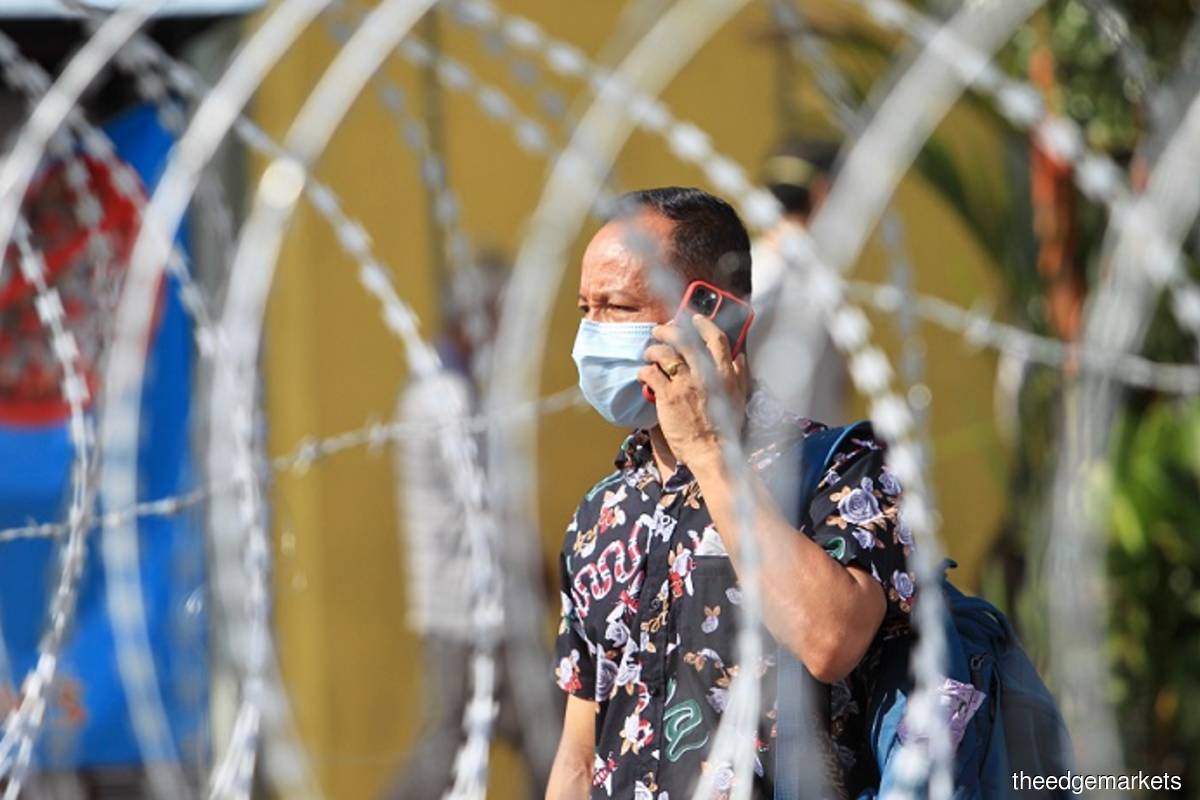 KUALA LUMPUR (Nov 2): Malaysia today recorded 834 new Covid-19 cases, 60% from the worst-hit state of Sabah, with five new clusters detected across the country. This brings the country's confirmed Covid-19 infections to 33,339, according to the Ministry of Health (MoH).
While Sabah (503 cases) and Selangor (129) continue to top the list of states with the most infections, the Federal Territory of Labuan saw a spike to 105 cases, from 18 yesterday, to take the third spot.
The spike in Labuan was due to more targeted screening by the MoH, said its director-general Tan Sri Dr Noor Hisham Abdullah. "A community screening conducted at Jalan Tenaga, in Labuan, identified 57 more positive Covid-19 cases," Noor Hisham told a media briefing today, referring to the one of the five new clusters found.
The Klang Valley territories, meanwhile, comprising Selangor, Kuala Lumpur (22 cases) and Putrajaya (6) contributed a total of 157 cases today. The remainder cases were found in Penang (21 cases), Negeri Sembilan (16), Sarawak (14), Johor (9), Kedah (3), Perak (3), Kelantan (2) and Pahang (1).
Active cases, meanwhile, dropped to below 10,000 mark for the first time in six days, to 9,968, as daily recoveries, at 900, exceeded the number of new infections for the third straight day. A total of 23,120 people or 69.3% of those infected have now recovered from the illness.
Two more deaths, however, were recorded today, involving a man aged 88 and a woman aged 75. This raised the death toll from the virus in the country to 251.
Meanwhile, Noor Hisham said 64 cases or 7.7% of the new Covid-19 cases reported today, came from temporary detention centres and prison clusters, namely the Tawau temporary detention centre (42 cases), the Seberang Perai prison cluster (nine), the Kepayan prison cluster (eight), the Rumah Merah cluster (four) and the Tapah Prison cluster (one).
Three of the 834 new cases today were imported, where the patient was infected abroad. One was a Malaysian who returned home from the US, while the other two were foreigners who had travelled from India and Indonesia.
Five new clusters found with 186 infections
Apart from the Tenaga cluster in Labuah, the four other new clusters found were: PTS Tawau in Sabah with 104 cases; Wisma Saberkas cluster in Kuching, Sarawak with eight cases; Seridana cluster in Putrajaya with five cases; and the Gedong cluster that is spread across Seremban, Port Dickson, and Rembau in Negri Sembilan, as well as Petaling in Selangor, Johor Bahru in Johor, and Putrajaya with 12 cases.  
Noor Hisham also updated that the Sungai cluster that spanned Kedah and Perlis has ended, as no new cases were reported in the past 28 days.
"Up until today, some 25,406 people have been screened under this cluster, where 101 have tested positive, while one death was reported," said Noor Hisham.
Sabah now has 16,195 cases
It has been a month since Sabah topped the list with the most Covid-19 cases, which pushed the total confirmed infections in the state to 16,195 today — 48.6% of total infections detected in the country — from just 1,877 as of Sept 30.
The ministry has provided 8,539 beds to treat Covid-19 patients in Sabah, 164 more than the 8,375 beds it announced last Friday, said Noor Hisham. "Of the 8,539 beds, 1,111 are beds at hospitals, while 7,428 beds are at quarantine and low-risk treatment centres," he added.
Read also:
Six individuals in Parliament test positive for Covid-19 — Health D-G