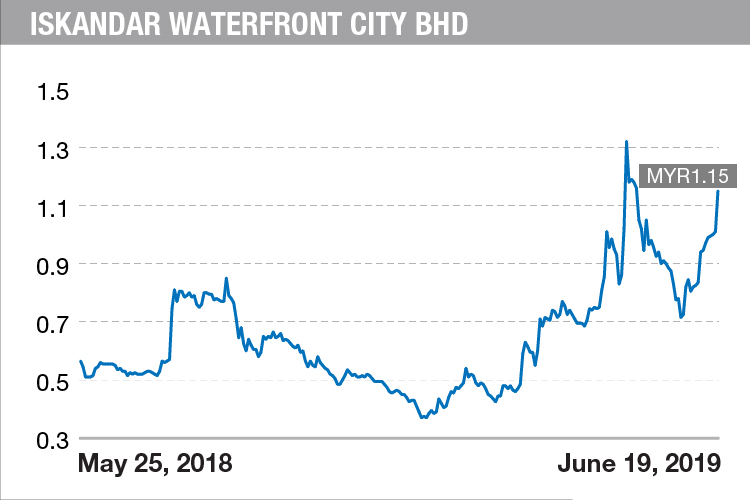 IWCity's share price movement from May 2018 till today.
IWCity's share price movement today.
KUALA LUMPUR (June 19): Iskandar Waterfront City Bhd (IWCity) shares have come under strong buying interest today.
The stock rose by as much as 17 sen or 16.83% to RM1.18 in the morning session.
At 3.28pm, the stock was up 15 sen at RM1.16. It was the top active counter on Bursa Malaysia with a volume of 168.3 million shares.
IWCity, which is controlled by tycoon Tan Sri Lim Kang Ho, had fallen to as low as 27 sen last month.
The reason for the renewed interest in the counter is not certain, but some dealers linked it to a possible revival of the acquisition of a 60% stake in the Bandar Malaysia project by IWH-CREC Sdn Bhd, a joint venture between Iskandar Waterfront Holdings Bhd (IWFH) and China Railway Engineering Corp Sdn Bhd.
Two months ago, IWCity shares shot up on speculation the company is involved in the revived Bandar Malaysia project. The company, however, denied its involvement in the project.
"Save for the press release issued by the Prime Minister's Office (PMO) on April 19 entitled 'Government to Restate Bandar Malaysia Project', in which the name of our sister company, IWH-CREC Sdn Bhd, was mentioned, the company wishes to clarify that IWCity is not involved in the reinstatement of the Bandar Malaysia project," IWCity had said in a filing dated April 22.
The PMO had announced that the RM140 billion project would be revived with IWH-CREC given 60 days from the date the project was reinstated to make an advance payment of RM500 million in addition to the original deposit sum of RM741 million.
Related story: Bursa suspends short selling of IWCity as trading volume breached daily limit