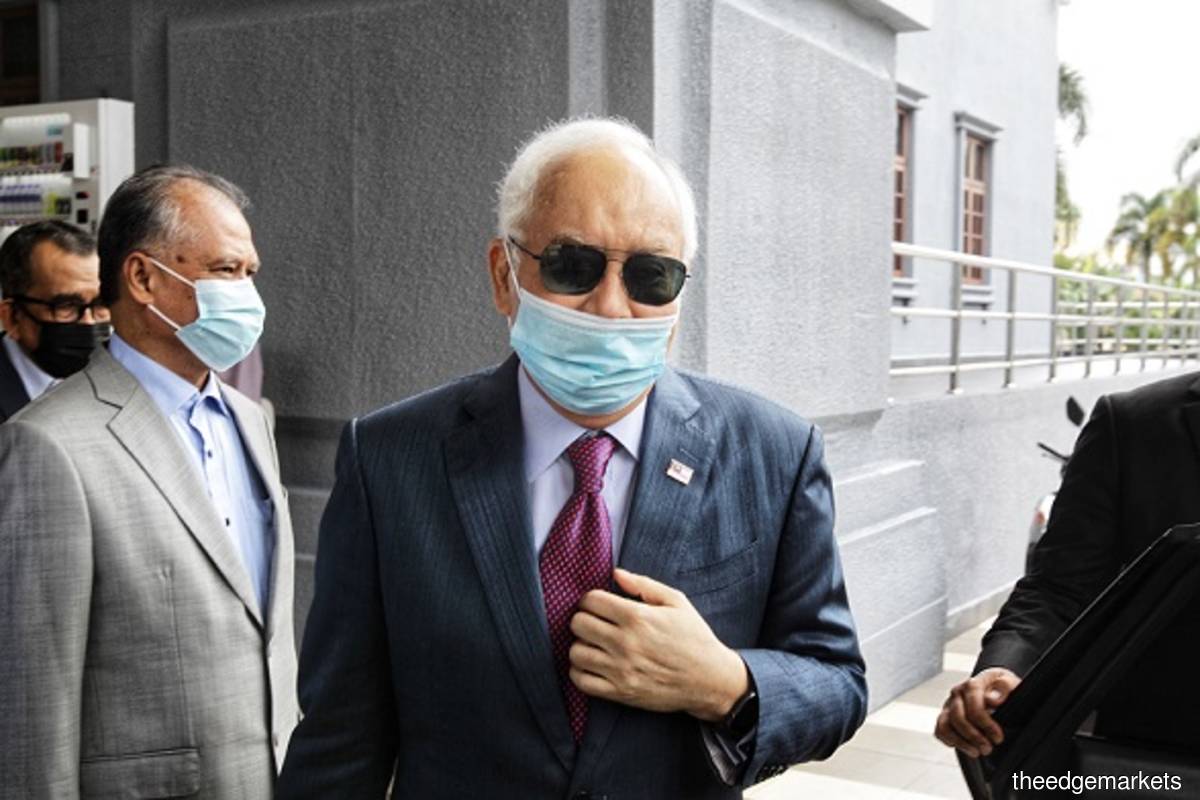 KUALA LUMPUR (June 11): The Inland Revenue Board today denied at the High Court here that there was any malice on its part in filing a bankruptcy notice against former prime minister Datuk Seri Najib Razak for owing RM1.69 billion in taxes to the government.
Senior tax counsel Norhisham Ahmad said since obtaining the court's judgement on July 22, 2020 to recover the tax arrears from Najib, the agency had waited about six months to file the bankruptcy notice on Najib, which it served him in April this year.
"It took almost eight months from the July 22 High Court order for us to enforce it, and there had been no (attempts on Najib's part to initiate) discussions with the IRB on his means to settle the sum. It is a normal situation when you owe an outstanding amount, you have to pay.
"We were not in a hurry to file the bankruptcy notice. We deny that there was a political motive to it. There was no political interference. People had been questioning since July 2020 (about the IRB recovering this sum), and we were seen doing nothing with the judgement. People said we sat on the judgement. So after there was no response, we filed for the bankruptcy notice," Norhisham said.
He was responding to Najib's counsel Tan Sri Muhammad Shafee Abdullah's allegation that the documents were served on Najib two days, after his client's statement of withdrawing Umno's support on the Perikatan Nasional government that is helmed by Tan Sri Muhyiddin Yassin.
Norhisham and Shafee were submitting before High Court Justice Datuk Ahmad Bache. Najib, who is also the Pekan Member of Parliament, is seeking a stay of Justice Ahmad's decision last July 22 that allowed the IRB to enter a summary judgement against the politician, which requires him to pay the tax arrears.
Read: High Court orders Najib to pay RM1.69b in additional taxes to government
Shafee said there are special circumstances for the High Court to grant a stay as the hearing of his client's appeal has been fixed for Wednesday (June 16) at the Court of Appeal, while his appeal before the Special Commissioner of Income Tax (SCIT) has been fixed for July 27.
"My client stands to lose a lot if he is declared bankrupt, as he would lose his seat, (and) he has impending suits filed against him on which he may have to consult with the Insolvency Department from time to time. He would also lose his pension and his properties would be auctioned off.
"The IRB would not be prejudiced if this court allows a stay as the situation would remain status quo, pending the appeal," Shafee added.
Norhisham, however, told the court that there had been allegedly no initiative by the former premier to settle the enforced judgement, as the latter had sought an adjournment of his appeal to the SCIT since December last year.
"We have told the SCIT that the extra assessment cannot be reviewed. We said they had received the notice and they did not challenge the service of the notice of assessment and hence, he has to pay," he added.
Not logical that Najib makes more than RM7 billion in income
Shafee, meanwhile, told the court that they are challenging the IRB's method of calculation in assessing the RM1.4 billion in tax arrears, which has now become RM1.69 billion.
"That would have to mean that my client makes five times the amount or in excess of RM7 billion between 2011 and 2017, which is quite laughable.
"They (the IRB) have also not shown where they derived the said figure of RM7 billion. We say that our client has the right to challenge this computation made either before the SCIT or the court later," the senior lawyer said.
Shafee also said the IRB had misled this court in saying that the summary judgement given by this court was not a final decision, as they later said it was a final and enforceable decision when they filed the bankruptcy notice at the Insolvency High Court.
"The IRB has been blowing hot and cold in what they say. Here they said it is not final but in Insolvency, they said it is final. We are asking for a stay here, as this would have a severe impact on our client until the hearing of the appeal," Shafee said.
Shafee also denied that his client was sitting and not doing anything about the owed taxes, and produced letters written by his client's tax accountant and his legal firm to the SCIT, which he forwarded to the legal department and the special team in IRB for their perusal.
Justice Ahmad said he would deliver his decision on Monday (June 14) at 1pm.