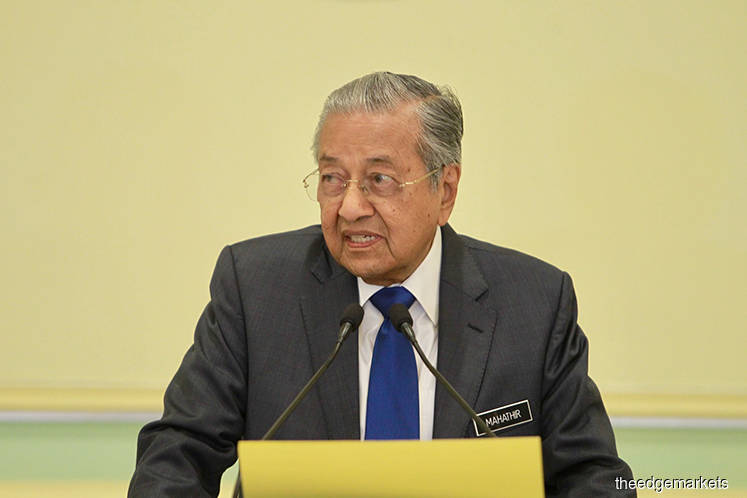 BEIJING (April 24): Tun Dr Mahathir Mohamad is expected to arrive in Beijing this evening for his five-day official visit to China. This is his second trip in less than a year since August last year.
The prime minister is here on invitation from China's president Xi Jinping to attend the second Belt & Road Forum that starts on Friday. Leaders from 36 countries will get together at Yanqi Lake, 60km from the capital, for a roundtable dialogue on the theme "Strengthening Policy Synergy and Building Closer Partnership".
The Malaysian ministers joining the prime minister in this visit include Economic Affairs Minister Datuk Seri Mohamed Azmin Ali, Foreign Affairs Minister Datuk Saifuddin Abdullah, International Trade and Industry Minister Datuk Ignatius Darell Leiking, Transport Minister Anthony Loke, Agriculture and Agro-based Industry Minister Datuk Salahuddin Ayub and Kedah Menteri Besar Datuk Seri Mukhriz Mahathir.
As usual the 93-year-old leader has planned a packed schedule for the official trip. There is no golfing session or sightseeing activities.
Dr Mahathir will kickstart his packed schedule with a visit to Huawei Technologies Co Ltd, the China-based telecommunication giant that has caught the world's attention when its chief financial officer Meng Wanzhou was arrested last December. Charged with bank and wire fraud to violate US sanctions against Iran, Meng, the daughter of Huawei's founder Ren Zhengfei, was arrested by Canada at the request of the US deeming her and the company a national security threat.
The prime minister will also visit SenseTime Private Ltd, one of the pioneers of artificial intelligence in China, indicating Dr Mahathir's interest to get to know more about the advancement of technologies that the world's second largest economy, China, has achieved in recent years.
The highlights of Dr Mahathir's visit here will be the meetings with Xi at the Great Hall of China  and Premier Li Keqiang at Diaoyutai State Guest House tomorrow.
The receptions at the two venues indicate that the host has considered Dr Mahathir's status as a highly respected honourable guest.
At the meetings, both sides are expected to discuss various bilateral, regional and international issues of mutual interests, according to Nuryante Mohd Yazid, Chargé d'Affaires ad interim of the Embassy of Malaysia in China.
Dr Mahathir, and Li will also witness the signing of two memoranda of understanding (MoUs) here, both of which are on enhancing palm oil trade and cooperation as well as on enhancing cooperation in the development of industrial parks, infrastructure, logistics hub and transit oriented developments in pursuant to the East Coast Rail Link (ECRL) project, said Nuryante.
She elaborated that the signing of the first MoU will be between the Malaysian Palm Oil Board (MPOB) and China Chamber of Commerce of Import and Export of Foodstuff, Native Products and Animal Byproducts (CFNA), while the other will be between Malaysian Investment Development Authority (MIDA) and China Communication Construction Company Ltd (CCCC), respectively.
On his third day in the capital, Dr Mahathir will be attending a special program with Proton Holdings Bhd in Beijing, where he will be witnessing the exchange of documents among national car manufacturers and advanced companies in China.
Notably, it was in Hangzhou last year whereby Chinese automaker Zhejiang Geely Holding Group Co Ltd (Geely), which controls a 49.9% equity stake in Proton, signed a heads of agreement with Proton to form a joint venture (JV) for Proton to assemble and market cars in China.
Proton then revealed its plan to set up manufacturing facilities in China, and the JV was formed to also help Proton develop a network of dealers to market its cars in China.
Before Dr Mahathir heads home, he is scheduled to meet key investors, international capital market analysts as well as the renowned business community based in Beijing.
Read also: Positive news ahead of Mahathir's Beijing trip