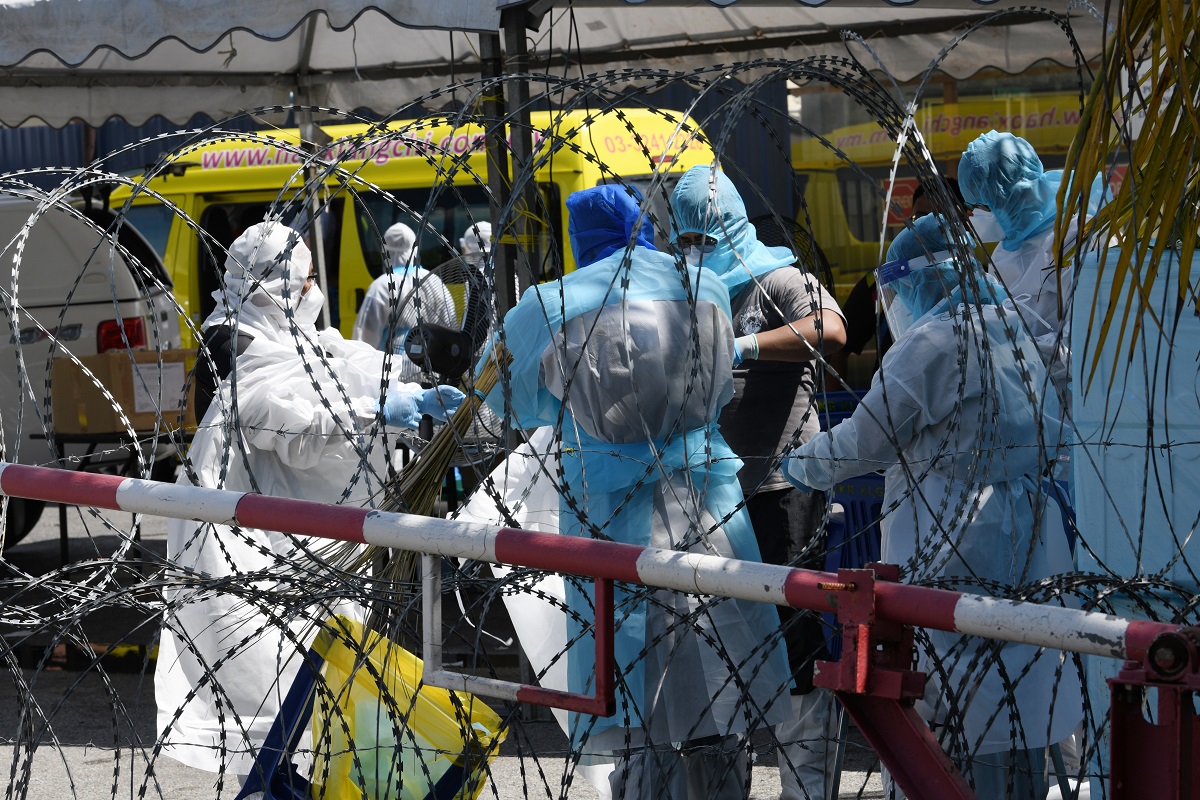 KUALA LUMPUR (Dec 1): The Teratai cluster, which started from Top Glove Corp Bhd's workers dormitories in Meru, Klang, recorded 778 new Covid-19 cases today, according to health director-general Tan Sri Dr Noor Hisham Abdullah.
According to his statement, about 6,603 people living in the area have been screened so far, with 5,056 positive cases detected since the cluster was announced by the Ministry of Health on Nov 7.
Among the 5,056 cases, 4,725 involve foreigners while 331 are Malaysians.
"About 1,501 individuals tested negative [for Covid-19], and 46 more individuals are waiting for their results," said Dr Noor Hisham.
The latest tally of active cases — which carry high transmission risks — stood at 2,266, slightly fewer than the 2,790 patients who have recovered from the disease.
Dr Noor Hisham said the ministry has welcomed the announcement made by the Senior Minister (Security Cluster) Datuk Seri Ismail Yaakob yesterday to extend the enforcement of Enhanced Movement Control Order in Top Glove's workers dormitories for two weeks starting from today until Dec 14.
"To date, the employers have been instructed to stop operations and close the factories in stages as well as conduct screening on all their employees. Health personnel have also been mobilised to the affected areas to assist in all control and prevention activities," added Dr Noor Hisham.
Selangor, the most populous state, accounted for the biggest portion of the 1,472 new Covid-19 cases nationwide reported today.
The state recorded 891 cases, of which 87.3% came from the Teratai cluster.
Earlier today, the Ministry of Human Resources (MoHR) said it had opened 19 investigation papers against six companies related to Top Glove Corp Bhd under the Workers' Minimum Standards of Housing and Amenities Act 1990 (Act 446) following enforcement operations in five states, such as Perak, Kedah, Kelantan, Negeri Sembilan and Johor, amid the spread of Covid-19 infections in the Teratai Cluster.
Meanwhile, Top Glove said the company will be extending its fullest cooperation to the relevant authorities on the matter.
Malaysia's total cases climbed to 67,169 from 65,697 reported yesterday.
Read also:
Covid-19: Malaysia adds 1,472 new cases, over half from Top Glove-linked Teratai cluster, with three more deaths
MoHR opens 19 investigation papers against companies in Top Glove group after Covid-19 outbreak among workers