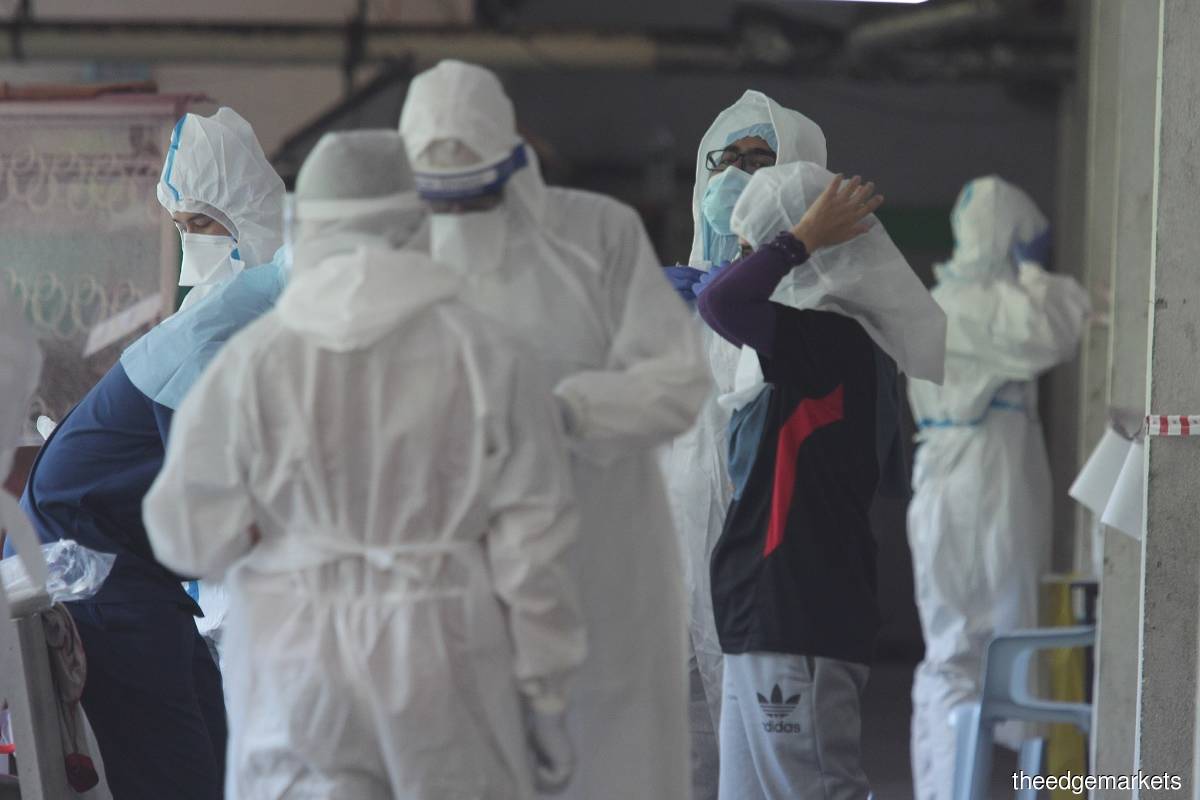 KUALA LUMPUR (July 28): Malaysia's new Covid-19 cases jumped to 39 as of noon today, pushing the number of active cases in the country past the 200-mark to 212.
This is the highest daily figure of active cases recorded since July 25, when 208 active cases were reported by the ministry.
Active cases in the country started to drop since July 2, when 85 active cases were recorded. The trend below 100-mark continued for 17 consecutive days.
However, the numbers have reversed its downtrend to breach the 100-mark on July 19 (103 active cases). Following this, the numbers continued to rise for nine consecutive days until the 200-mark was passed today.
Of the 39 new cases, 28 were local transmissions while 11 were imported cases.
For the 28 cases involving local transmissions, 22 cases were Malaysians while six cases were non-citizens, according to health director-general Datuk Dr Noor Hisham Abdullah.
Of the locally-transmitted cases involving Malaysians, 19 cases were found in Sarawak, two cases in Sabah and one case in Kedah.
"[Of the] nineteen cases in Sarawak, seven cases [were] from Sentosa cluster, four cases from Kuching engineering cluster, four from Satok cluster, one case from PUI Melbourne, one from Mambong, one case [was] detected through screening at airport entrance, and another one through self-assessment screening and the patient was sent to Sarawak General Hospital," said Noor Hisham in his statement.
Meanwhile in Sabah, two cases were detected through screening of high-risk patients, one of which was found in Sabah Women and Children Hospital while the other was detected in Lahad Datu Hospital.
Noor Hisham noted that one case in Kedah was detected from the PUI Sivagangga cluster.
For the non-citizens, two cases were found in Sarawak from the Sentosa cluster, while four cases in Kedah from the PUI Sivagangga cluster.
37% of imported cases are from Indonesia
As for the 11 imported cases today, four were Malaysians while the other seven were foreigners who were allowed to enter the country.
"The 11 imported cases were from [those who returned] from Saudi Arabia (one case), Ireland (one), South Korea (two), India (one), Russia (one), the US (one), the UK (two), South America (one) and the Philippines (one)," said Noor Hisham.
Health Ministry data show that more than 37% of imported cases that tested positive for Covid-19 from April 3 to July 28 were from Indonesia, and the rest were from Egypt, Singapore, Saudi Arabia, the UK, Pakistan and other countries.
Meanwhile, the number of cumulative cases in the country rose to 8,943 while total recoveries stood at 8,607 with six recoveries recorded today.
Noor Hisham said only one Covid-19 patient is currently being treated in intensive care unit as the patient needs breathing assistance.
No new Covid-19 deaths were reported by the ministry, thus maintaining the Covid-9 death toll in the country at 124 for three consecutive days.
Read also: