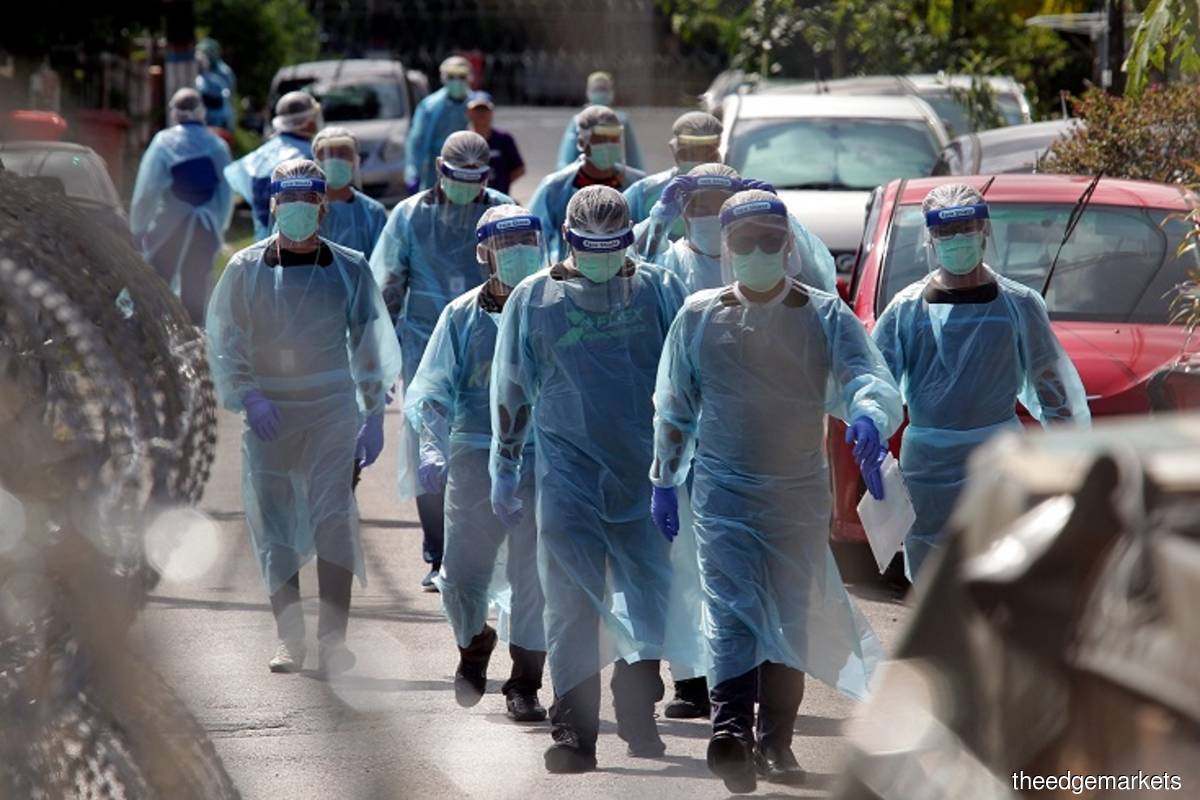 KUALA LUMPUR (Dec 11): Malaysia's daily new Covid-19 cases dropped to 1,810 today from its record high of 2,234 cases yesterday.
Selangor topped the list with the most Covid-19 infections for four straight days. The State reported 829 cases, bringing the State's total confirmed infections to 19,789.
The country's total cases climbed to 80,309 today, nearly four times more than 10,219 cases reported since the start of the third wave of Covid-19 infections on Sept 20.
The country's Covid-19 death toll stood at 402, after six new deaths were reported — three men and three women aged between 60 and 81, five in Sabah and another in Penang — according to Health director-general Tan Sri Dr Noor Hisham Abdullah in a statement.
On Selangor, Dr Noor Hisham said 616 cases in the State were confirmed from the existing and new Covid-19 clusters, including 390 cases from the newly discovered Covid-19 clusters namely the Sungai Putus cluster in Klang and the Erima cluster in Gombak.
The Sungai Putus cluster has 369 new infections today while the Erima cluster has 21 new cases.
For further breakdown of cases in Selangor, Dr Noor Hisham said 136 cases came from other Covid-19 screenings, 69 cases from screenings of close contacts of Covid-19 positive patients while the remaining eight cases were imported involving those who contracted the virus from abroad.
He also mentioned that 184 cases reported today are linked to the Covid-19 prison clusters and temporary detention centres involving the Rumah Merah cluster in Sabah with 150 cases, the Tembok cluster in Kedah with 18 cases, the Bakti cluster in Negeri Sembilan (13 cases) and the Jalan Harapan prison cluster in Selangor (3).
Elsewhere, Sabah recorded 532 cases, followed by Kuala Lumpur with 132 cases, Pahang with 96 cases, Johor (69), Negeri Sembilan (64), Penang (34), Kedah (22), Perak (12), Labuan (8), Melaka (5), Kelantan (2), Terengganu (2), Putrajaya (2) and Sarawak (1).
There were 937 new recoveries today, which raised the total number of those who have recovered from the coronavirus to 67,173.
However, as recoveries came in lower than new infections, active cases, which carry transmission risks, climbed to 12,734. This is the first-time in 15 days the number of active cases breached the 12,000 mark again.
Currently, 123 Covid-19 patients are being treated in intensive care units, with 63 needing ventilators.
Read also:
Six new Covid-19 clusters detected, including Sungai Putus in Selangor with 427 cases