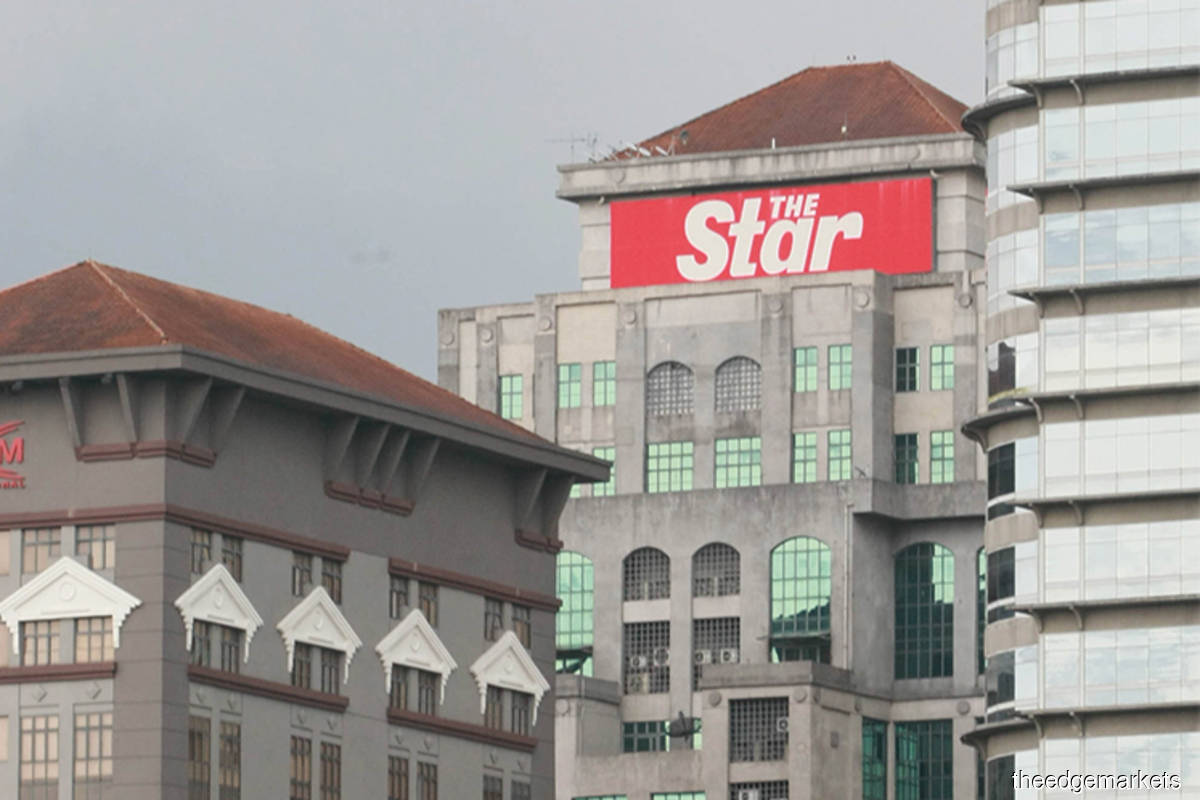 KUALA LUMPUR (Aug 28): CGS-CIMB Research believes that Star Media Group Bhd's beaten-down valuation could entice its controlling shareholder to consider privatisation of the media group. Given this, the local research house raised the question as to whether the stars are now aligned for the privatisation.
It has an "add" call and a target price (TP) of 52 sen for the stock. 
Star's share price was unchanged at 35 sen this morning and its market capitalisation stood at RM253.7 million. Trading at 35 sen was a 67% discount to its net assets per share of RM1.05 as at June 30.
"What keeps Star appealing in our books is the group's net cash/share of 50.9 sen (145% of its share price). It also has choice real estate with an NBV (net book value) of RM158.8 million or 21.5 sen/share. Instead of pursuing mergers and acquisitions (M&A), we think the cash hoard will be better spent privatising Star through the selective capital reduction (SCR) route. This should serve as a rerating catalyst," it said in a research note today.
"We are not convinced by the group's pitch for its digital assets to chart the group's turnaround. Our findings have shown that its streaming service dimsum has had little turnover to show for, while its digital ads' composition of (contribution to) the group's revenue was still in the low teens [as at the financial year ended Dec 31, 2019 or FY19]. Star seems to be trying to mollify shareholders by broaching the topic of M&A, armed with its RM371.2 million cash," the research house added.
In its results announcement to Bursa Malaysia yesterday, Star noted that the group remains confident of navigating the difficult environment, supported by a healthy cash balance of more than RM300 million and no borrowings by the end of the period under review.
Star added that the cash balance would act as a solid base for the group to capitalise on M&A opportunities during market consolidation, and even penetrate into new businesses that have a promising outlook.
Star also expects revenue growth from its digital segment, which reported an increase in traffic across all its digital platforms during the movement control order (MCO) period.
For the second quarter ended June 30, 2020 (2QFY20), its net loss widened to RM26.95 million or 3.7 sen per share from RM3.98 million or 0.54 sen per share for the preceding quarter.
Quarterly revenue fell 52% to RM31.51 million, from RM65.76 million, mainly due to the MCO that was put in place to curb the Covid-19 pandemic.
From a year-on-year (y-o-y) perspective, Star's net loss of RM26.95 million for 2QFY20 was in contrast to a net profit of RM1.66 million for 2QFY19. The group noted that the loss for 2QFY20 was mainly due to a loss from the print and digital segment as due to the Covid-19 pandemic, many businesses were holding their advertising spending for other business priorities.
For the cumulative six months ended June 30, 2020 (6MFY20), Star registered a net loss of RM30.9 million versus a net profit of RM5.2 million a year earlier.
Read also:
Star Media net loss widens in 2Q amid lockdown, but eyes M&A, new ventures with RM300m cash reserve