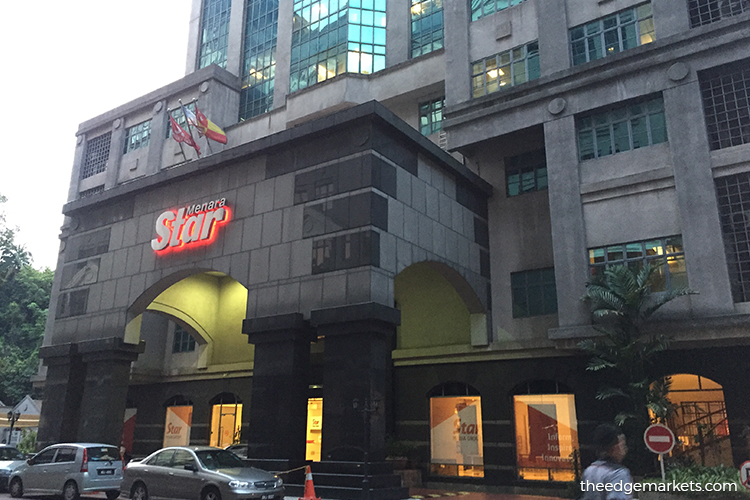 KUALA LUMPUR (Aug 27): Star Media Group Bhd's net loss widened to RM26.95 million or 3.7 sen per share for its second quarter ended June 30, 2020 (2QFY20) from RM3.98 million or 0.54 sen per share in the preceding quarter, it said in a Bursa filing.
Quarterly revenue more than halved to RM31.51 million from RM65.76 million, mainly due to the Movement Control Order (MCO) instituted to curb the Covid-19 pandemic.
In contrast, Star Media posted a RM1.66 million net profit or 0.22 sen per share for 2QFY19. The poorer results were attributed to the weak performance of the group's print and digital segment.
Meanwhile, quarterly revenue fell 59.46% to RM31.51 million from RM77.73 million last year, with all business segments, namely print and digital, radio broadcasting and event and exhibition, experiencing a plunge in revenue.
Star Media said a weak Malaysian economy compounded further by the pandemic severely impacted its sales in the print and digital segment, while the cancellations of physical events due to the pandemic slashed revenue for its event and exhibition segment.
"Due to the Covid-19 pandemic, many businesses are holding their advertising spending for other business priorities," the media group added.
Despite the negative performance, the group remains confident of navigating the difficult environment supported by a healthy cash balance of more than RM300 million and no borrowings by the end of the period under review.
"This (cash balance) will act as a solid base for Star [Media] to capitalise on merger-and-acquisition (M&A) opportunities during the market consolidation, and even penetrate into new businesses that have a promising outlook," it said.
Star Media added that it expects revenue growth from its digital segment, reporting an increase in traffic across all its digital platforms during the MCO period.
"The group will focus on using new technologies and analytics to improve, deepen and predict how our customers consume content with the end goal of increasing engagement and monetisation to drive new revenue streams beyond print.
"With our existing growth in digital platforms, we hope to increase the advertising take-up rates during these uncertain times and achieve a higher growth in the near future," Star Media said.
The media group is also looking for opportunities in the ASEAN region as its news site The Star Online has established a sizeable readership in countries such as Singapore, Indonesia and the Philippines.
Star Media's shares closed unchanged today from yesterday's closing price of 35 sen, which values the group at RM253.67 million. Around 775,500 shares were traded.
The counter has slipped 27.84% year-to-date from 48.5 sen.
Edited by Lam Jian Wyn