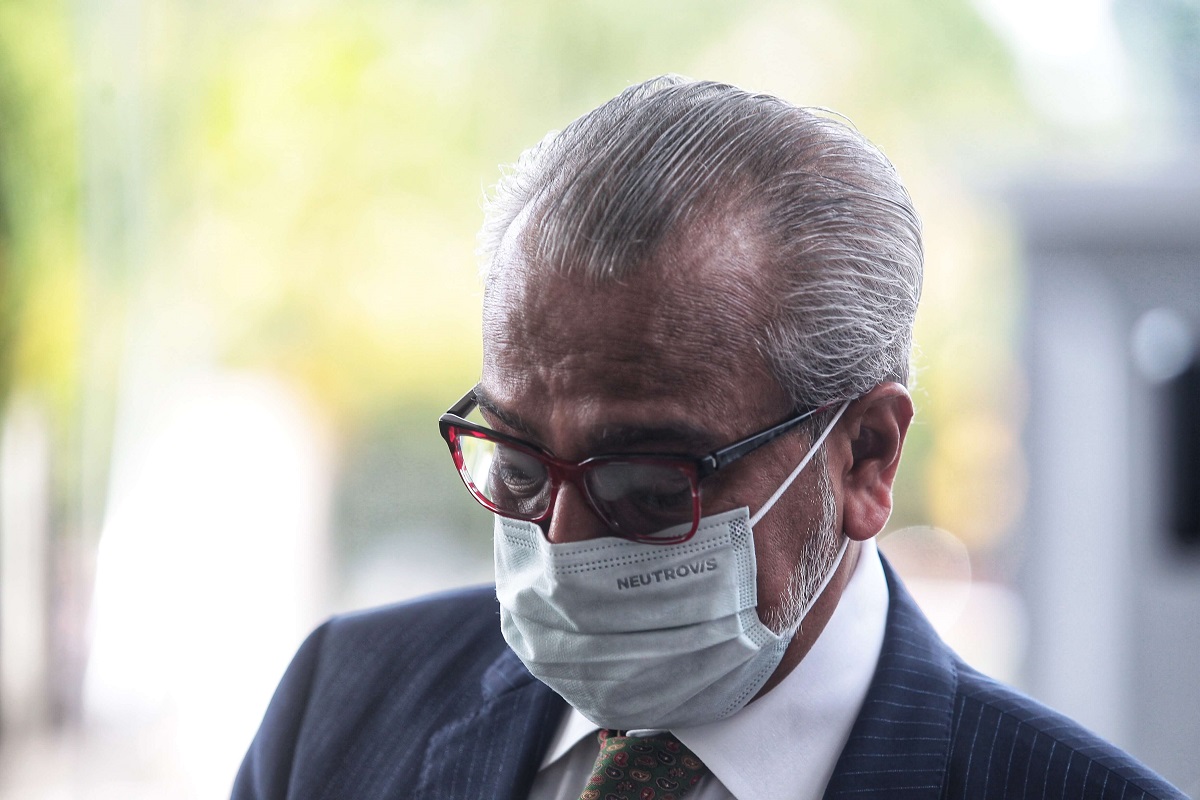 KUALA LUMPUR (Dec 2): Lawyer Tan Sri Muhammad Shafee Abdullah said the defence in Datuk Seri Najib Razak's SRC International Sdn Bhd trial had made the application to examine Malaysian Anti-Corruption Commission (MACC) chief commissioner Tan Sri Azam Baki in order to adduce further evidence and material following the statement made by the commission in November.
On Nov 19, the MACC said it had recovered US$15.4 million of 1Malaysia Development Bhd (1MDB) funds from Singapore, received from Cutting Edge Industries Ltd (CEIL), which is owned by Datuk Dr Tawfiq Ayman — the husband of former Bank Negara Malaysia (BNM) governor Tan Sri Zeti Akhtar Aziz.
During a press conference, Shafee said various authorities and the prosecution had previously claimed that they did not have this evidence, with the lawyer alleging that the evidence was concealed from the defence.
"In October and December 2020, about a year ago, there were articles published by online news portals that Tan Sri Zeti's husband received millions from Jho Low (Low Taek Jho). We wanted more facts and evidence but we were blocked," he said.
The lawyer said his firm wrote to the Monetary Authority of Singapore (MAS) to obtain the relevant documents, but claimed that the defence was "blocked by the Singaporean authorities".
According to Shafee, he has personally seen several statutory declarations from Tawfiq and his two sons, admitting to being the beneficial owners of CEIL's bank account that received the monies and relinquishing all claims to the monies held in the account.
The bulk of the funds was said to have originated from the profits made by fugitive businessman Low as a result of 1MDB's Islamic Medium Term Notes (IMTN) of RM5 billion that were flipped in 2009.
Asked how the monies from the IMTN bond flip in 2009 would be relevant to Najib's case given that the timeline involved in the SRC trial starts from 2011 onwards, Shafee contended that it is relevant as Low made a substantial amount of profit to the detriment of 1MDB which subsequently benefitted Zeti's family.
He then said that this is significant as it shows that Low has known Zeti and her family for longer than Najib, further alleging that the former governor and her family had been "compromised".
He said the central bank governor should have alerted Najib, as the then premier had already made the necessary disclosures for the purported RM42 million Saudi donation, but no red flags were raised.
Zeti was also offered as a witness for the defence during the SRC trial, although the defence decided not to take the offer. 
"When Tan Sri Zeti was offered to us, we didn't have her statement. The rule of the game is to not call a witness that you don't know what they're going to say. If we had known more, I would have made the application to ask the court to call her as a court witness for cross-examination," he said.
Shafee also denied speculation that the defence is seeking to postpone the proceedings on Dec 8 — when the Court of Appeal is scheduled to deliver its verdict on Najib's appeal — to delay the judgment.
Rather, he said Najib will be arriving in Malaysia from Singapore on Dec 5, and may be subject to quarantine, adding that it "is a genuine reason".
Najib was found guilty by the Kuala Lumpur High Court on July 28 last year on all seven counts in relation to SRC.
He was convicted of abusing his powers with regard to the approval for the Retirement Fund (Incorporated) (KWAP) loans of RM4 billion between 2011 and 2012 for SRC.
The Pekan member of Parliament was also found guilty of three counts each of criminal breach of trust and money laundering of RM42 million of SRC funds, which he received between Dec 26, 2014 and Feb 10, 2015.
For this, trial judge Mohd Nazlan Mohd Ghazali sentenced him to 12 years' jail and a fine of RM210 million, for which Najib has obtained a stay.
Read also:
Najib files application to have MACC's Azam Baki and SRC investigating officer be cross-examined