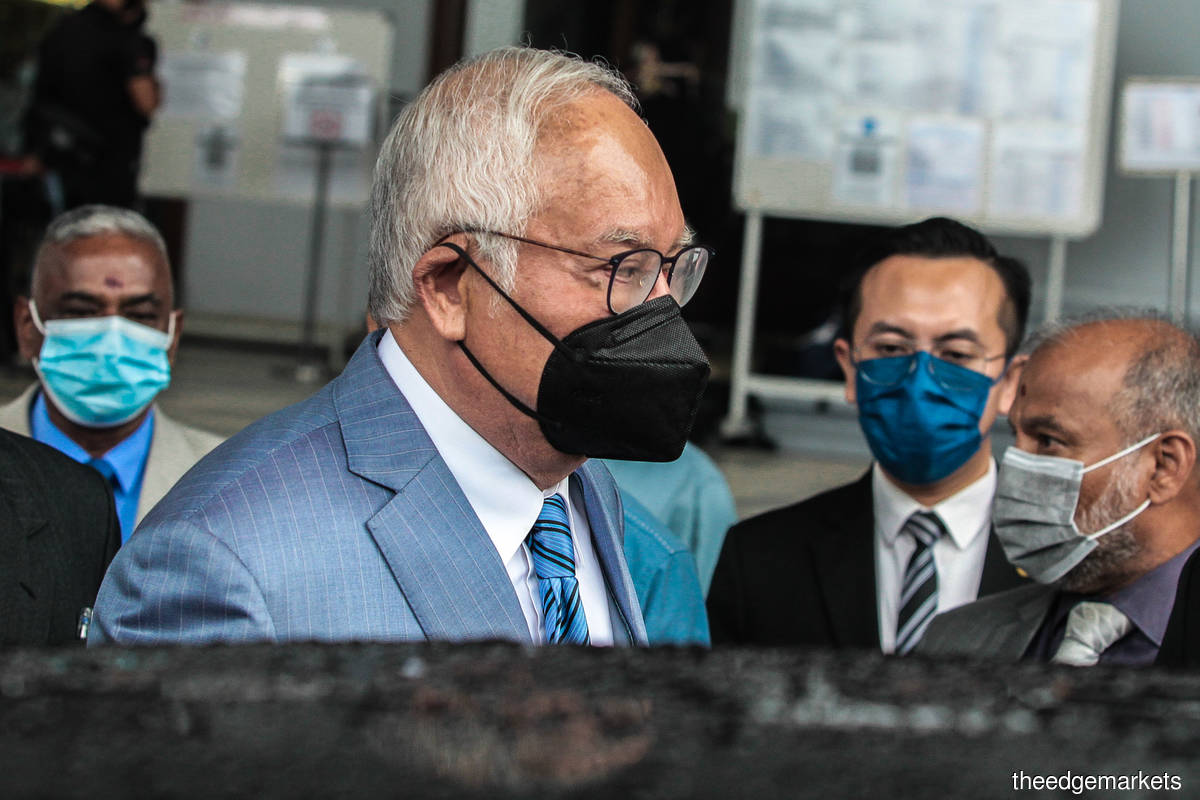 PUTRAJAYA (Dec 2): As the Court of Appeal is scheduled to deliver its verdict on the appeal of Datuk Seri Najib Razak over his conviction and sentence with regard to the SRC International Sdn Bhd case next Wednesday, Dec 8, the former premier has filed a motion to examine Malaysian Anti-Corruption Commission (MACC) chief commissioner Tan Sri Azam Baki and another.
The motion was filed on Wednesday (Dec 1) through his solicitor Messrs Shafee & Co where besides seeking to adduce further evidence from Azam, they sought to gather further evidence from investigating officer Rosli Hussein and any other witnesses as a result of the motion.
The former premier also affirmed an affidavit for this purpose.
Najib's lead counsel Tan Sri Muhammad Shafee Abdullah is scheduled to hold a press conference at his Bukit Tunku office at 3pm on Thursday regarding the SRC case.
Najib was found guilty by the Kuala Lumpur High Court on July 28 last year on all seven counts in relation to SRC.
He was convicted of abusing his powers with regard to the approval for the Retirement Fund (Incorporated) (KWAP) loans of RM4 billion between 2011 and 2012 for SRC.
The Pekan Member of Parliament (MP) was also found guilty of three counts each of criminal breach of trust (CBT) and money laundering of RM42 million of SRC funds, which he received between Dec 26, 2014 and Feb 10, 2015.
For this, trial judge Justice Mohd Nazlan Mohd Ghazali sentenced him to 12 years jail and a fine of RM210 million, for which Najib has obtained a stay.
In the former premier and finance minister's affidavit in support of the motion sighted by theedgemarkets.com, Najib said he made the latest application following the MACC's statement on Nov 19 regarding funds forfeited from former Bank Negara Malaysia governor Tan Sri Dr Zeti Akhtar Aziz's husband Datuk Tawfik Ayman's company in Singapore said to be from fugitive businessman Low Taek Jho, better known as Jho Low.
The said funds to the sum of US$15.4 million recovered from Cutting Edge Industries Ltd (CEIL) owned by Tawfik and another was recently returned to the MACC from the island republic.
Najib said the evidence was not available during his SRC trial, where in his defence a total of 18 other witnesses testified besides himself.
"Tawfik and his two sons signed a statutory declaration to state that they were the beneficial owners of CEIL's account where the US$15.4 million was repatriated and consented to the Singapore Commercial Affairs Department making an application for it to be transferred to 1Malaysia Development Bhd's (1MDB) account."
The funds were said to be from Iron Rhapsody Ltd, a company based in the British Virgin Islands that was operated by Tawfik and one of his sons.
Najib's affidavit stated that between 2008 and 2009, Iron Rhapsody received US$16.219 million from companies owned by Jho Low as a result of 1MDB's Islamic Medium Term Notes of RM5 billion that were flipped in 2009.
Further, Najib said former Attorney General Tan Sri Tommy Thomas in an interview recently admitted that he knew about Tawfik's alleged involvement since 2019.
Tommy who had resigned as the AG stated that the matter was still under investigations at that time.
The former premier said as several prosecution witnesses told the court, him opening the bank accounts in AmBank and the receiving of monies into the accounts were manipulated by Jho Low and his cohorts.
"I verily believe that the evidence that has been credibly discovered and verified reveals the complicity of Zeti of Jho Low's schemes. 
"I believe that Zeti's role in facilitating Jho Low resulted in no red flags or irregularities being raised on matters regarding the transactions in my accounts between 2011 and 2015 and further provided the means for Jho Low to carry out his manipulations," Najib added.
He further claimed that information regarding Zeti and her family was purposely not disclosed to him and the public at large by the prosecution.
This followed Zeti's appointment by former premier Tun Dr Mahathir Mohamad to be part of the Council of Eminent Persons.
The former premier and finance minister alleged that Zeti was facilitating Jho Low's disingenious endeavours.
For these reasons, Najib said he had also lodged a police report at the Dang Wangi police station.
He further said that for these reasons, he was making the application for viva voce evidence be adduced from Rosli and Azam, so that further evidence could be adduced.
"My solicitors will elaborate further in the hearing of the application," Najib said.
Viva voce means oral examination of a witness that one seeks to adduce.
Read also:
Application to examine MACC chief is to adduce further evidence, says Najib's lawyer