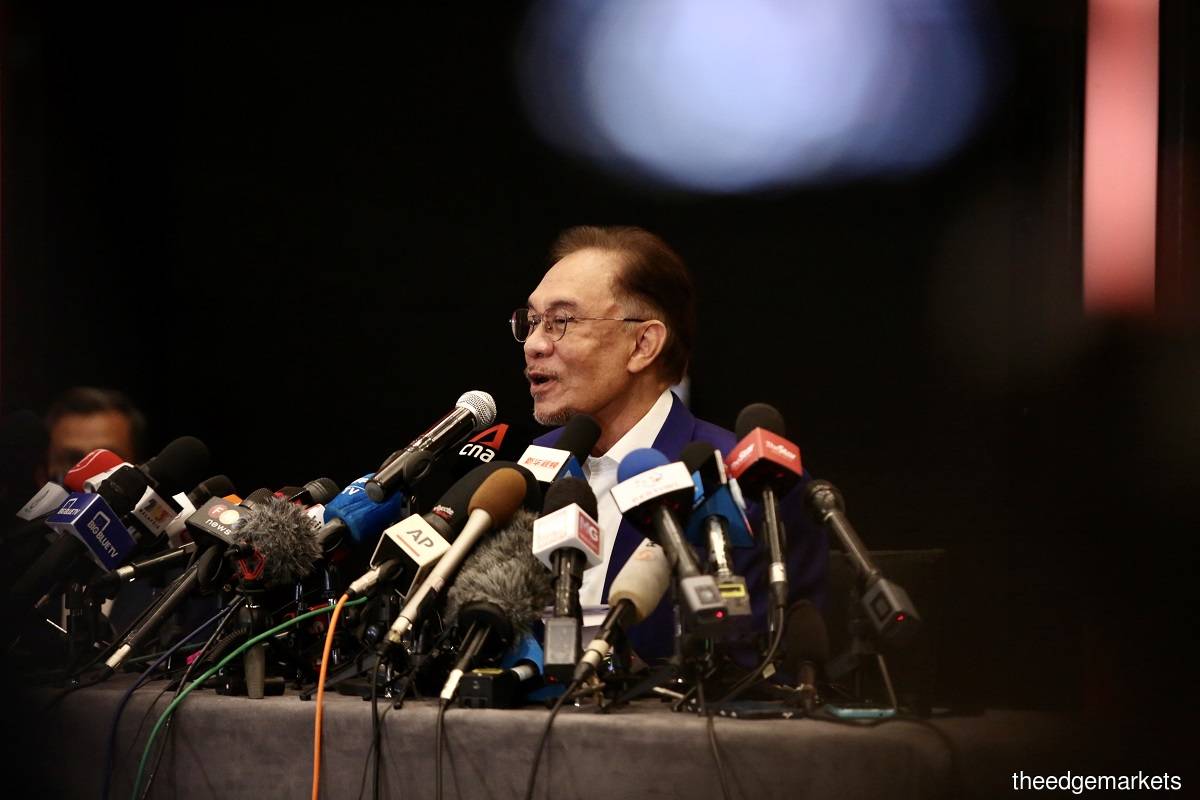 KUALA LUMPUR (Oct 13): Opposition leader and PKR president Datuk Seri Anwar Ibrahim said today he had submitted to Yang di-Pertuan Agong Al-Sultan Abdullah Ri'ayatuddin Al-Mustafa Billah Shah documents to prove the claim he had secured majority support of Members of Parliament (MPs) to form a government.
According to Anwar, he has the support of more than 120 MPs.
During a press conference today after an audience with Yang di-Pertuan Agong earlier today, Anwar said the King will take some time to go through the documents and interview the heads of other political parties over the next one to two days for confirmation and inputs on the matter.
"From these documents, it is abundantly clear we have a formidable and convincing majority among the parliamentarians.
"I take this opportunity to record my appreciation of Yang di-Pertuan Agong for granting me an audience and giving me the opportunity to explain," Anwar said.
He claimed that a government led by him would accord rights to every single citizen in the country amid concerns over his earlier comment that it would be a Malay-bumiputera majority government.
Asked if he had "cut deals with anybody", including those with criminal charges, to gain support, Anwar claimed that his planned government is an inclusive one, without a personal vendetta against anyone, as long as they accept the rule of law.
"I have already made it abundantly clear that we are committed to reform and judicial independence. There is no question of cutting deals. What I have assured them is that there is no vendetta and they must accept the rule of law," he claimed.
Read also:
PM Muhyiddin to let King decide on Anwar's majority MP support claim
Anwar's press conference at 2pm after audience with King over claim of majority MP support
Istana Negara: Anwar did not provide names of MPs supporting him