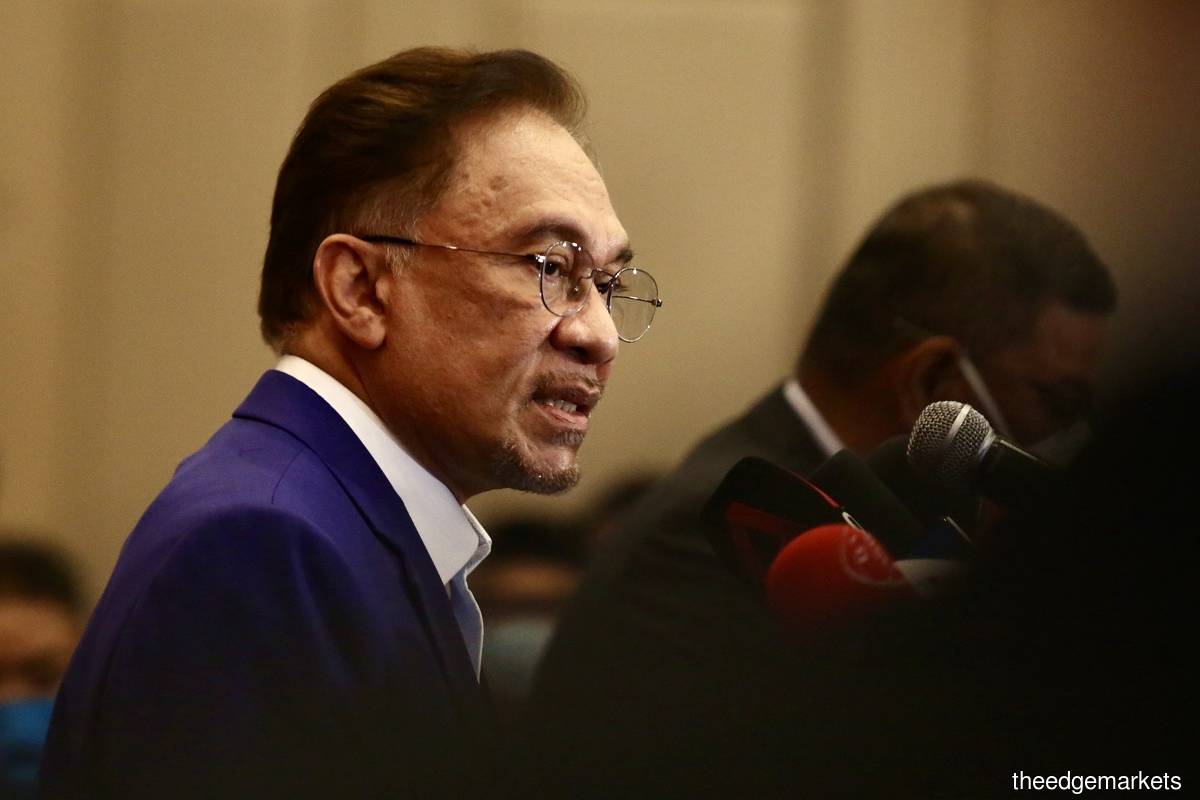 KUALA LUMPUR (Oct 13): Opposition leader and PKR president Datuk Seri Anwar Ibrahim today informed Yang di-Pertuan Agong Al-Sultan Abdullah Ri'ayatuddin Al-Mustafa Billah Shah of the number of Members of Parliament (MPs) supporting the opposition leader but did not reveal the identities of the lawmakers, said Istana Negara.
The palace said this in a statement issued by the Comptroller of the Royal Household, Datuk Ahmad Fadil Shamsuddin, after Anwar's audience with the King. 
Anwar claimed in a press conference after the meeting that he had the support of more than 120 MPs in the 222-seat Dewan Rakyat. 
Ahmad Fadil in his statement said: "In the session that took place for about 25 minutes, Datuk Seri Anwar Ibrahim presented the total number of MPs that he claimed are supporting him. However, he did not present the list of names of the MPs to support his claim."
As such, the King advised Anwar to "abide by and respect the legal processes as enshrined in the Federal Constitution", said Ahmad Fadil.  
Meanwhile, the comptroller said Al-Sultan Abdullah had also expressed concern regarding the country's Covid-19 situation, whereby a two-week conditional movement control order (CMCO) had been imposed on Selangor, Kuala Lumpur and Putrajaya from tomorrow.
"It is also announced that pursuant to the implementation of the CMCO and Al-Sultan Abdullah's decree, Istana Negara will enforce a semi-lockdown that will be effective until further notice," the comptroller said.  
The statement did not say if the semi-lockdown means that the King would not meet political party leaders during the period. 
Meanwhile, Anwar said during his press conference that the ruler would proceed to meet the heads of the main political parties in the country following the opposition leader's claim. 
The PKR president said the ruler would also take some time to go through documents and statutory documents presented by him to the palace. 
"From these documents, it is abundantly clear we have a formidable and convincing majority among the MPs," Anwar said.
Read also:
PM Muhyiddin to let King decide on Anwar's majority MP support claim
Anwar's press conference at 2pm after audience with King over claim of majority MP support
Anwar claims support of over 120 MPs, King to call party leaders to confirm supporting documents