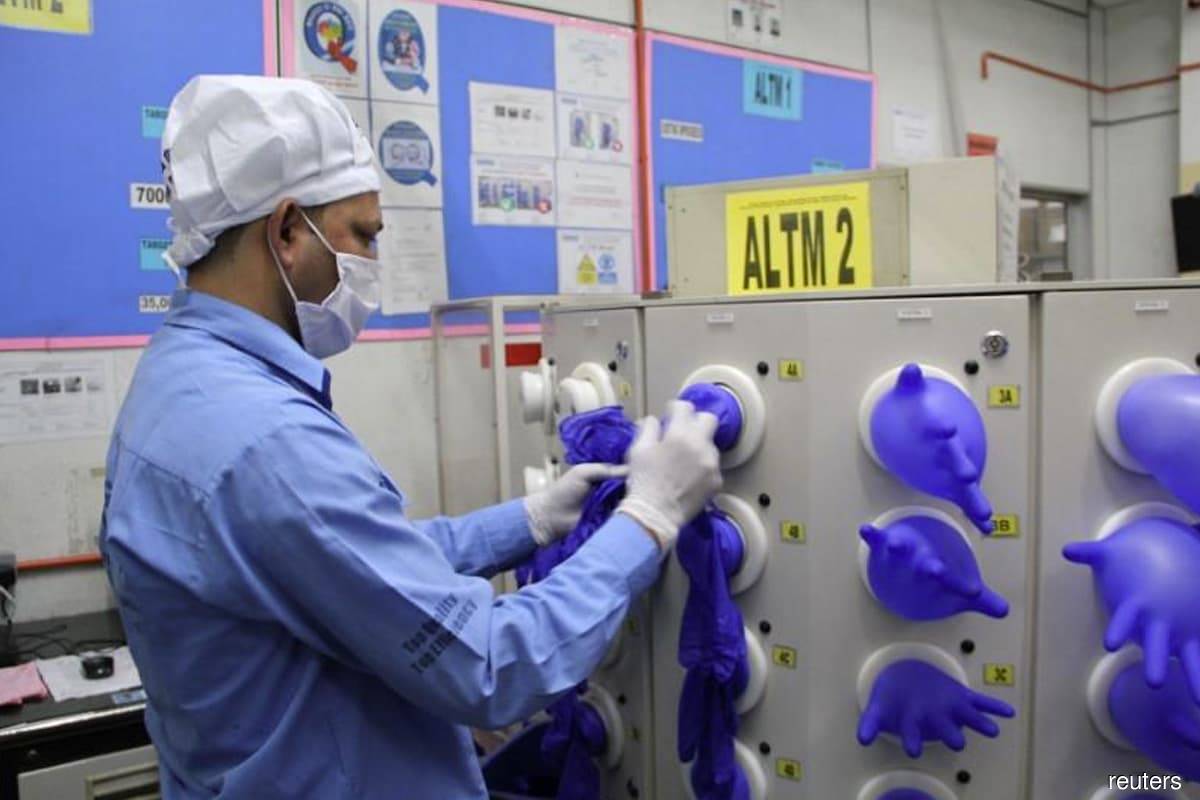 KUALA LUMPUR (June 10): Analysts have cut their earnings forecasts for Top Glove Corp Bhd after factoring in lower average selling prices (ASPs) moving forward.
In a note today, MIDF Research said it was cutting its earnings estimates by 14.9% for the group's financial year ending Aug 31, 2021 (FY21) and by 30.9% for FY22.
The research house explained that this was after factoring in lower ASPs and narrower profit margins in view of change in the supply-demand dynamics.
MIDF also expects operation cost to inch up in the medium term due to higher expenses to further boost its environmental, social and governance (ESG) practices.
MIDF is forecasting Top Glove to make RM9.03 billion in profit after tax (PAT) for FY21 and RM2.47 billion for FY22.
While maintaining its "buy" call on Top Glove, MIDF cut its target price (TP) for the counter to RM5.73 (from RM8.29).
It noted that the new TP is based on a price-to-earnings (P/E) ratio of 18.9 times, pegged at revised FY22 earnings per share (EPS) of 30.3 sen.
As it currently stands, Top Glove is trading at 16 times its FY22 P/E ratio, which is deemed attractive given its leading position in the global rubber glove industry.
"Its dividend yield is estimated at 3.1% for FY22. Risks to our call included a prolonged ban on shipment of its Malaysian-made gloves to the US, stiffer-than-expected business competition and disruption to its operations," said MIDF.
Meanwhile, Hong Leong Investment Bank (HLIB) Research lowered its FY21, FY22 and FY23 earnings forecasts for Top Glove by 9%, 5.6% and 3.3% respectively after accounting for lower ASPs.
HLIB is forecasting Top Glove to post a profit after tax and monitory interests (PATAMI) of RM9.66 billion for FY21, RM5.04 billion for FY22 and RM2.51 billion for FY23.
It too maintained its "buy" call on Top Glove, while also cutting its TP to RM6.76 (from RM7), following the earnings adjustments.
"We think it is only a matter of time before Top Glove's US CBP (Customs and Border Protection) ban is lifted, which would result in a significant sales volume recovery," it said.
Both HLIB and MIDF opined that the rubber glove maker's most recent earnings for the third quarter ended May 31, 2021 (3QFY21) and the cumulative nine months (9MFY21) came in below expectations.
For MIDF, Top Glove's 9MFY21 net profit of RM7.3 billion was deemed below expectations mainly due to a lower-than-expected recovery in volume as well as lower-than-expected ASPs due to a less favourable sales mix. Earnings for the period made up 70% of its and 74% of the consensus estimates.
Meanwhile, the company's 3QFY21 core PATAMI of RM2 billion resulted in a core PATAMI of RM7.2 billion for 9MFY21, which was below HLIB's estimate but in line with the consensus forecast, accounting for 68.3% and 73.3% respectively.
Top Glove yesterday announced that its 3QFY21 net profit fell 29.03% to RM2.04 billion from RM2.87 billion for the immediate preceding quarter.
Revenue fell 22.42% quarter-on-quarter (q-o-q) to RM4.16 billion from RM5.37 billion. Earnings per share (EPS) slipped to 25.44 sen from 35.77 sen.
Shares in Top Glove were trading 1.03% or five sen higher at RM4.89 as of 10.17am this morning, valuing it at RM40.13 billion.
Read also:
Top Glove's 3QFY21 net profit falls 29% q-o-q to RM2b, declares 18 sen dividend
Top Glove: Shorter production lead time with new capacity and fewer spot orders
Top Glove sees glove prices to continue falling in coming months