This article first appeared in City & Country, The Edge Malaysia Weekly, on February 20, 2023 - February 26, 2023.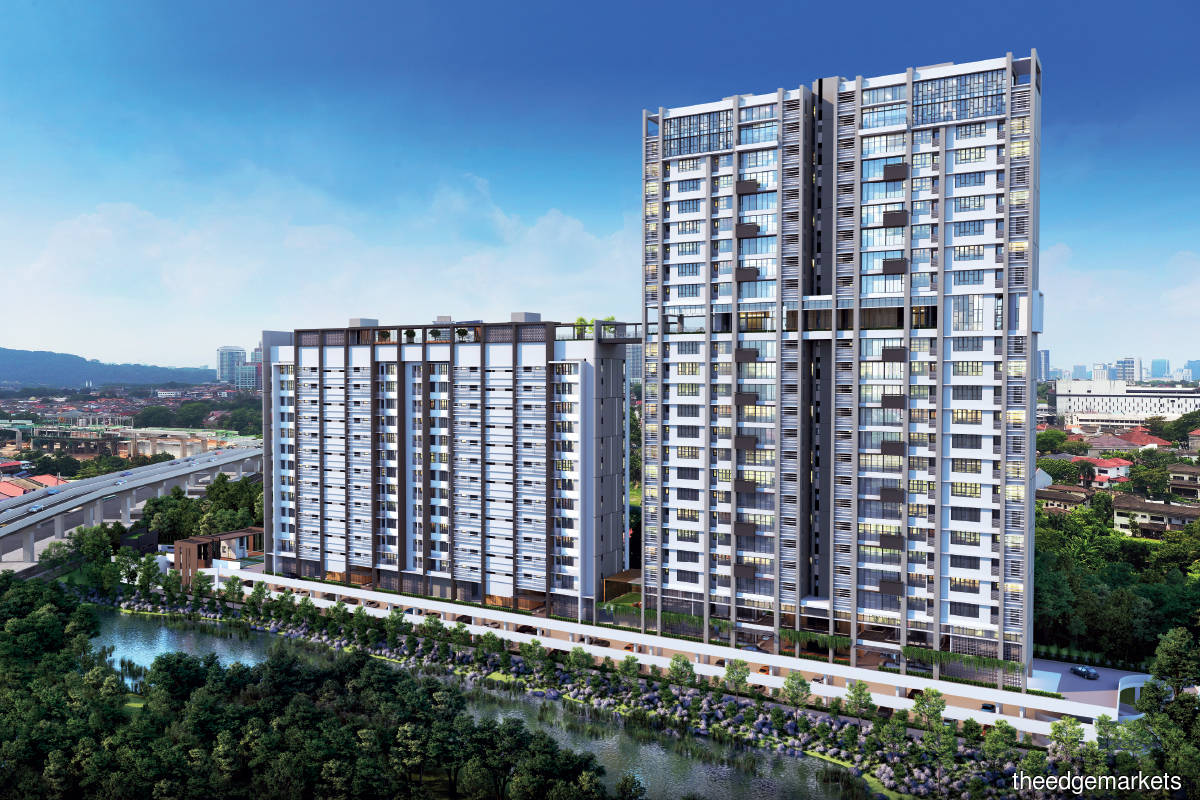 OCR Group Bhd is planning to launch an exclusive low-density condominium development of just 88 units in Petaling Jaya in March.
Sitting on a 1.49-acre strip between SMK Damansara Jaya and Sungai Kayu Ara, Stellar Damansara has a gross development value of RM187.9 million. The leasehold development, which has a tenure of 56 years, is due to be completed in 1Q2026.
Speaking to City & Country in an exclusive interview, general manager of corporate development Ng Chin Yung says Stellar Damansara comes under the company's luxury product series. "Generally, we define our products using three categories. In addition to Luxury Living, we have Urban Living as well as Essential Living. Our ongoing projects such as YOLO Signature Suites and The Mate in Petaling Jaya fall under the Urban Living series, whereas PRIYA in Kuantan, Pahang, for example, is under Essential Living.
"Stellar Damansara is a very exclusive, upper-end development that falls under our Luxury Living series. There is a market for such products as Petaling Jaya is one of the most mature townships in the Klang Valley and many in the area are looking to upgrade," he says.
"We have also managed to get the name approved as Stellar Damansara by the local authorities, as the location is very near Damansara Jaya." 
At Stellar Damansara, the units are spread over two blocks. The 22-storey Block A will house 40 Type A units, including two penthouses, with two units per floor. The 14-storey Block B, meanwhile, will comprise 48 Type B units, with four units per floor.
The project offers seven layout types with larger unit built-ups ranging from 2,028 to 2,169 sq ft for the 3+1-bedroom Type B units and from 2,500 to 2,530 sq ft for the 4+1-bedroom Type A units. There are also two penthouses measuring 3,990 sq ft with 4+1 bedrooms. All bedrooms are en suite while the units, which will come bare, will have two to three car parks each.
The selling price ranges from RM1.8 million to RM3.3 million, or an average of RM934.45 psf. The monthly maintenance fee is 35 sen, including the sinking fund, for the first year.
According to Ng, the project has garnered around 4,000 interested registrants through its website as well as social media. In addition to receiving some enquiries from the US and Hong Kong, he says the target market is predominantly local owner-occupiers. "Most of the enquiries came from upgraders who are families living in PJ. We didn't even need to explain where the location is, as most of them already knew."
Located within a vibrant part of Petaling Jaya, Stellar Damansara is surrounded by mature townships such as Damansara Jaya, Damansara Uptown, Bandar Utama and SS2 and an array of amenities including shopping malls such as 1 Utama Shopping Centre, The Starling, Atria Shopping Gallery, 3 Damansara, Centrepoint and Tropicana Gardens Mall within a 5km radius. In addition to commercial hubs and shopping malls, the development is also near a myriad of amenities such as public and private schools, tertiary education institutions, hotels and golf clubs.
The project, whose entrance and exit point is on the Sprint Expressway, is connected to areas such as Mont'Kiara, Hartamas, Subang, Kepong and Sungai Buloh via highways such as the Sprint Expressway, Damansara-Puchong Expressway (LDP) and New Klang Valley Expressway (NKVE).
Catering for multigenerational living
Ng explains that the project was designed and conceptualised with multigenerational living in mind. "Stellar Damansara will be elderly friendly and pet friendly. We are focusing very much on multigenerational living, and wish to provide a luxury property for families to live together. Also, many families these days have pets. That's why we are offering bigger layouts."
Elderly friendly features are incorporated throughout the development, he says. "One of the bedrooms in the units will have a bigger doorway for wheelchair access; toilet ramp and railing to help prevent slipping and falling; as well as a shower seat for those who prefer to sit and shower."
To create a pet-friendly development, the developer will be incorporating pet-friendly regulations into the strata property's house rules and deed of mutual covenant, says Ng. "This is to make sure [the development continues to] be a pet-friendly property, rather than just saying it like most condos [do], whereby their joint management body can subsequently ban owners from having pets. Meanwhile, we are also pre-informing interested buyers that this is a pet-friendly development because not everyone is comfortable with that. Again, there are only 88 units."
In addition to the open areas for pets within the condo, residents can also walk their four-legged friends at the 242m riverside walk. "As the project is next to the river, we are creating a riverside walk for residents to bring their pets for walks while enjoying some outdoor activities," says Ng. "The riverside walk is not part of the development as the area belongs to the local authorities, but we have offered to help upgrade and improve the riverbank along our development."
Other noteworthy features at Stellar Damansara are private lift foyers and large balconies. "Petaling Jaya has a lot of landed properties, but they are mostly older properties. We want to make sure those who want to upgrade can also enjoy a bigger outdoor space with the security of living in a high-rise property."
Additionally, some of the units will boast 270-degree views of the surrounding skyline whereas others will enjoy a 180-degree panorama. "This is the kind of luxury we want to provide, unlike typical condominiums with units on both sides of a centre corridor. Here, we don't have a centre corridor, so when you enter the unit, you get views from the front and back windows." This also allows ample natural lighting into the units as well as cross-ventilation within them.
Ng says that the foyers and balconies will come in various sizes. "Those who prefer more outdoor spaces can choose Type B layouts with larger balconies and foyers. Those staying in Type B layouts can also go into their units via the balcony or private foyer. Meanwhile, those who prefer more internal spaces can go for Type A layouts."
The units, which come with a ceiling height of 11ft, are designed with an open-plan layout and to be customisable, says Ng. "We are using columns and beams for the development's structure instead of a common shear wall, which is a load-bearing, structural wall that can't be hacked. Using columns and beams allows owners to hack certain walls, providing more customisation flexibility.
"Our units are large, and some customers may not need so many rooms but want larger living areas for gatherings, or a larger study room. So, some of the rooms can be altered due to the flexibility that we offer." He adds that the column and beam method requires more care in terms of design and construction so there will not be a lot of columns and beams around the house, while at the same time providing a customisable space.
In terms of building facilities, Stellar Damansara residents can enjoy a 340m jogging track on the ground level; a pre-function area and garden banquet lounge on Level 1; as well as a crossfit gym, chillout patio, sky lounge, playpark sanctuary, vista skywalk and observation deck, herb garden, skyline barbecue corner, splashy wading cove, starlight infinity pool, moon deck and jacuzzi aqua cove on Level 13A. The facilities on Level 13A or Sky Lane span both Block A and Block B, which are connected via a link bridge.
The development will also come with a three-tier security system from the guardhouse to the lift lobby and lifts.
The right timing
Stellar Damansara caters for a very niche market. "Right after we acquired the site in mid-2020, we started our preliminary market studies and interest registration. It took a while due to the Covid-19 pandemic. Now that we are in the endemic phase, this is the right time to go ahead with the project. After all, it is only 88 units."
When asked about the risks of building a high-rise next to the river, Ng says the setback of the development from the river is 20m, which has been approved by the JPS (Department of Irrigation and Drainage). "Our site is not impacted by flood nor is it part of a flood-prone area. Based on our latest observation in December 2021, the area was not affected by flooding. The river is a main river, and the water level is always at a moderate level, even during heavy rain. 
"Meanwhile, according to our project engineer, we are not doing much excavation on the riverbank slope. Furthermore, it still has natural greens that help protect the slope. We have also observed that not much erosion has happened on the slope."
In terms of outlook, Ng says that "it can only be better", despite the interest rate hikes. "In fact, if you look at the whole scenario, interest rates are back to pre-Covid days. Things are getting back to normal."
Meanwhile, OCR Group has five ongoing projects — Isola KLCC and The Pano in Kuala Lumpur, YOLO Signature Suites and The Mate in Petaling Jaya, and PRIYA Kuantan in Pahang. "We handed over The Pano with the CCC (Certificate of Completion and Compliance) in October last year. For YOLO, which is around 90% sold, we are targeting for vacant possession sometime in April. The Mate, which is 60% taken up, is scheduled to be completed by end-2023."
As for Isola, which was launched in 2018, the project is about 80% taken up but construction progress was delayed due to the pandemic, says Ng. "The pandemic caused us a lot of trouble in terms of worker accommodation. As KLCC does not have space for workers' accommodation, we had to ferry them from outside the city [which was difficult due to the many lockdowns]. Also, it is more challenging to get foreign workers these days. Construction has resumed now, and we are getting an extension of time. We are looking at completing Isola in 1Q2024."
In Kuantan, all three phases of PRIYA are 100% sold and the developer will start handing over Phase 1 in 1Q2023. "Phases 2 and 3 will be handed over in the second quarter this year," says Ng.
"This is why we are urgently looking to launch our next project, Vertex, a high-rise residential development in Kuantan city centre, which we are planning to launch in 4Q2023. We need to start another project as we have a team there. Also, we see a lot of opportunities in Pahang, looking at the population growth. With the ECRL (East Coast Rail Link) connecting the east coast to Port Klang, we believe it will further develop Kuantan as a future business district," he adds.
OCR is also very much focused on the Klang Valley market. "We are coming up with a new product under the Essential Living series in U9 Shah Alam, next to Cahaya SPK and Kayangan Heights. The project will comprise 3,000 Rumah SelangorKu units, which we are planning to launch this year," says Ng, adding that the company also has an industrial development near Ideal Convention Centre (IDCC) in Shah Alam.
"Market confidence is coming back and we are seeing more activity in the market. We believe that the market is going back to normal gradually," he concludes.