This article first appeared in The Edge Malaysia Weekly, on January 16, 2023 - January 22, 2023.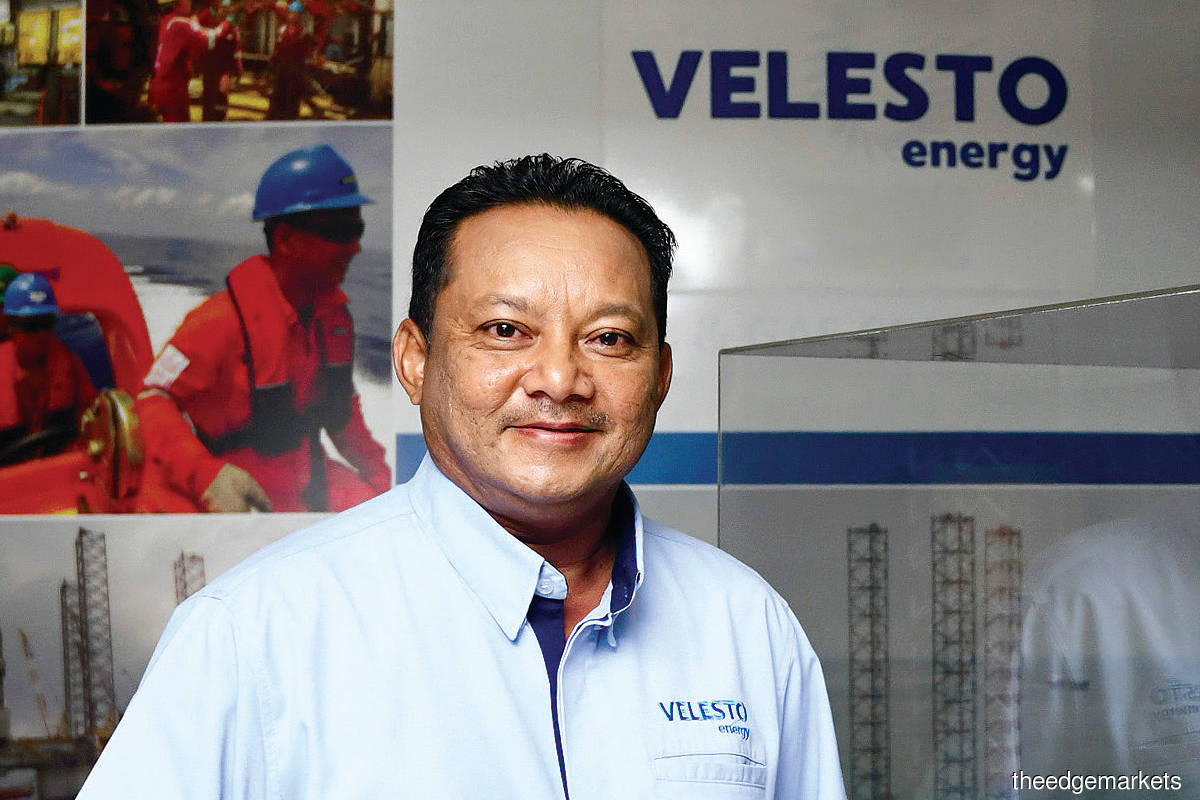 FIVE years after its massive restructuring exercise, Velesto Energy Bhd is finally reaping the benefits of the long-awaited pickup in activities in the upstream oil and gas (O&G) industry.
Velesto, the only pure-play rig service provider in Malaysia, is keeping it lean through the current industry boom, having learnt a tough lesson when it got caught with high debt levels when the industry turned unexpectedly in 2014.
Speaking with The Edge in an exclusive interview, president Megat Zariman Abdul Rahim says the company intends to fully utilise its six jack-up rigs to capture the "huge" activity increase expected over the next few years.
"We have to recover from the downturn in the last few years, get the rigs working, and make sure we have the right margins … that will be our focus," says Megat Zariman, who was appointed in December 2021.
"After that, you should think about how you should prepare yourself for the downturn, because it will happen. That's the discipline that I hope to bring to Velesto," he adds.
All six of Velesto's rigs are on charter at the time of writing.  According to the latest Petronas Activity Outlook — a forecast of O&G activities in Malaysia for the three years from 2023 to 2025 — demand for jack-up rigs stands at 12 this year and 14 in 2024, up from nine rigs utilised last year.
It is not only in Malaysia that the drilling business is gaining momentum. Across the region, various cold stacked and idle jack-ups are being reactivated. Several acquisitions took place last year around the world, particularly in the Middle East. For instance, local O&G service provider Icon Offshore Bhd sold its one and only jack-up rig to Saudi Arabia-based ADES Arabia Holding for RM381.65 million. Icon Offshore gained RM185.5 million from the sale.
"We do get calls from people who want to buy our rigs. We will consider selling if it's a good offer," says Megat, adding that the group is not planning to buy any new assets — new builds cost US$200 million (RM866 million) to US$250 million, and take 10 to 15 years to recoup.
With its six rigs, Velesto is already taking advantage of the upswing, as reflected in its current financial performance. In the third quarter ended Sept 30, 2022 (3QFY2022), Velesto returned to the black with a net profit of RM14.97 million, from a net loss of RM52.04 million a year ago, with average jack-up rig utilisation of 78% (based on six rigs capacity) compared with 51% previously.
However, the group was still in the red in 9MFY2022 with RM74.40 million losses, albeit lower than RM96.25 million losses in the same period a year ago.
It is worth noting that analysts see Velesto's asset utilisation rate at 90% in 4QFY2022 — one of its highest in years — and Megat points to a medium-term average of above 70%. As this compares with a break-even range of 60%, he reckons that the worst is over for Velesto.
"The optimism comes from various sources [from oil majors to major service companies]. I think this is the time for oil and gas … In the next three years, there should not be any scepticism [on Velesto's performance]," he adds.
"To give you a flavour, there are 85 rigs in Saudi Arabia. Forty of those rigs are required to drill to produce one million barrels of oil [per day]. There's a lot of work, a lot of activities just to get the oil out to the market."
Better rates seen in 2023
As oil prices have strengthened, charter rates for jack-up rigs in Malaysia are set to pick up, tracking rates in the region and other markets.
Megat says in 3QFY2022, Velesto's average jack-up rig charter rate per day was US$73,000, a far cry from Southeast Asia's, which rose to as much as US$120,000 last August, compared with US$88,000 in April.
For Velesto, four drilling jobs are scheduled to end in 1Q2023.A few contracts signed late last year have already seen improved rates. Meanwhile, it has a two-year umbrella contract signed with Petroliam Nasional Bhd (Petronas) in early 2022. Its Naga 8 rig is also signed with Carigali Hess Operating Company Sdn Bhd for the 2022-2024 period.
The company is negotiating with Petronas for improved charter rates, he says. "We expect to see some improvements in 2023."
Furthermore, a potential shortage of jack-up rigs could be brewing here, given the lack of new builds coming into the market.
"There could be a potential shortage now that Icon Offshore has exited the business," an analyst says.
According to S&P Global Commodity Insights, an upward trend in utilisation, fewer new builds and disposal of such assets are among the signs that the offshore rig market in Southeast Asia is tightening. "Following recent large-scale jack-up [rig] tenders from Saudi Aramco and Adnoc, both working rigs and stacked rigs in the surrounding regions, especially Southeast Asia, have been steadily acquired or chartered in preparation for campaigns in the Middle East starting in late-2022 and into 2023," it said in a report last year.
Similarly, for Velesto, while it largely serves the local industry, it is not restricted to the local markets and is keeping a close watch over opportunities such as in the Asean region and the Middle East.
The clients of Velesto's rigs include Hess, Sarawak Shell, Petronas, Roc Oil and Hoang Long Joint Operating Co. It also had a contract with Thailand's PTTEP  up until 4Q2022.
Group cognisant of drilling's cyclical nature
That said, Megat acknowledges that the huge exposure to the highly cyclical drilling segment — it contributed 90% of group revenue in 9MFY2022 — could put Velesto in a vulnerable position at the end of the industry upward cycle.
"We are looking to expand our business, which is likely within the upstream and wells-related sector. But that is something that we may consider in the next five years," he says.
This may include scaling up the workover segment, in which Velesto currently hosts four hydraulic workover units (HWUs). These assets are also used during well maintenance.
Two of Velesto's four HWUs are currently in operation, serving Petronas and ExxonMobil. A third one was operating in 2Q2022.
Velesto also has a small oilfield services operation in China, which Megat says has a "very strong team that is doing very well". This was the only profitable segment in 9MFY2022, making a profit of RM1.82 million on revenue of RM7.14 million (just 2% of the group total) for a margin of 25.4%.
For now, the main focus for the next two to three years is to enhance the company's capital discipline, increase efficiency and sustainability efforts and reduce emissions from its operations.
The group has also equipped two rigs with offline capabilities that allow for multiple tasks at any one time. This is particularly useful for development activities and could save time in a drilling project by up to 20%. Two more rigs will be equipped with similar capabilities in 2024.
'Fantastic position' after restructuring
Velesto listed during the oil boom in 2013 — it was then known as UMW Oil & Gas Corp Bhd — at RM2.80 per share. A favourite among investors, its shares traded as high as RM4.58 in 2014 with its market capitalisation reaching RM9.9 billion.
However, the sudden crude oil rout the following year caught the O&G industry darling by surprise as it had geared up for new drilling rigs, with its eighth rig delivered during the industry downturn in 2015.
From 2017, it undertook a series of balance sheet restructuring, beginning with a rights issue that was supported by its now-54% shareholder Permodalan Nasional Bhd (PNB). In between, its major shareholder UMW Holdings Bhd exited the rig operator by distributing its 55.7% stake in specie to its own shareholders.
Following Velesto's completion of a RM1.82 billion rights issue, in which PNB put in over RM800 million, it pared down RM1.5 billion of debt. In 2020, it undertook a share capital reduction (SCR) to cancel RM2.21 billion of issued shares to eliminate accumulated losses.
In 2021, the group pared down debt further with the RM471.8 million in insurance claims from the Naga 7 rig, which sank in May that year.
Coupled with earnings from ongoing operations, the three episodes helped Velesto reduce its total borrowings to RM595.84 million as at end-September 2022, from RM3.79 billion in FY2016. Accumulated losses shrank to RM593.4 million, from RM1.04 billion. Meanwhile, its cash pile shrank to RM174.95 million, from RM553.53 million at end-FY2016.
Its share price took a beating in the process, falling to a record low of 7.5 sen in July 2022, from 88 sen at the start of 2017.
Now with all the cleaning up out of the way, combined with the rosy industry prospects, the counter has gained investor interest. The share price doubled to 16 sen last Thursday, giving it a market capitalisation of RM1.31 billion.
Among eight analysts covering the counter, seven have "buy" calls, while one has a "sell" recommendation. Target prices range from 14 sen to 30 sen, with an average of 19 sen.
On Velesto's debt level, Megat says the company is "comfortable" with its balance sheet, pointing to its net gearing of under 0.2 times.
"This upturn is short ... we are not about to get diluted in our focus. Let's get the rig working, maximise the next three years to get the right margins … We are in a fantastic position," he adds.