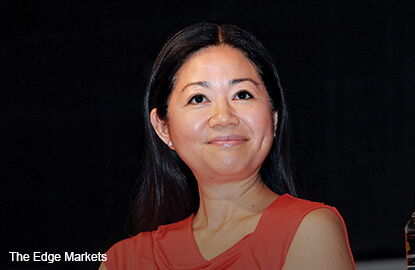 This article first appeared in
The Edge Financial Daily
, on February 20, 2017.
KUALA LUMPUR: While China's macro cyclical movements affect the global economy as a whole, economists say Asian nations like Malaysia are expected to be more badly hit if China undergoes a recession.
Malaysia's vulnerability is evident as shown in a sensitivity analysis by Maybank Investment Bank Bhd where a one-percentage-point (ppt) drop in China's gross domestic product (GDP) growth would knock 0.7ppt off Malaysia's GDP growth.
"The International Monetary Fund (IMF)'s estimates deem China as important or the second-most important economy in terms of size in the world," said Oxford University economics fellow Linda Yueh.
"If China were to have a recession or economic slowdown, there would be a bigger impact on Asia, which is more integrated with China," Yueh said when speaking to The Edge Financial Daily during the recent Invest Asean organised by Malayan Banking Bhd (Maybank) and Maybank Kim Eng Holdings Ltd.
China is Malaysia's biggest trading partner, accounting for RM240.9 billion of the country's overall trade of RM1.49 trillion in 2016. In comparison, Malaysia's trade with the second-placed US totalled RM135.9 billion for the same year.
Yueh, who is also adjunct professor of economics at London Business School and a visiting professor of economics at Peking University, said that based on the share of regional exports that go to China, a slowdown could affect about 2% of GDP in the region.
Noting that a lot of trade happens under the World Trade Organization's most-favoured-nation status, she said China still has a number of markets that could be opened up.
"So, if China pushes ahead with [the] RCEP (Regional Comprehensive Economic Partnership, a proposed trade agreement between Asean and China, Japan, South Korea, India, Australia and New Zealand), it would presumably help China open up its own markets on a reciprocal basis to some extent.
"And that would be very good not just for regional growth but also for global growth, but any Chinese cyclical movements would get transmitted even without a free trade agreement.
"Therefore, if China were to have a financial crisis, it would worsen the economic slowdown transmitted across the borders," said Yueh.
Echoing Yueh's observation, Maybank Investment Bank chief economist Suhaimi Illias said the main conduit of Maybank's sensitivity impact analysis is the trade channel, as China is Malaysia's largest trading partner, accounting for 16% of Malaysia's total trade in 2016.
However, Suhaimi said there are other factors besides trade to consider which can mitigate China's slowdown, such as the rise in China's investments in Malaysia and recovery in tourist arrivals from China supporting the domestic economy via their spending.
"Plus, at the moment, China's economy has stabilised from the earlier growth slowdown, so this is more of an upside rather than a downside to [the] Malaysian economy," he told The Edge Financial Daily via email.
Apart from the growing Malaysia-China trade, Beijing also signed RM144 billion worth of investments in Malaysia for infrastructure, property and manufacturing projects in 2016.
Suhaimi said China's foreign direct investment (FDI) in Malaysia had accumulated over the years, but was less than 1% of the total stock of FDI, based on International Investment Position data, of RM525.5 billion as of September 2016.
"Of this tally of the total stock of FDI in Malaysia, China is only RM5 billion or 0.9%, which pales in comparison with Europe's 31.6%, Singapore's 21.8%, Japan's 12.9% and the US' 6.4% shares.
"These numbers reflect the fact that the EU (European Union), Singapore, Japan and [the] US have been major sources of FDI in Malaysia for a long time, whereas China has only begun to 'show up' in recent years," he said.
Still, concerns have been expressed about the sudden influx of investments from China.
Yueh said it was "not necessarily unusual" for countries to be worried about Chinese investment, citing similar situations in Africa and Australia, where there have been political concerns.
"I think there is always going to be [this concern], especially for Malaysia, which has had an economic policy pretty directed to trying to ensure that it is in the region of [the] supply chain or whether local businesses are well represented and diverse in those sectors.
"All of those are actually things that the Chinese are aware of when they moved some of their investments to Southeast Asia. They are not going to be unfamiliar with them. They are smart investors.
"[But] where Malaysia has an advantage is that it is part of an integral economy in Asean and in the Asean Economic Community (AEC) and I think from that perspective, it is part of the regional supply chain," she added.
While Asean as a bloc would be similar to the EU — increasingly driven by political integration — it would stop short of a single currency as there would be a need for institutions to support that currency.
In the EU, the European Central Bank, the European Stability Mechanism (the IMF for Europe) and the Banking Union's Single Supervisory Mechanism and Single Resolution Mechanism were established in succession to monitor and supervise the fiscal and monetary markets.
"[But] I don't see the AEC headed that way. I think the AEC will probably head the way of a single market [and] stop short of [a] single currency. [However], it could take a long time," she said.