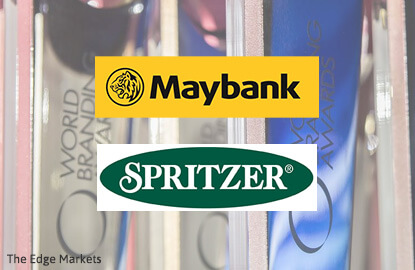 KUALA LUMPUR (Sept 21): Malayan Banking Bhd (Maybank) and Spritzer Bhd were among the 210 brands from 30 countries named "Brand of The Year" at the third edition of the World Branding Awards.
Other Malaysian winning brands included Getha Bedding (M) Sdn Bhd, Lewré International Sdn Bhd, Marini's Group and Malaysian Mosaics Sdn Bhd (MML), according to a statement from the World Branding Forum today.
The Forum which organises the awards is a global non-profit organisation dedicated to advancing branding standards for the good of the branding community, as well as consumers.
Its chairman Richard Rowles said the awards, which was held at Kensington Palace, London, celebrates the achievements of some of the greatest brands around the globe.
"With 70% of the scoring process coming from consumer votes, winning brands have managed to build a good trust score with their consumers, "he said.
World Branding Forum chief executive Peter Pek said due to a successful campaign, this year saw a huge increase in participation of the awards.
"Over 120,000 consumers from around the world voted for more than 2,800 brands from 35 countries.
"Winners at the awards have clearly demonstrated their ability to stand out from their competitors," he said.
Winners are judged through three streams which are brand valuation, consumer market research and public online voting.
Each brand was named "Brand of the Year" in their respective categories. This year, a newly-designed 24-kt gold plated trophy was introduced for all winners.
Singaporean brand winners were Aztech, BreadTalk, ComfortDelGro, DBS, Great Eastern, Raffles Education, Singapore Airlines, Singtel and Skylight.
Regional winners included Eu Yan Sang , Giordano, Lee Kum Kee, Mandarin Oriental and Watsons from Hong Kong; Indomie (Indonesia); Ajinomoto, Isetan, Kikkoman and Uniqlo from Japan; MTN from South Africa; Zara (Spain); and RAK Ceramics (UAE).
Apple, BMW, the British Council, Cartier, Coca-Cola, Facebook, Google, Lego, L'Oréal, Louis Vuitton, McDonald's, Nescafé, Nike, Oral-B, Pampers, Rolex, Samsung, Starbucks, Schwarzkopf and VISA were announced as global winners.
Other national tier winners included ICBC (China), Bang & Olufsen (Denmark), Hermès (France), Nivea (Germany), Chow Tai Fook (Hong Kong), State Bank of India, Indomilk (Indonesia), Prada (Italy), Sukiya (Japan), Dulux (Netherlands), SM Supermalls (Philippines), Nando's (South Africa), AmorePacific (South Korea), Santander (Spain), Zurich (Switzerland), Chunghwa Telecom (Taiwan), King Power (Thailand), Dubai Duty Free (UAE), and Prudential (UK), among others.