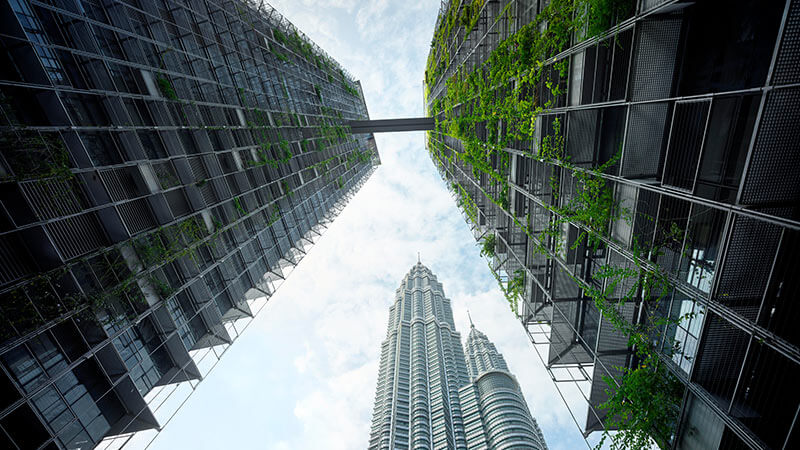 Le Nouvel KLCC sits across from the iconic Petronas Twin Towers
DID you know that world-renowned artist, Michelangelo was also highly regarded as an architect during his time? The mastermind behind the breathtaking Sistine Chapel ceiling frescoes was also the genius who designed the Medici Chapel and Laurentian Library in Italy.
In many ways, architects are artists and the designs of their buildings are large pieces of art that people from all over the world visit to admire.
Take La Sagrada Familia, for example. The work of art is an unfinished masterpiece by Catalan architect Antoni Gaudí, who died before the cathedral could be completed. Its significance in history and art has earned it Unesco World Heritage Site status.
In the same way, when architects design buildings today, they aim to come up with structures that will one day be regarded as the pièce de résistance of their careers.
One such figure in modern architecture is Jean Nouvel. Nouvel is a French architect whose notable works include the Louvre Museum in Abu Dhabi, the Tour de Verre in New York and the National Art Museum of China in Beijing.
Nouvel has received many prestigious accolades in the global architectural sphere. He is a Pritzker Architecture Prize laureate in honour of his talent, vision and commitment, which has made significant contributions to humanity and the built environment.
The Pritzker Architecture Prize is recognised as one of the world's most prestigious awards for architecture and is often referred to as the Nobel Prize of architecture. The award-winning architect now brings his erudition to Kuala Lumpur through a Wing Tai Asia's residential development in the heart of the capital.
Imagine waking up every morning in what can only be described as a work of art. Not only would residents be able to admire the beauty of the structure and its architectural splendour, they would get to live and experience its opulence daily. Residents would become part of the masterpiece.
Residents can wine and dine on the 34th floor and relax and chill out during leisure time
Le Nouvel KLCC: Peak of Luxury
Coupled with Nouvel's brilliance, Hervé Descottes, international well-known lighting designer, Patrick Blanc, a notable French botanist and landscape artist and Japanese interior designer Koichiro Ikebuchi come together to bring Le Nouvel KLCC to architectural connoisseurs in Kuala Lumpur.
Le Nouvel KLCC is a striking structure in the bustling city centre, its façade marries modern elements of sleek glass with natural lush greenery to allow abundant natural light into the building.
The green façade with climbing plants wrapped thoughtfully up and around the building to provide a vision of an oasis in the midst of a concrete jungle. 200 species of climbers grown in 1,000 planter boxes cover two thirds of the building give the sense of nature and wonder to anyone who beholds its magnificence.
It is again, important to note that the development isn't simply a property, it is truly a work of art. Taking even the smallest of details into account, every element of Le Nouvel KLCC is well thought out and perfectly executed.
Hervé Descottes, the founder of L'Observatoire International, is well renowned for his inventive interpretation of light. He has received several awards for Collaborative Achievement in Design for his work whose most recent accolades include the IES Illumination Award for the Metropolitan of Arts in New York. He brings his expertise in lighting to the table for this project, ensuring the future residents of Le Nouvel will be shone upon with an abundance of natural light.
It is evident throughout the property that Nouvel and his collaborators demonstrate each of their strengths in the construction of this masterpiece to showcase keen perception for the intricacies of light, shadow, transparency and opacity.
Exclusivity within an oasis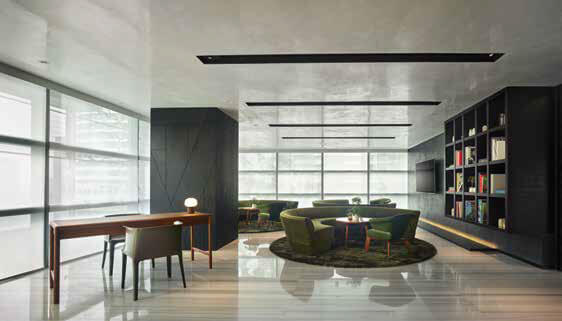 Residents sitting at the guest lounge area can admire the pool & eco-pond
Living in Kuala Lumpur's Le Nouvel KLCC is an adventure like no other. In an area concentrated with corporate offices and shopping malls, Le Nouvel is truly an oasis set within a prime location, giving respite to the monotony of city life. Those who seek practicality will also find that Le Nouvel KLCC hits the mark with the KLCC LRT station right at its doorstep.
While Le Nouvel KLCC architect in the skyline of Kuala Lumpur is for everyone to admire, only a selected few get to experience living in its serenity. It offers 195 luxury apartments in two towers spanning 43 and 49 storeys. The towers are seamlessly connected by a pool deck on level 7 and a sky bridge on level 34 with unparalleled aerial views.
Feel on top of the world with exquisite panoramic views of the city from the Sky Gallery on the link bridge, which also houses the Sky Lounge, Sky Kitchen and Sky Dining where residents can indulge in delectable cuisine and relax in comfortable cigar and wine lounges.
Residents will enjoy the property's exclusive facilities which include private swimming pools, a state-of-the-art gym and an expansive yoga room. The property also features family-friendly facilities such as spacious game, theatre and karaoke rooms.
Le Nouvel KLCC meets the needs of every type of homeowner with its versatility. Tower One features 78 units while Tower Two comprises 117 units. Tower One features 2, 3 and 4-bedroom suites, with two simplex units and two penthouses. Tower Two comprises 1 to 3 bedroom suites and two penthouses.
Want to wake up to grandeur every morning? Residents can look forward to plush and refined interiors, featuring wellappointed furnishings as well as artistic, curtain wall with glass frit patterns specially designed by renowned French artist Marie Maillard and elegant detailing in each residence.
Setting new benchmarks in prestige and luxury, the units are meticulously finished with top-notch pure white marble flooring,Poggenpohl-designed kitchens, Miele household appliances and Lema wardrobes.
Coming home to an oasis of comfort in the heart of the city is one of the ultimate luxuries any city dweller can ask for. What is life, if not for experiencing as much of it as possible? Some experiences only come by once in a lifetime. Jean Nouvel presents this extraordinary opportunity through residential units in Le Nouvel KLCC, Malaysia. Make the most out of life by immersing yourself in a uniquely designed living encounter by Jean Nouvel today.
About the developer
Wing Tai Malaysia Sdn Bhd is a leading property development and lifestyle company reputed for excellence in quality and design. It is a member of the Wing Tai Asia network of companies which has core businesses in property investment and development, fund management, lifestyle retail and hospitality management.
---
Please call 03-21818536/8538 for viewing appointments
For more information, visit www.lnklcc.com