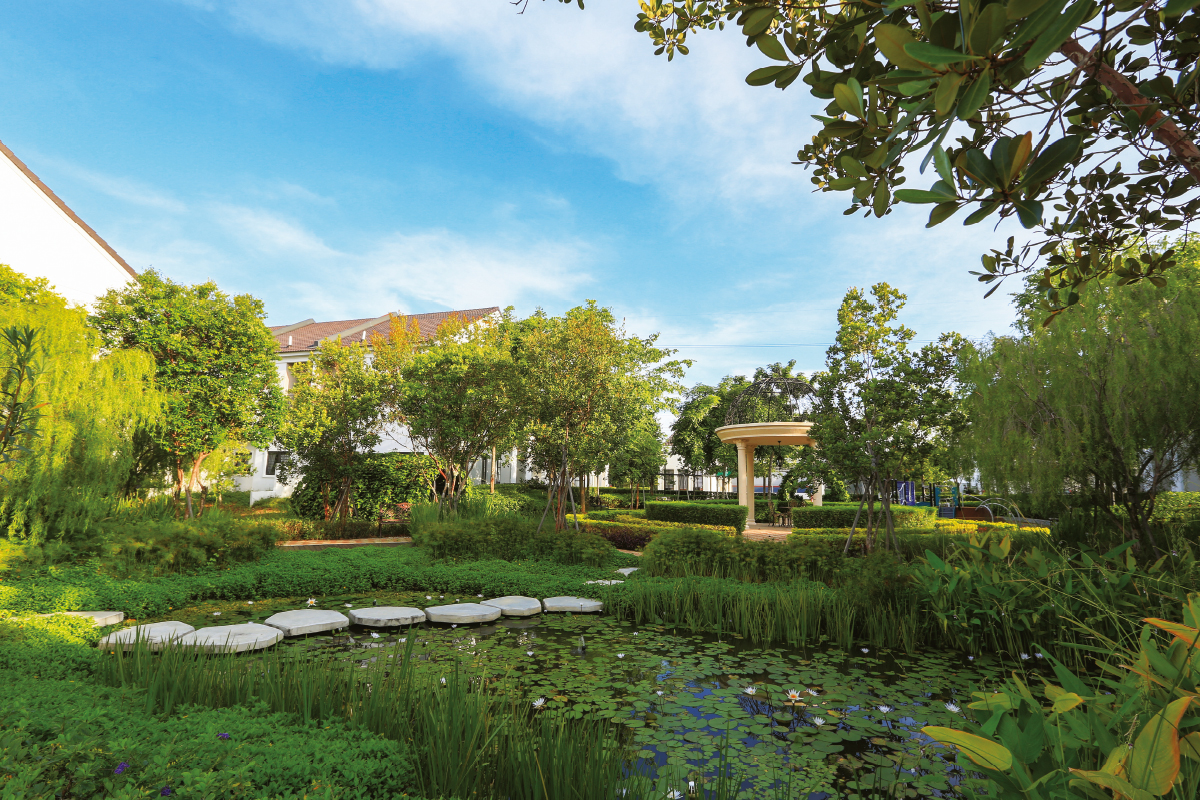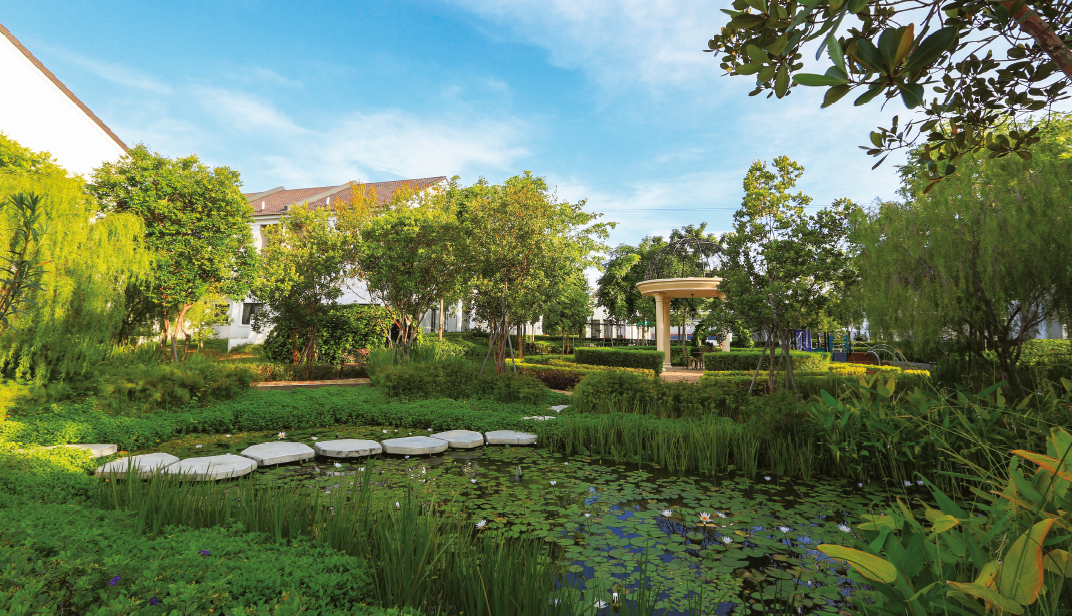 Sunsuria has its own nursery for self-sustainable green harvesting. The plants are used in the township's landscaping to ensure it remains green and serene.
The seed of the idea for Sunsuria City in Putrajaya South, Salak Tinggi, Selangor, was planted when China Xiamen University expressed its plan to set up its first overseas campus in Malaysia. The plan tied in with Sunsuria Bhd founder and executive chairman Tan Sri Ter Leong Yap's vision of building a smart, livable and sustainable township.
Ter walked the talk. Not long after, a 525-acre parcel of freehold land in Salak Tinggi was identified as the perfect location for the development in 2012. Located within Greater Kuala Lumpur, the tract is well connected to major highways such as the Maju Expressway, ELITE Highway and North-South Expressway Central Link. There is also an Express Rail Link (ERL) Salak Tinggi Station, which offers seamless connectivity to and from the Kuala Lumpur city centre and Kuala Lumpur International Airport.
Unlike most township developments, Ter took a different approach in planning Sunsuria City. He decided to have all the township's components — residential, commercial, office, retail and other amenities — surrounding the site of Xiamen University Malaysia (XMUM), which is located in the heart of Sunsuria City, because he believes that the campus will be the key catalyst of the township moving forward.
Today, the 150-acre XMUM, which has a student capacity of 20,000, has around 6,000 students. The majestic campus is not only the landmark of Sunsuria City, but also the backbone of the ongoing township development as the growing student population has created stable demand for accommodations, retail shops and recreational amenities since its opening in 2016 with a first intake of around 200 students.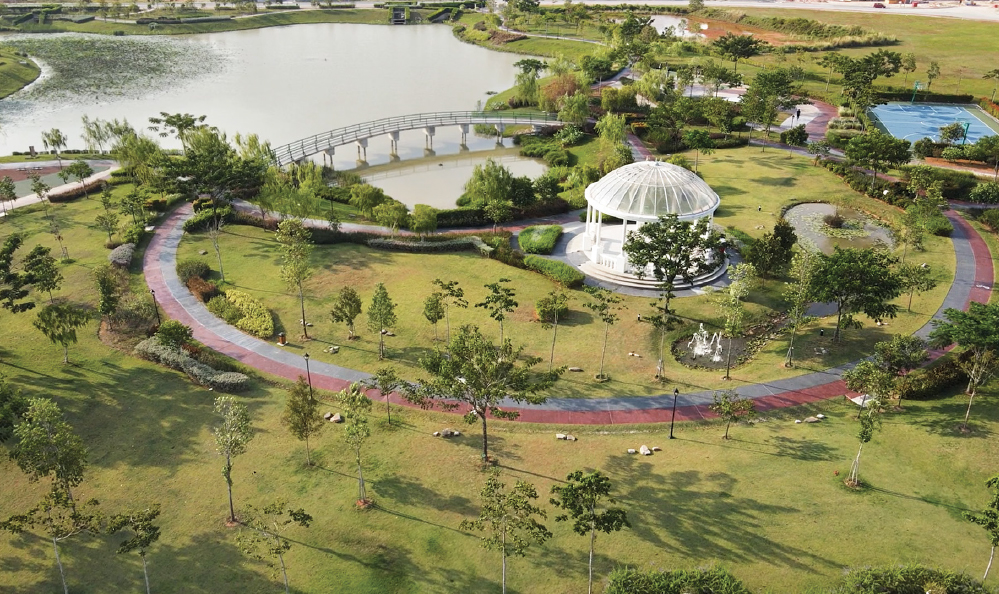 Giverny Park in Sunsuria City is inspired by French painter Claude Monet's paintings .
Over the past six years, Sunsuria has launched and completed many successful landed and high-rise residential projects, such as Monet Lily (two-storey terraced homes), The Olive (condominium), Bell Suites (SoHo), Monet Garden (townhouses and terraced homes) and Monet Springtime (two-storey terraced homes), as well as commercial developments such as Bell Avenue (retail), Jasper Square (two- and three-storey shopoffices) and Giverny Walk (two-storey shoplots).
According to Sunsuria chief operating officer Datuk Simon Kwan, the completed residential projects are performing well with at least 95% of the units sold. However, the pandemic has affected the occupancy rate of the commercial units.
"Some students were unable to return to the campus, while most of the businesses were adopting a wait-and-see approach due to the overall market uncertainty in the last two years," says Kwan.
"I have to admit that it has been rather quiet in Sunsuria City in the past two years. However, as a responsible developer, we must do our part to keep the township moving forward. We opened a café in Sunsuria City to provide convenience to our residents.
As international borders have gradually reopened and travel restrictions lifted, Kwan shares that the team has been receiving more commercial rental enquiries, while homebuyers are starting to renovate or move into their new homes in Sunsuria City.
"Sunsuria City is livelier with the return of students, people moving in and we have more rental enquiries. We are excited to share that more lifestyle brands and a grocer will be making their appearance in Sunsuria City soon. We have also been approached by a potential partner to build a petrol station with a drive-through chain restaurant here," says Kwan.
To bring Sunsuria City a step closer to becoming a self-sustainable township, he reveals that the team is looking to set up a healthcare centre. "We need a healthcare centre with ambulance services to make Sunsuria City an all-inclusive township. The team has been working hard to maintain the amenities while bringing in more lifestyle elements to make the 'self-sustainable world-class satellite city' target a reality."
The flourishing city
Sunsuria reported revenue of RM74.11 million (+18% year on year) in the second quarter of the financial year ending Sept 30, 2022, despite the pandemic, thanks to strong sales from ongoing projects such as Monet Springtime and Tangerine Suites in Sunsuria City.
Launched in mid-2018, Monet Springtime comprises 308 two-storey terraced homes with built-ups of 1,719 to 2,122 sq ft. Priced from RM763,300 onwards, the completed development was handed over to buyers in November 2021.
Meanwhile, Tangerine Suites is a serviced apartment project comprising 778 units with built-ups of 550 to 936 sq ft. The selling price starts from RM250,000 and the project is set to be completed by year end.
"Just like any other developer, Sunsuria was affected by the pandemic. However, the team reacted quickly to the changes in the market and environment. We managed to set up a hybrid work model within a week of the announcement of the first Movement Control Order in March 2020. We then conducted and concluded sales via Zoom meetings," Kwan shares.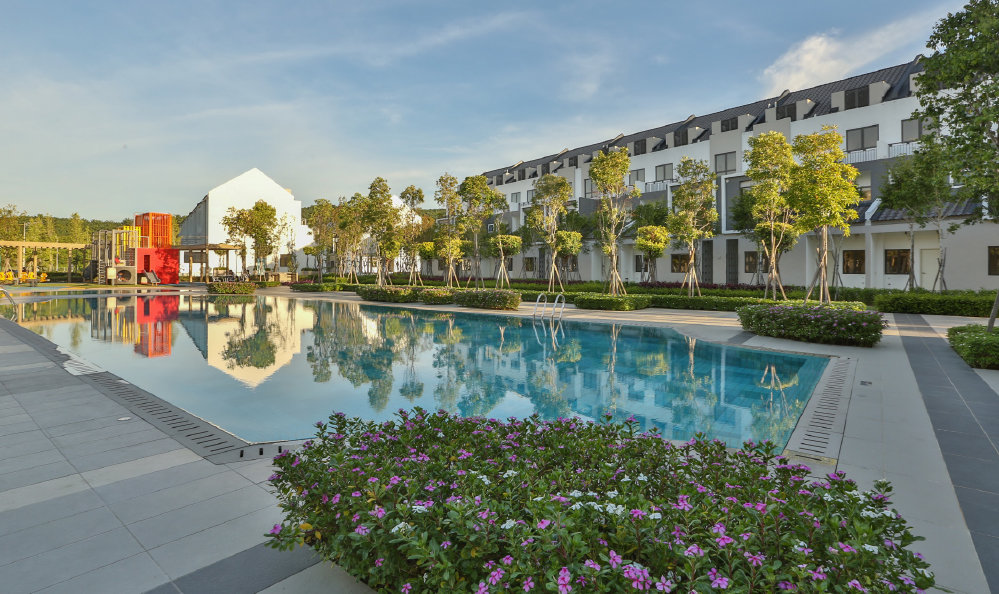 Monet Garden welcomes you to a beautiful living experience where le jardin à la française, otherwise known as the 'Garden In The French Manner', awaits your enjoyment.
He attributes the strong performance to the team, as well as the good reputation of Sunsuria.
"In Sunsuria, we do not talk the talk, we walk the talk. We don't shout about what we have done; we would rather prove it with action. We never forget our promises and responsibilities as the master developer of Sunsuria City. We continue to maintain the amenities and bring in good partners that will benefit the whole township. We want the township to be exactly like what we had promised," Kwan asserts.
Sunsuria City was planned with three key elements in mind — smart, livable and sustainable, which the developer is gradually turning into reality.
Today, Sunsuria City is equipped with high-speed Gbps fibre broadband and free WiFi is available in public spaces. The township is also driven by Internet of Things (IoT) such as smart homes enabled in selective phases and an integrated smart community app available for residents.
Meanwhile, Sunsuria City is designed to provide a better and safer living environment. The beautifully crafted Le PARK walkway to the ERL station is monitored by round-the-clock CCTV surveillance. There is a well-connected jogging and cycling track that runs throughout the township and residential areas, including the back lanes, which is ideal for residents to pursue an active and healthy lifestyle while at the same time providing a green space for communal activities.
Sunsuria is also proud of the 15-acre Giverny Park, inspired by French painter Claude Monet's paintings. It is surrounded by a forest that offers opportunities for a quiet evening stroll or leisurely bike ride.
"Giverny Park is a public park. It is also one of the biggest placemaking elements of Sunsuria City. We have our own nursery for self-sustainable green harvesting, used for the township's landscaping, so that our parks are very well kept and serene all the time. It is one of our most visited spots for our residents and visitors," says Kwan.
The next exciting element
Although the development progress of Sunsuria City is on track despite the pandemic, Kwan always sets a higher target to go the extra mile.
"It is in team Sunsuria's DNA. We believe in this township and we strive to deliver more than what we have promised," Kwan says with a smile. "Moving forward, we are going to launch our six-acre Adventure Park to further enhance the liveability of the township. We are also in the midst of finalising our residents' clubhouse, which is targeted to be completed in the next two to three years."
As sustainability is one of the core values of Sunsuria, most of the residential phases in Sunsuria City have been designed and built with minimal but essential common facilities to ensure easy long-term maintenance. However, it does not mean that the residents have to compromise on their lifestyle.
"Sustainability is in every detail of the master plan. Therefore, the sharing of one clubhouse that boasts full-fledged facilities such as a swimming pool, gym, badminton courts and so on is more cost effective and environmentally friendly than building a swimming pool in each phase. The clubhouse will be open to all our residents with free membership but there is a small monthly maintenance fee," Kwan explains.
Following the successful footsteps of XMUM, Sunsuria Bhd has entered into a new collaboration with Concord College International Ltd and Concord College,  UK, to launch a new British International School for day and boarding students. This new school will offer a broad and balanced education based on the UK National Curriculum for Primary, Secondary, and Sixth Form (A-Level).
Set to open in September 2024, the new school will bring the structure, ethos, achievements, and academic success of Concord College, UK.
Right next to this new school is an upcoming residential phase, comprising 131 two- and three-storey terraced homes with an estimated gross development value of RM119 million. While the name of the new phase has not been finalised, Kwan targets to launch it in 3Q2022, with an estimated selling price of RM833,300 onwards.
"As we begin to enter the post-pandemic stage, we have seen improvements in the economy, a lower unemployment rate and better market sentiment. We are gearing up to achieve more sales from projects in Sunsuria City, Sunsuria Forum and Bangsar Hill Park," Kwan shares.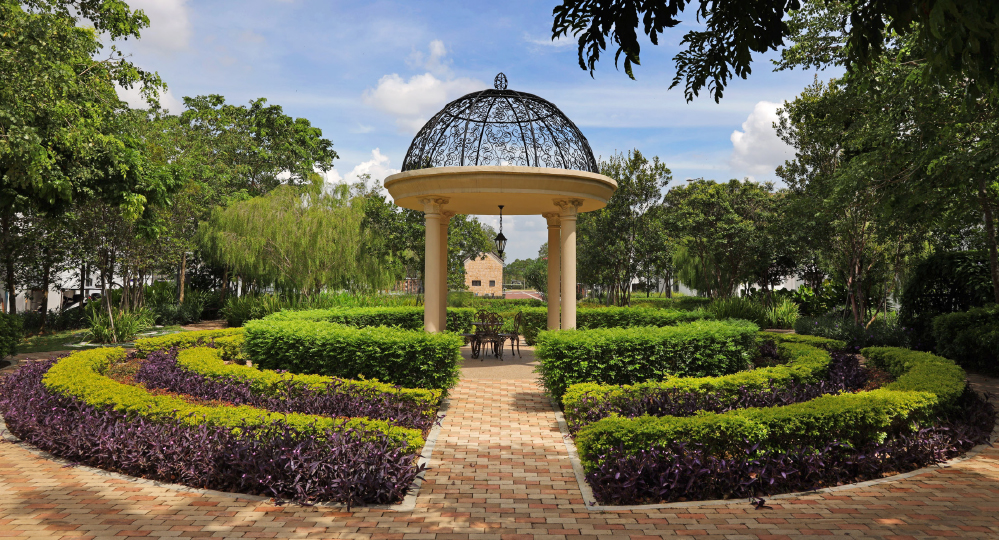 Every residential phase in Sunsuria City is designed with essential common facilities to promote sustainable living.
He adds that the team is optimistic about the outlook of the real estate market and is actively looking for potential development land. The group recently acquired a 60-acre industrial parcel in Puncak Alam, as well as 123 acres in Banting for a freehold residential development.
"We are cautious in our spending and have maintained our cash flow well. We have enough in our war chest for more acquisitions as long as the land presents great potential, just like our Banting land.
"It is situated in a strategic location where all necessities are within close proximity as it is located only 5km from Banting town. The land is accessible via major highways such as the Kesas Highway, Elite Highway and Putrajaya-Cyberjaya Expressway. It is not too far away from Sunsuria City too," Kwan concludes.