KUALA LUMPUR: Knowledge sharing, cross-border networking and helping companies to reset in a time of pandemic is the main crux of the upcoming 4th Selangor International Business Summit 2020 (SIBS 2020), which will take place virtually from Oct 14 to 17.
As a regional event that will be held virtually for the first time, SIBS 2020 - hosted by Invest Selangor Bhd - aims to provide a borderless experience to a diverse group of participants to connect, network and discover, while still being able to tap various opportunities that were originally developed for an on-site experience.
Selangor state executive council member Datuk Teng Chang Kim said this year's event will include discussions on key issues affecting Asean member countries in the light of a pandemic-hit world and how the region should respond collectively.
Teng acknowledged that the outlook for regional trade remains uncertain, adding that the prospects for foreign direct investment (FDI) into the region will depend on how long the Covid-19 health crisis lasts and the effectiveness of policies aimed at mitigating the pandemic's economic impact.
He noted that growth in Asia is expected to fall by 30% to 45%, creating downward pressure on FDI inflow as well. "Despite the negative outlook, Selangor remains an attractive investment destination. Year to date, we have managed to secure several projects from multinational companies (MNCs) and many are still in the pipeline."
Teng said Malaysia will face stiff competition from other countries in the region in terms of attracting new investors, so it should focus on attracting investors from other regions. "For example, leveraging the Sino-US trade tensions to attract investment from companies planning to relocate or expand away from the mainland. We are also looking at attracting MNCs from critically affected areas such as Europe that are looking to divest out of the region due to the pandemic."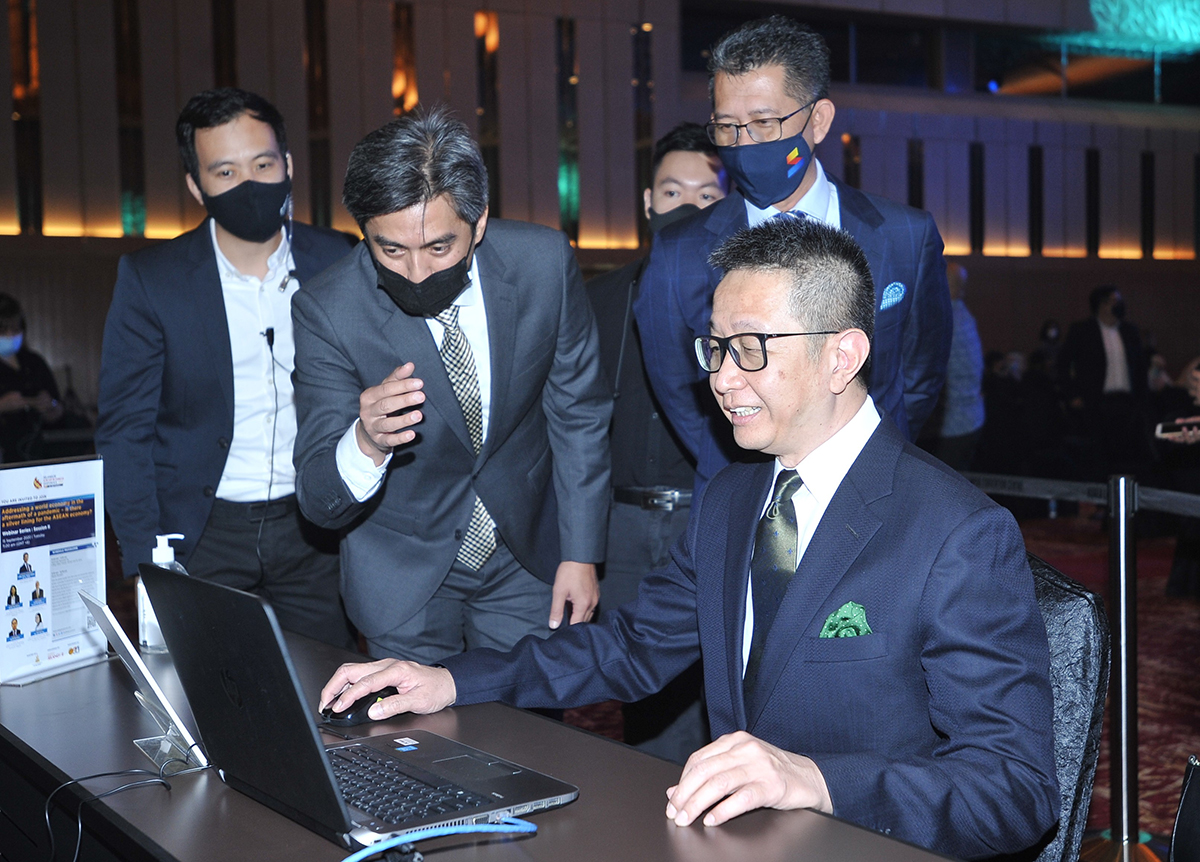 From left - En Ahmad Khairo Othman explains to Datuk Hasan Azahari & Datuk Teng Chang Khim, on the new website to participate in virtual SIBS 2020
Teng said the virtual SIBS 2020 is expected to bring together global brands and congregate industry players from around the world to help business players reset and reboot while providing valuable knowledge-sharing, networking and business-matching sessions catered to all visitors.
The four-day virtual summit will comprise an exhibition, conference and webinar series featuring Selangor International Expo (SIE), Selangor Asean Business Conference (SABC) and Selangor Smart City & Digital Economy Convention (SDEC).
The SIE focuses on the F&B industry and aims to attract manufacturers, traders, policymakers and trade buyers to visit the event.
The SABC will provide another networking event for regional think tanks, government officials and business communities to engage and discuss ways to move forward as a region, said Teng.
The SDEC will focus on creating networking opportunities for start-ups and tech companies in the region.
"We expect good results in terms of the number of participants, both exhibitors and visitors," said Teng, adding that 300 companies have already signed up to participate in the event, with 3,000 participants expected to come together during the event, which will be ongoing until SIBS 2021.
To participate SIBS 2020, register at https://selangorsummit.com/