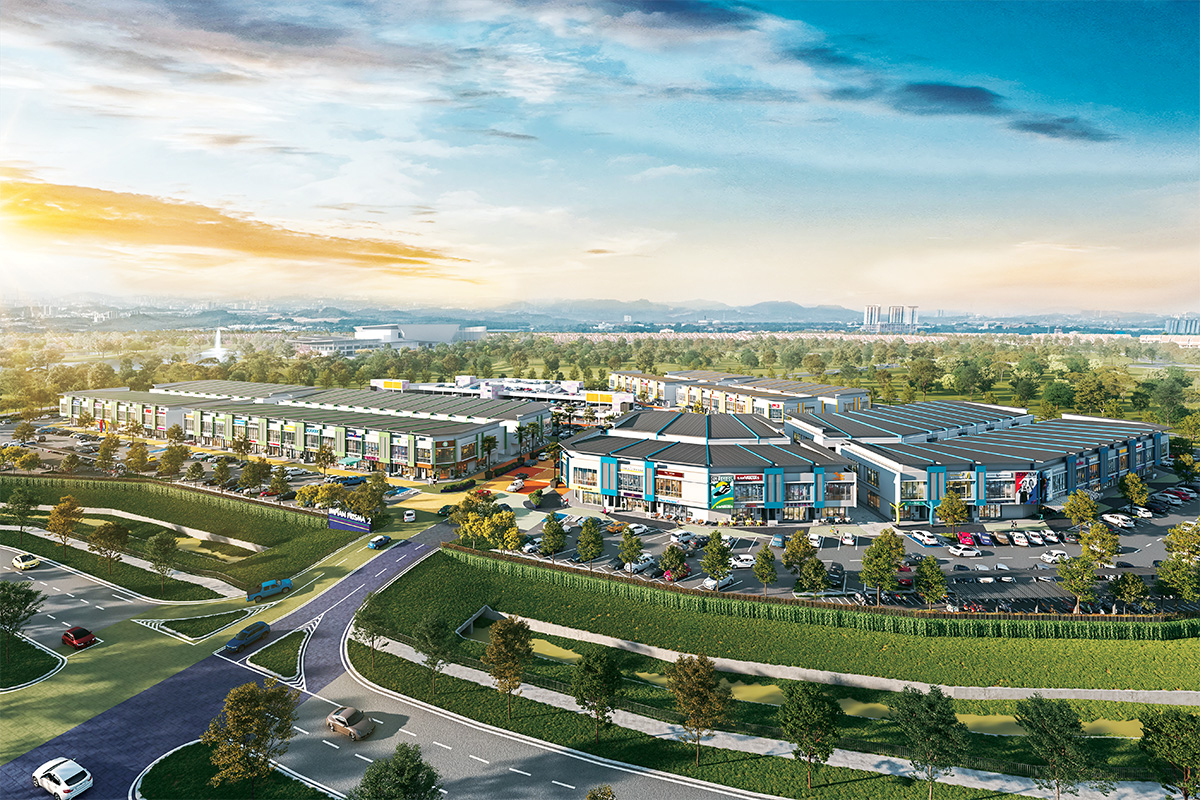 Impian Prisma 2 is an upcoming commercial development in the well-placed 1,235-acre masterplanned township of Setia AlamImpian in Shah Alam's Seksyen 35.
Datuk Zaini Yusoff, Executive Vice President of S P Setia Bhd, the township's master developer, says Impian Prisma 2 will be the prime commercial area of Setia AlamImpian.
"These are our premium shop offices as all 103 units will be designed in line with our 'digital arts' landscape theme. Also, Impian Prisma 2 will be the last shop office development to be offered in this business district. So, for those who missed out on the first Impian Prisma, there are units still available at Impian Prisma 2, which is 80% taken up."
Comprising 103 units of premium double-storey shop offices, the 16.9-acre Impian Prisma 2 is the second shop office development in the township's 140-acre Digital Arts precinct following the success of its namesake Impian Prisma.
"We launched the first Impian Prisma, comprising 48 units of shop offices, in November 2019. The units have been fully sold and are scheduled for handover in November this year," says Zaini.
For Impian Prisma 2, the company launched all 103 units on Aug 31. With a gross development value of RM221.6 million, the shop offices will have standard intermediate lot sizes of 22ft by 75 ft and 24ft by 75ft. Prices start from RM1.7 million.
To provide added flexibility in terms of rents, the shop offices in Impian Prisma 2 will come with individual utility meters for each floor. This development will be the first integrated commercial district in the township that will come with a multi-storey parking facility, offering ample parking space at a ratio of 10 parking bays per unit.
In terms of design, the shophouses will have a contemporary look, with large windows that maximise natural lighting and views. They also come with column-free layouts and a spacious verandah for flexible expansion.
"The advantages of having a column-free design are that it allows an uninterrupted view of the shops or display area; an open and wide corridor that is pedestrian-, wheelchair- and stroller-friendly; and maximum usage of the corridors, especially for cafés and eateries that want to extend their al fresco dining up to 10ft," says Zaini.
To add to the vibrance of the township, Impian Prisma 2 will feature chromatic colours for its different zones. "This colour zoning is in line with the overall township's tagline of 'Arts Inspired Living'," he says.
Meanwhile, Impian Prisma 2 enjoys direct access to the main boulevard, which is designed as a public piazza to further emphasise the digital arts theme. It connects to other ongoing and upcoming commercial developments.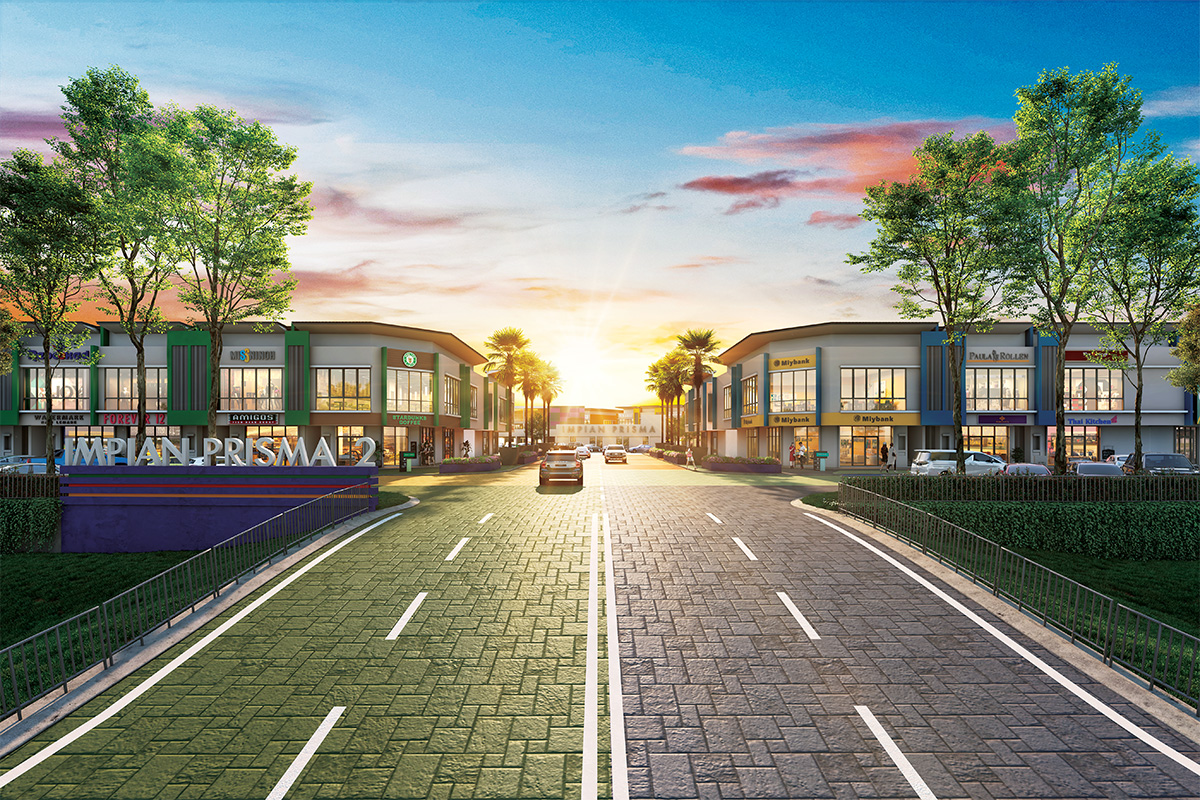 The main entrance of Impian Prisma 2
"The boulevard is an area measuring 47ft, with an additional 33ft drain reserve that will be fashioned as a celebration piazza. This serves as the main link from Impian Prisma 2 to an adjoining [future] development plot," says Zaini.
"The boulevard is also aligned to the LakePoint Park and will become the main link that connects to other commercial plots, including a future transport hub and institutional areas in the Digital Arts precinct. We believe this planning mix will significantly raise the land value of surrounding developments."
Supporting a growing population
Impian Prisma and Impian Prisma 2, with 151 units of shop offices and the soon-to-be-opened retail offerings at LakePoint Central, aim to serve the township's immediate population as well as its surrounding communities. "We would love to attract retailers that can meet the immediate needs of the surrounding population in Setia AlamImpian," says Zaini.
"We welcome the financial and banking community, and even boutique hotels, which would be a good fit to help support our banquet hall with a 1,000-person capacity at the upcoming LakePoint Club [clubhouse]. I am sure that once the clubhouse starts organising events, the boutique hotels will be in demand."
The shops — also well suited for a diverse range of businesses, including a convenience store, pharmacy, F&B outlets, launderette, IT centre, gym and fitness studios — will enjoy high visibility from the township's main thoroughfare and boast commanding views as it is set on a higher platform.
The ongoing developments in the Digital Arts precinct such as LakePoint Central (retail centre), the 31-acre LakePoint Park, as well as LakePoint Club (clubhouse) and LakePoint Gallerie, which will house the new Setia AlamImpian Welcome Centre, are all slated to be completed by year end. The township will also be home to Eaton International School, which is set to be completed by September next year.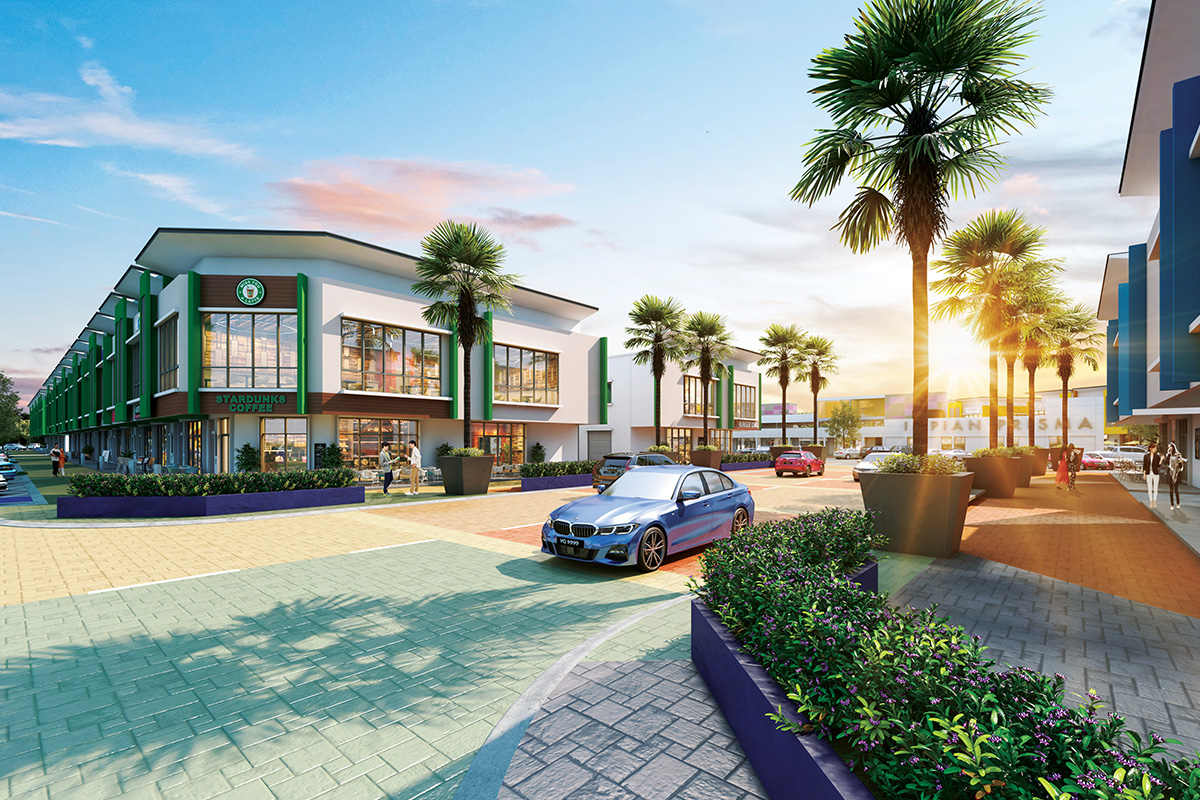 The shop offices in Impian Prisma 2 will have a contemporary look, with large windows, column-free layouts and a spacious walkway
According to Zaini, the township currently has a population of 12,000 and he estimates that the number will grow to 80,000 when it is fully completed by 2036. "To support the growing population of Setia AlamImpian, the demand for commercial properties is certainly high. The commercial precinct will not only serve the existing and future population of Setia AlamImpian, but also become an area for the surrounding community to visit, especially once LakePoint Central and LakePoint Park open."
With the limited number of shops in Setia AlamImpian, Zaini believes the upcoming commercial offerings will see brisk business. "Currently, there is a limited supply of neighbourhood shops in Setia AlamImpian as there are two rows of existing neighbourhood shops from the earlier years — Tenun and Nadi Niaga — with convenience stores, eateries, launderettes and hardware shops, among others," he says.
"We believe commercial property will remain in demand, especially in Setia AlamImpian, as we are progressively building the township and turning it into a self-sustained development."
To find out more, visit www.spsetia.com/alam-impian or call +603 - 5162 7600